While I was here at Craig Hospital the Associated Press published an article on my recovery. Thought I would share it with you all…
ÂÂ
Sports cinematographer healing after spinal injury
By: PAT GRAHAM
AP Sports Writer
ÂÂ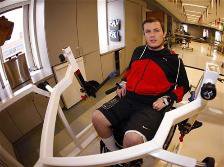 In this Friday, April 3, 2009, photo, Riley Poor lifts weights at Craig Rehabilitation Hospital in the south Denver suburb of Englewood, Colo. Poor is a 26-year-old freeskier turned cinematographer who has worked with the biggest names in action sports, capturing award-winning images on peaks all over the world. (AP Photo/David Zalubowski)
ÂÂ
ENGLEWOOD, Colo. (AP) — The bright orange stickers were plastered all over at the Winter X Games, affixed to helmets, buildings, tops of skis, even on the seat of a chairlift.
Emblazoned on the decals were two neon words: Riley Poor
A new energy drink perhaps? Or the latest line of must-have skiing attire?
Turns out Riley Poor is a 26-year-old skier turned cinematographer who's worked with the biggest names in action sports, capturing award-winning images on peaks all over the world.
But he was conspicuously absent from January's Winter X Games in Aspen, represented instead by the swarm of orange stickers — a show of affection by friends.
Poor could only watch the competition from a hospital bed as he recovers from a spinal cord injury that's left him paralyzed from the chest down. He did a back flip into an indoor pool after a night of celebrating with buddies following a Winter Dew Tour stop in mid-January at Mount Snow in Vermont, slamming his head against the bottom.
Now, Poor's going through rehab at Craig Hospital, a Denver facility that specializes in spinal cord and traumatic brain injuries.
His strength is steadily returning. Poor can lift his hands and make a weak grip. He also can wiggle his toes — with concentration.
Poor's rehab regimen is arduous, with hours a day spent lifting weights, doing pool therapy and other exercises.
"I've just always had this feeling that I'd have this amazing test in my life, that I would walk away from victorious," said Poor, who's blogging about his recovery on a Web site set up for him by Freeskier Magazine. "Well, this is pretty freakin' major."
His short-range goal is to ride out of Craig Hospital on May 8 in a manual wheelchair, not a powered model.
Then it's on to broader ambitions — like filming again.
"Don't worry," Poor said, sipping Gatorade offered to him by his longtime girlfriend, Katrina Bobier, who is perpetually by his side. "I'll be back out there."
A steady stream of skiers and boarders have visited Poor's hospital room since he arrived in Denver nearly three months ago. Freeskier Simon Dumont paid a social call. So have Sarah Burke and TJ Schiller.
And Tanner Hall arrived in typical Tanner Hall style.
The free-spirited freeskier sauntered down a quiet hospital corridor, screaming out "Ri-lanus" — his nickname for Poor — to locate his room.
"Tan-us!" came Poor's booming response.
Goosebumps appeared on Hall's arms.
"I knew right then," said Hall, who's spent countless hours filming with Poor in the backcountry. "I knew it was the same old Riley."
The same old Riley is the one they call "Shrek" because of his ability to carry loads of gear on a shoot into remote locations.
He's the one they want filming on the mountain due to his vision and concern for safety. Poor won't make them do something he wouldn't attempt himself.
"He sees the tricks, knows what you need to make them happen," Burke said. "It's tricky to find someone you feel that comfortable with."
That's because he's one of them — only he's behind the camera.
Poor grew up in Crested Butte hoping to be the next Tommy Moe. His parents encouraged that passion, even excusing him from school on pristine powder days.
Poor did the ski team thing, had sponsors like K2 and Oakley backing him. He thought that was his future.
Then he met Seth Morrison, a rock star in the extreme skiing realm. Morrison hollered at him one day from a chairlift at Crested Butte, inviting Poor into a world he'd only been able to admire through watching ski movies.
Morrison's sense of adventure in the back country was invigorating.
And Poor jumped on board for the ride.
Ditching ski racing, he dabbled in freeskiing, which was evolving from moguls and aerials to big-air and big-mountain competitions.
It was right up Poor's alley.
Then he saw Hall in action.
At a competition at Snowbird in Utah, Poor, who was 17 at the time, gawked in disbelief at this blond-haired kid performing unthinkable maneuvers.
Time for a career change.
"I was like, 'I'm not capable of being in this game if it's going to be played like that,'" Poor said.
Soon after, he landed an internship with Matchstick Productions, an action sports-film company. He borrowed money earmarked for college, purchasing an $8,000 movie camera. His career was launched.
On one of his first assignments, he captured snowmobiler Jay Quinlan leaping over a spillway of a dam, soaring nearly 80 feet in the air.
Not only did it make Matchstick's movie that year, it set a tone: Poor doesn't miss his shots.
In all, he's been part of more than 25 action-sports films, capturing Dumont chasing X-Games gold, Hall's first descents in the mountains of Alaska and freeskier Sammy Carlson pushing the boundaries in St. Anton, Austria, to name a few highlights.
"One of the best in the game," Dumont said. "It's easy to work with somebody like that, someone who understands what's going on."
Dumont and Poor have collaborated quite a bit in recent years. They were in the middle of filming a documentary entitled "Transitions" when Poor was injured. It's a movie two years in the making that will tell a broader story of how action sports has evolved over their generation.
Poor's intention is to head to Los Angeles this summer for post-production editing, and release the film this fall.
All around Poor's hospital room are motivational reminders that fuel his healing — inspirational messages that Bobier scribbles on a marker board, various pictures and cards from well-wishers.
The plaque that sits on his shelf could be the most powerful.
Poor was part of the crew for "Poor Boyz Productions" (the name's a coincidence) that filmed "Reasons," which was named ski film of the year at the 2009 Powder Video Awards.
He hopes for that honor again.
"I'm realizing I'm going to be OK," said Poor, who's also the ski team manager of Nike 6.0, a youth-driven, action-sports sector of the company. "My plan is to walk out of here. But even if I spend the rest of my life in a wheelchair, it's going to open up a lot of doors and opportunities for me."
Poor can recall every aspect of the accident.
He was at Mount Snow that day capturing images of Dumont winning the superpipe for the documentary.
That night, the party was on at a house near West Dover, Vt.
In the early morning hours of Jan. 11, a group decided to jump into the pool, only Poor didn't realize he drew the shallow end. As he spun around underwater, he smacked his head against the bottom and floated up to the surface.
He knew instantly he was paralyzed. Yet he remained calm, telling his buddies what to do once they pulled him from the pool.
Don't move me anymore, he said.
Call 9-1-1, he ordered.
Tell them I've broken my neck, he explained.
Poor was transported to a hospital in Albany, N.Y., where he had surgery to fuse some vertebrae.
After that, he was transferred to Craig to begin his rehab.
"Life is crazy," Hall said. "What bums me out is that we're spinning and flipping and in danger every single second we click into skis. Then Riley has this happen. Anything can happen, man."
The action-sports community realized that all too well with the death of 39-year-old Shane McConkey, an extreme skier who was killed last month jumping off a cliff with a parachute while filming a movie in Italy.
Poor grew up admiring McConkey, who helped him get a foot in the ski-industry door.
"You know how people say to live every day to the fullest? Shane took that to the next level," Poor said. "He lived life on the edge, was a calculated risk taker — just like a lot of us."
On the Web: rileypoor.com
On the Web: rally4riley.com
ÂÂ
Copyright 2009 The Associated PressÂÂ
Find this article at:
http://www.sfexaminer.com/sports/Sports-cinematographer-healing-after-spinal-injury–43208232.html