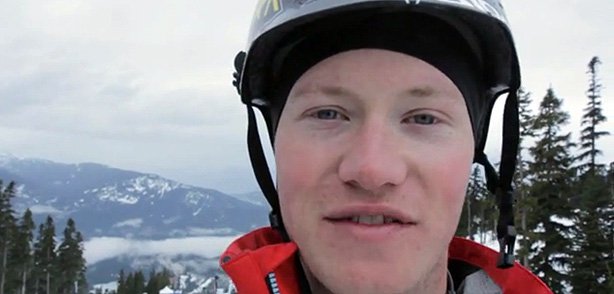 Well, well, well. The weekend held an event that none of us could even comprehend what might happen and then as Monday rolled around, we had to sit back and watch the Hollywood blockbuster that was the AFP World Champs.
First up was the slopestyle comp. 30 men had qualified for the semi-finals with ten heading into the finals and 11 women heading into their respective final.
The course was comprised of three rail options into a channel gap, ending with a standard kicker.
After a solid run, Anna Segal took the win in the women's comp with a run of two 720s, flat 3 and backside 270 out of the cannon box. She finished ahead of Emilia Wint who has been on the charge this season making a name for herself. In third place was local girl, Yuki Tsubota.
Women's Results
1. Anna Segal
2. Emilia Wint
3. Yuki Tsubota
4. Ashley Battersby
5. Eveline Bhend
6. Dara Howell
7. Emma Dahlstrom
8. Annalisa Drew
9. Keri Herman
10. Devin Logan
11. Rose Battersby
For the men it was an interesting fight. Joss Christensen stomped a run of a switch lip 270 on, double cork 1260, switch on front 450 off the rail into a back 450 out of the cannon, switch right 1080, switch double 1080, switch right 720 in the quarter pipe to leave him in third place. Our favourite Brit (slightly biased I know) James Woods took second place with a run of switch tails over 270 on, front 270 out, switch right double cork 1080 octo grab, switch on pretzel 630 off the flat rail, front 4 japan off the high bar, left double cork 1080 over the channel, right double cork 1260 over the jump and switch 5 japan in the QP.
First place though was always going to be handed to Gus Kenworthy. He's been in incredible form recently and he fully deserved this win. His run was: lip back 270 out, switch right double cork 1080 japan, 450 on 270 off the high rail to left double cork 1260 mute over the channel, switch left dub 9 japan over the jump finishing with a left 9 blunt in the quarter pipe.
Final results:
1. Gus Kenworthy
2. James Woods
3. Joss Christensen
4. Russ Henshaw
5. Tom Wallisch
6. Bobby Brown
7. Torin Yater-Wallace
8. Noah Morrison
9. PK Hunder
10. Henrik Harlaut
MPORA Action Sports
Next up was the Superipe. Mike Riddle made an astonishing comeback to the podium with a first place finish. Maddie Bowman took the top spot for the women as well as the race for first in the AFP standings was heating up. In second place for the guys was Thomas Krief and third spot was taken by the ever consistent Joss Christensen. Mike Riddle's run was super fluid consisting of a double 12, right 9, left 9, alley-oop flat 3 to switch 9.
Finishing 4th for the day was Torin Yater-Wallace and with his 4th, he wrapped up the AFP Superpipe title. He was battling David Wise for the crown but Wise did not compete so Torin walked it.
Final results:
Men's Results?
1. Mike Riddle
?2. Thomas Krief
?3. Joss Christensen
?4. Torin Yater-Wallace
?5. Jossi Wells
?6. Joffrey Pollet-Villard
?7. AJ Kemppainen?
8. Hunter Visser
?9. Alex Ferreira
?10. Noah Bowman
?11. Matt Margetts
?12. Justin Dorey
Women's Results
?1. Maddie Bowman?
2. Anais Caradeux?
3. Rosalind Groenewoud
?4. Annalisa Drew
?5. Megan Gunning
?6. Mirjam Jaeger?
7. Dara Howell
?8. Katrien Aerts
?9. Rose Battersby
?10. Kimmy Sharp
?DNS. Keltie Hansen
WSI AFP World Championship Superpipe 2012
Rounding off the weekend was the Big Air comp and it was no surprise that the man of the season, Gus Kenworthy, was dominating again and ready to take the overall AFP title home for 2012.
The competition was filled with big tricks and even bigger crashes as everyone battled for the 8 finals spot. Bobby Brown, of course, took top spot in the qualifiers with James Woods close and Russ Henshaw sniffing around as well.
In the finals, David Wise threw down a double misty 1080 on his first run, but went for a switch double misty 1260 on his second but unfortunately not landing it. Kenworthy's winning jump was a double cork 1620 blunt to overtake Vincent Gagnier who stomped a double bio 1260 octograb.
Final results:
WSI Men's Finals:
1. Gus Kenworthy
2. Vincent Gagnier
3. Russ Henshaw
4. Bobby Brown
5. James Woods
6. Torin Yater-Wallace
7. Alexis Godbout
8. Kai Mahler
WSI Women's Finals:
1. Emma Dahlström
2. Eveline Bhend
3. Rose Battersby
4. Keltie Hansen
5. Annalisa Drew
So what did it all mean for the overall standings? Who was going to take home the overall titles in the men's and women's fields?
AFP Men's Overall World Ranking 11/12 Top 5
1. Kenworthy, Gus – USA — 8982.64
2. Wells, Jossi – NZL –8065.93
3. Yater-Wallace, Torin – USA — 7221.21
4. Christensen, Joss – USA — 7081.87
5. Brown, Bobby – USA — 5978.23
AFP Women's Overall World Ranking 11/12
1. Logan, Devin M – USA — 6256.36
2. Howell, Dara – CAN — 5278.09
3. Herman, Keri – USA — 4895.83
4. Battersby, Rose Margaret – NZL — 4394.39
5. Drew, Annalisa – USA — 3773.30
Even though we didn't see Devin Logan this weekend, her lead was so large that she was still crowned the AFP winner for 2011/2012 and Kenworthy stole the show this weekend that's for sure!
Related posts:Follow Us TV: Freestyle World Champs The latest episode following the eclectic Frenchmen takes us to...
Freeride World Tour 2011: Champs crowned in Verbier All good things must come to an end and the...
Mike Riddle: Pipedreams – Episode 2 Canadian Halfpipe team training then off to Killington for the...