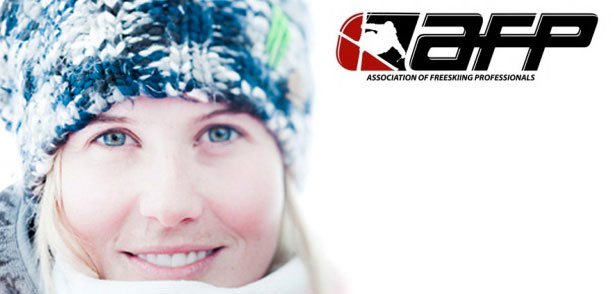 The AFP (Association of Freeskiing Professionals) announced yesterday that they were going to be naming the the AFP Overall World Champion Trophy the 'Sarah Burke Trophy'. It's a move that is going to please and humble the whole freeskiing community Here's the press release:
The Association of Freeskiing Professionals (AFP) has announced that it is naming the Overall World Champion award the Sarah Burke Trophy. Beginning at this year's AFP Awards Ceremony that takes place after the WSI/AFP World Championships in Whistler, BC, the Men's and Women's Overall World Champions will be awarded the Sarah Burke Trophy recognizing their season-long achievements as the best overall Freeskier in the world.
"The world lost an incredible human being in Sarah Burke. She was more than a pioneer in freeskiing, a sport she loved dearly, she was an inspiration and motivation for following your dreams and believing in what you can accomplish," states Chris Schuster, Co-founder and President of the AFP. "Sarah was such a huge part of the AFP, and in freeskiing in general, and we would not be where we are today without her contributions. Naming the World Champion trophy after her seemed like a very small way to honor her and secure her legacy within our sport forever."
Freeskiing athletes compete in the disciplines of Halfpipe, Slopestyle and Big Air in over 100 sanctioned events that make up the AFP World Tour earning points toward the AFP World Ranking. At the conclusion of each season, the AFP crowns World Champions of each discipline in addition to crowning an Overall World Champion to the male and female athlete who has accumulated the most points. The Overall World Champion trophy will now and forever be called the Sarah Burke Trophy.
"Sarah was not only a client but a dear friend," says Michael Spencer, co-founder and Vice President of the AFP. "I will miss her forever. Sarah was a true inspiration and one of the most caring people I have ever met. To honor her by placing her name on this trophy is a testament to her determination and unwavering commitment to be the best she could possibly be. I can?t think of a greater legacy."
Devin Logan, last year's Overall World Champion and current Women's Overall leader had this to say about the possibility of winning the newly named trophy: "Renaming the AFP Overall Championship Trophy after Sarah would only be right, seeing she competed in both events for the longest time and put everything she had into them. It's great to have this tribute to her as she did a lot for women's skiing. I would be honored to be presented an award in her name, just as any other girl would be."
The AFP World Championships will take place in partnership with the World Skiing Invitation as part of the Telus World Ski & Snowboard Festival April 18-22, 2012 in Whistler, BC. At the conclusion of the competitions, on the evening of Sunday, April 22, the AFP will host its annual awards ceremony. This event has grown in size, stature and significance every year since its inception in 2009. This year?s event will be a more formal occasion (collared shirts and dresses versus hoodies) in honor of Sarah and her desire to dress up occasionally.
Related posts:Sarah Burke: RIP We heard of the untimely death of one of skiing's...
Sarah Burke seriously injured Halfpipe freestyle skier Sarah Burke is in critical condition in...
Sarah Burke update! After hearing news of her accident yesterday, an official statement...