Every year from 2007 to 2012 Voleurz's free online movie release of had the power to shut up these silly conversations of what skiing should be, comps versus filming, does Goepper have style, this versus that and make you remember what skiing is all about: having fun with friends. From the quirky intro segments, to the BC bangers and of course the Volympics, these films provided a yearly reprieve from the often all too serious ski scene with the unapologetic antics of the Voleurz family.
Classic Volympics Shenanigans
Founded in the basement of a University of Victoria frat house by Darren Rayner and Bruce Giovando, the clothing, media and lifestyle company produced over 600 clothing designs, 8 films and 120 web edits in its time with the goal to create something unique with their friends. This small and simple goal grew over the years to encompass a family of athletes, musicians, artists, friends and a culture in its own right.
Following rough times in Europe and a poor snow year in North America, Voleurz faced the tough decision to continue pushing on, possibly selling to an investor, or bring an end to the brand. Rather than sell out, or let the vision "…become controlled by money or power or anything like that," Rayner and the group called it quits. While dismaying to fans, this move really embodied the spirit that created the brand in the first place, ultimately forsaking business operations to stay true to themselves. After all, to many, it wasn't even about what they made, but the attitude and outlook they possessed.
The opening battle from Kill Your Boredom
Over the years, the group received wide recognition for their clothes, content and their style. Their accomplishments include bridging the gap between skiers and snowboarders… or maybe not, with the intro to the group's final film, Kill Your Boredom, where skiers and snowboarders are pictured hacking each other apart (the segment does end with two chicks making out though). Realistically, however, they did manage to bring the two groups together by simply not giving caring and just riding, a common theme throughout all Voleurz media.
The group also released all of their content online for free, bringing stoke to the community before many companies were jumping on the free web content train. As Rayner puts it, "It was more important for us to get the films out there than to make a couple bucks. I think most companies have caught on to this model and it seems to be working really well." Through this characteristic style, as well as the possibly ahead of their time, free distribution, Voleurz cemented itself in the hearts of viewers.
Although the company itself is no longer, the movies, edits and most importantly the attitude remains. Members of the Voleurz family have moved on in many different directions since the dissolution of the company in 2012. Founder and filmer Darren Rayner has continued to produce videos for companies in the industry like Level 1, ESPN, Sherpas Cinema and many more. The different skiers and snowboarders involved with the company over the years is a long one. It includes: Rob Huele, Max Hill, Josh Bibby, KC Dean, pretty much the entire Canadian halfpipe team and many more. Check out the whole family on their website: http://voleurz.com/people
All Voleurz movies can be found here, with edits and more at http://voleurz.com/visuals
Kill Your Boredom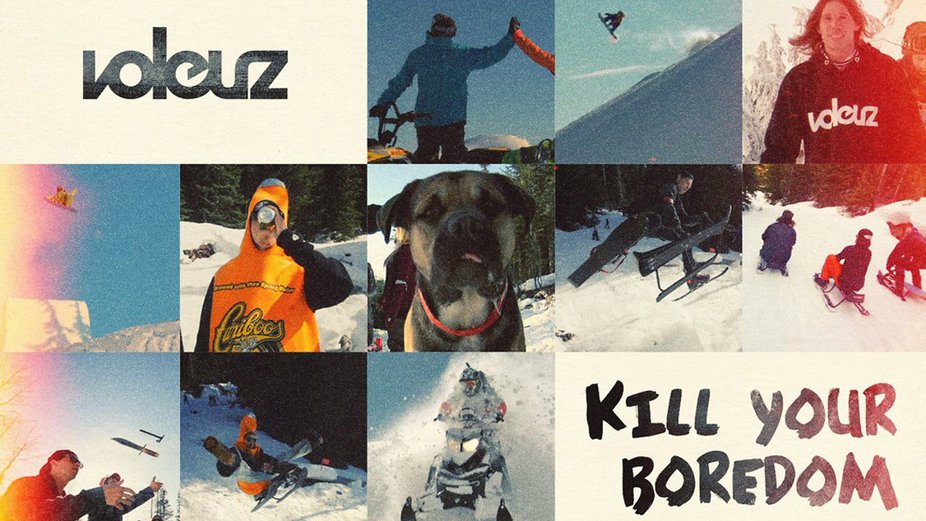 That's Fine
Look On The Bright Side
Outdoor Graduation
Oudtoor Education
Full Interview with founder Darren Rayner:
What have you been up to since the end of Voleurz?
Right off the start gate I was givin the opportunity to shoot with boys at Level 1 and for Wiley Millers XGames RealSki edits. Was really fun to come out of a stressful year and go straight to playing in the mountains with my friends. Now I'm working on a number of projects ranging from a hunting TV show to ESPN edits to a documentary about Mike Shaw to commercial work. All is swell.
As an outsider, the end of Voleurz seemed kind of sudden. Can you take us through it?
As a small company with no private investors, we didn't have what I like to call an emergency fund. Basically, we were using every dime we have to push the brand forward, and when the European market crashed, the US had a bad snow year, and we saw increasing pressures from our manufacturers we had to make some tough decisions. We didn't want to sell Voleurz to an investor with the wrong vision, so we called it quits while we were ahead.
From the beginning, the company seems like a labor of love. How did that affect the decision to move on?
It started out of passion to create something unique with our friends. We didn't want our vision to become controlled by money or power or anything like that. We're all really happy with the decision, and no one was hurt.
What was your favorite part of Voleurz? What do you miss most?
It was good to have such an amazing crew of athletes, musicians, sales reps, and friends involved, and that's something I'll miss.
Is there anything you're glad you don't have to deal with anymore?
Long hours. Very very long hours.
Do you think Voleurz left a legacy? What do you think that legacy is?
I'll let the people decide that. To me it was an amazing 8 years, and I learned more than I could have at any university or college.
Personally I still own a hoodie (my badass fanny pack gifted to me by Schmuck got stolen, I was pissed!). What was your favorite piece you produced? How about your favorite edit or movie?
Haha that's awesome. Our last film Kill Your Boredom was really rewarding to work on. Was cool to see the intro come together which was something we'd been planning to do for 4 years.
It seems like many companies nowadays are switching to smaller, free webisodes than paid full length movies. Why did you choose to release your content for free rather than charge?
It was more important for us to get the films out there than to make a couple bucks. I think most companies have caught on to this model and it seems to be working really well. Salomon Freeski TV and the Faction edits are 2 successful examples of this.
Thanks for your time!
Thanks Matt, happy holidays everyone.