Words by Stephanie Vicente
Mack Jones may be a name you don't know yet, but I assure you, it will be a familiar one come next season. A modest 18-year old 4FRNT skier from Ottawa, Ontario, Mack has gained the respect of both the Eastern and Western Canadian shred scene. With strong and consistent podium finishes under his belt, Mack has begun to tackle bigger contests out West such as the WSI Big Air. At a young age, MJ shows much promise as a comp skier and is beginning to collect a solid repertoire of footy. He has skied side by side with some of the biggest names out there and has no problem shining next to them.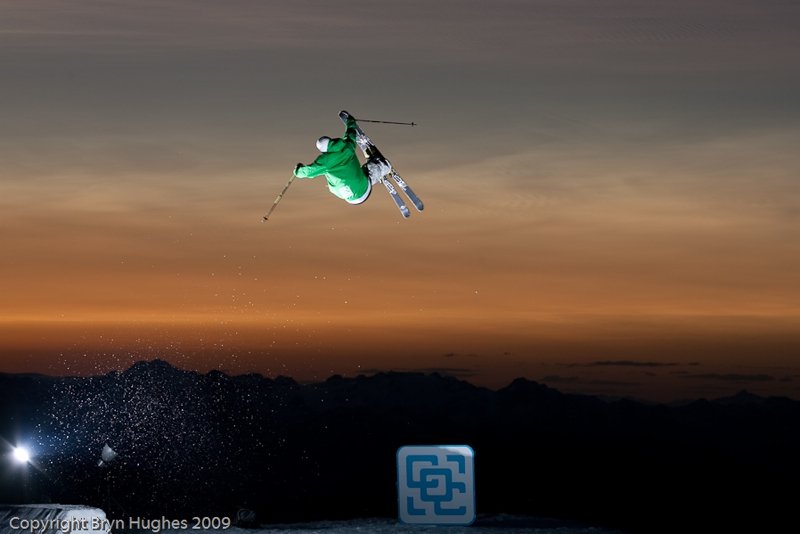 photo: Bryn Hughes
The bigger the deal Mack becomes, the humbler he grows. "Mack is for sure one of the most unique people I have ever met. He's painfully modest and hard on himself at times. He may not be winning huge comps yet but I think it's just a matter of time," skier Jen Crichton replied when asked whether she believes Mack is on the right track as a person and as a skier. "It's funny because Mack doesn't ever TRY to make friends, but slowly wherever he is he ends up making tons because people are just naturally drawn to him and I think that's because he's so genuine."
photo: Dice-K Maru
While MJ may be on the quieter side, his skiing speaks for itself...in fact it shouts. He's got a great bag of tricks and definitely exceeds in big air. This past season, Mack scribbled down a list of tricks to learn and focused on dubs, a variation of grabs, and right side spins. Loungin' at the Amsterdam Pub in Whistler, Corey Vanular and I merged onto the topic of up and coming skiers. I asked him what he thought of our leading man MJ and I must say that I wasn't at all surprised by his response. "Mack is a dope skier, he has a real good style and will flat 3 anything in the park. He reminds me of an early Dave Crichton. He is constantly throwing down and is a real nice guy. I'm stoked to see another kid from Ontario coming out of the woodwork. Definitely keep an eye out for him this next season." When Corey mentioned DC I immediately wanted to ask Jen what she thought about that comparison. "Yeah I can definitely see that. They both grew up skiing at the same home mountain so had a lot of the same influences. There's something unique about their styles that radiates comfort and complete control that makes them look so natural on their skis. Someone once said that it looked like Dave's skis were just an extension of his feet and I can see that with Mack too."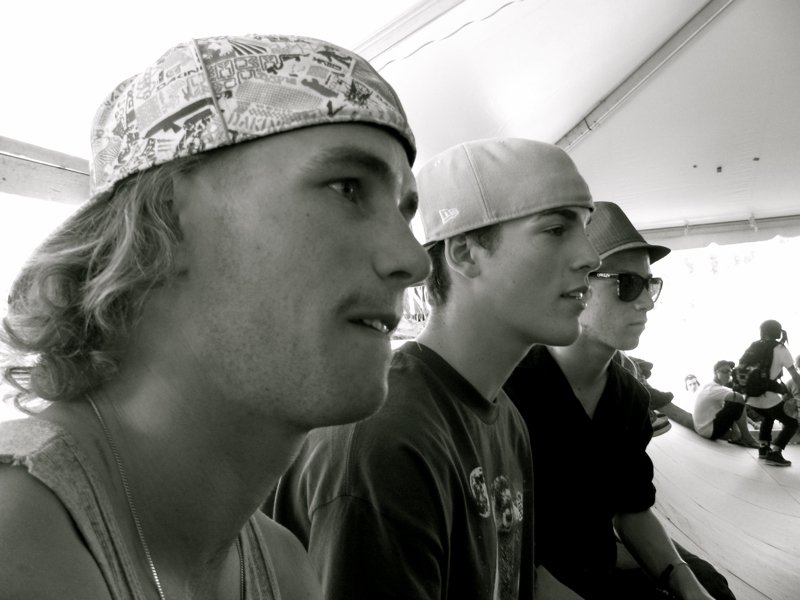 Mack with Matt Margetts & Sean Pettit. photo: Jeff Schmuck
Mack was like every other camper, two summers in a row, taking it all in and learning from the big boys. During his second summer at camp, Mack picked up a 4FRNT sponsor. "I got really lucky last year after session C of COC, at the end of the week I was offered a sponsorship by Sterbenz, who I thank a ton. He's helped me out a lot." But I have reason to believe that this past summer pushed his skiing career into the fast lane. Mack was a coach in training, working amidst an array of bodacious skiers such as Matt Margetts, Finn Anderson and Sean Pettit. If any of you NS'ers out there haven't seen the COC session B edit by ESK media, check it out, and pay attention to Mack's shots. You'll notice he floats onto jibs and over jumps, as though gravity has no hold on him.
COC Session B by ESK Media
Mack boldly attended the 4FRNT sunset shoot and from what the other riders have told me, he demolished the massive hip. He was living in my basement at the time and I distinctively remember him coming home afterwards. It was obvious he was radiating with glee and even more obvious that he wanted to share it, so I courteously asked him how it went. Mack, trying to contain his urge to explode with words of joy, modestly looked at me with a cheek to cheek smile and said: "One of the best nights of my life. My first time with a private set up, and it made me feel special. Everything was built around us and t -bars were opened for us, it was a perfect sunset, amazing weather. It made me feel great about my skiing. Everyone skied really well and had good vibes all around."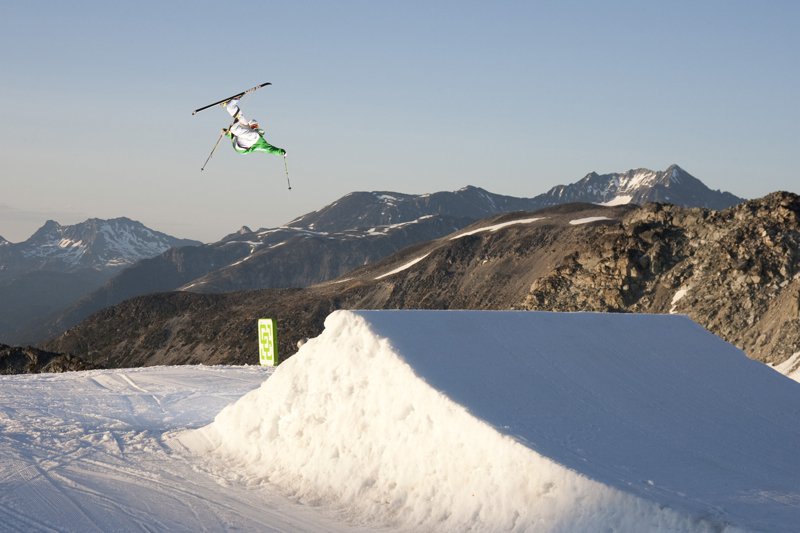 photo: Dan Carr
The rightfully famous and largely respected photographer Dan Carr took photos that evening and Mack anticipated the results eagerly. Dan had great things to say about Mack when I asked him what he thought of him as a skier and how it was to shoot with him. "I'd seen him around the park on Blackcomb all winter and seen a couple of sick videos so it was good to meet him. I think it was his first proper photo shoot but it certainly didn't show. He killed it and we got a bunch of banger shots. He has a good smooth style and that makes him easy to shoot!"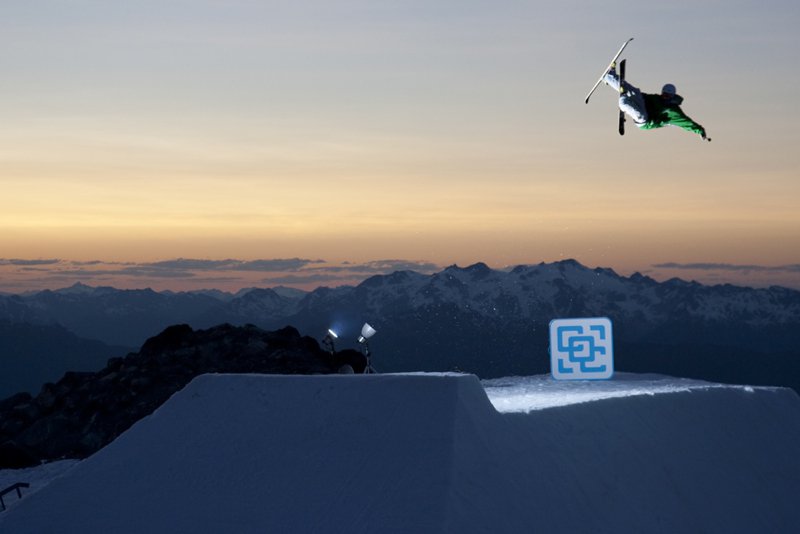 photo: Dan Carr
Mack is a responsible (though not at all a conservative) skier. Unlike many skiers, Mack's been lucky with knee injuries. So far, so good. I wouldn't so much call it luck as I would discipline. He's a frequent visitor to the gym and always active. If I was a rep, I'd want him on my team because he's reliable and healthy. During the season, whenever the rest of the crew was out poundin' down beers, Mack was resting, preparing for an early start in the black park the next morning. He's bound to place in big comps and soon enough he'll be giving the best big air riders a run for their money. Mack Jones who? Silly question.