Photos by Alric Ljunghager
During my time in Zermatt I was lucky enough to spin some laps on the elusive and somewhat mysterious 1000 Skis Park Ski - the brand now confirmed to be owned by Alex Hackel, Lucas Stål Madison, Pär Hägglund, and Magnus Granér
Specs at a glance: 178cm, 95mm underfoot, 18m radius, full-wrap edge, sidewall with semi cap topsheet & always bright red.
Me at a glance: 185cm & 75kg
These skis were super fun to get on and have a play around. They're super light and mightily agile. The PR proclaims these to be stable yet buttery, and great for carving and they do a pretty good job of all these things.
In my brief stint on these skis, I had an absolute blast. The shape and style of the skis is not revolutionary, the guys haven't gone out to reinvent the wheel. They've taken a mostly camber profile with a little early rise in the tip and the tail - a fairly classic shape - and tweaked it to their vision.
An even flex pattern throughout the ski means that the whole ski flexes at once when you put your weight behind them, rather than having a hinge point and means they pop back into shape with gusto. The camber means that despite the ski being on the soft end of the spectrum they maintain decent stability at high speeds on groomers, jumps, and rails.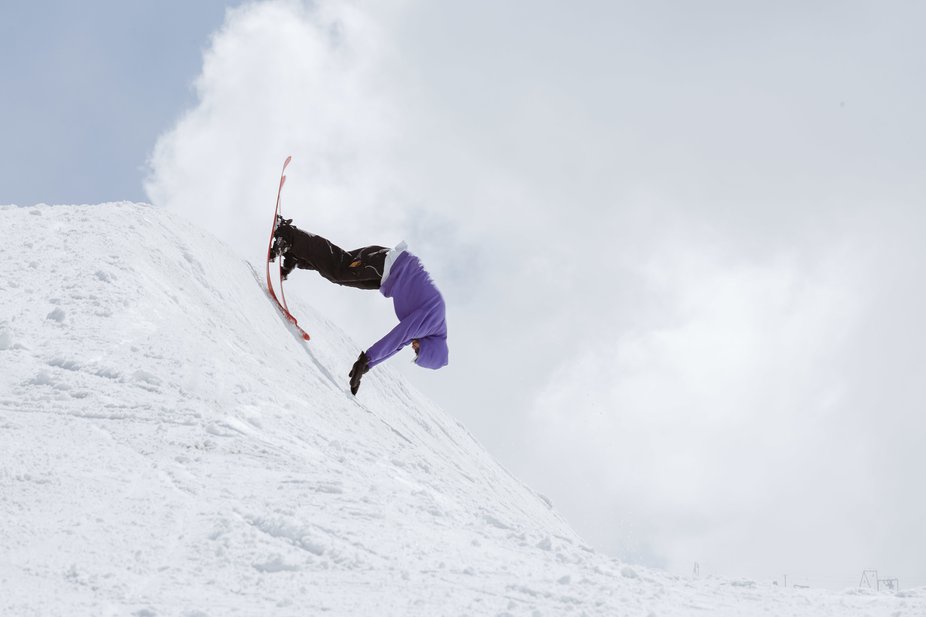 Next on my personal agenda is keeping my hands off the snow when getting buttery like this.
I mostly skied them on the rails in Zermatt, as well as the side of the jump landing that served as a quarterpipe hit - to test just how well they spread that butter.
Honestly, in the time I spent on them they were great. They did exactly what I want a park ski to do; feel light and snappy on and off rails with a light swing weight for swaps and spins, carved hard and remain playful when doing nollies and butters.
Due to the largely cambered profile of the 1000 Skis Park, the contact points are further from the boot than they would be on a more rockered ski of a longer length. This meant these skis were comparatively stable and for a ski of their length and flex. I did some big disasters on the DFD and felt the full confidence I feel in a longer, stiffer, but more rockered ski - such as 21/22 Prodigy 1.0 in a 184 I was testing - as I did on these.
I'll make a few comparisons here as well. The first being my trusty 17/18 Armada ARV 96 (184), on the softer end of the all-mountain park ski range. They have more rocker in the nose than the 1000 park ski but a fairly similar flex, I think where these stand out against the ARVs is the energy in and out of the turn and the pop out of butters. Throw in a little more agility than them too and you've got a really fun set of sticks - I love my ARV 96s and understand that years of abuse have taken some of the life out of them but this hopefully gives you a little idea of what to expect.
I was also riding the Fauna Omni's whilst out in Zermatt (full Roofbox Review to come later in winter) 100mm underfoot and plenty more rockered than these. They have a different flex profile entirely being stiff underfoot and soft in the nose and tails - more so in the noses. One of the big things the guys have aimed for with the 1000 Skis is an even flex aiming for something that stores energy across the length of the ski when loaded. I'd say he lack of a noticeable hinge in the flex makes for a super fun ski to bend, play on and carve. That's not to say the Omni is not these things, I have enjoyed that ski hugely for many reasons - to be discussed in-depth in the Roofbox Review.
I found the consistent flex super fun. Unlike stiffer more rockered skis where you have to throw your weight behind them, and hard, to flex you can trust the designed flex to be fairly similar throughout the length of the ski. While skis with a noticeable change from stiff to soft flex along the length can sometimes buckle under the energy put into them if you don't get it absolutely spot on. I think they're on to something with this.
Despite some questions surrounding the 178cm (pressed) length of the skis, I felt plenty of stability, and far from feeling limited by the length I actually felt freer to try more tricks and found some of my standard manoeuvres easier due to the lightness of the ski - something I'm sure will translate to longer iterations once the team gets there.
Soft but poppy, making this shit a breeze!
We all know the owners of the brand for their proficiency with buttering any kind of ski. They've said they want these skis to be conducive to anyone learning these tricks and being able to emulate their style where possible. I really found these skis made butters a joy to perform and the fully wrapped edges provided a good amount of control when you're on the limit.
A super fun ski all around I look forward to hearing @Twig talk about them when he's back to full fitness and getting to test some more of the range myself.