Words by Jason Hamborg
Photos by Mike Fillion
Last year when I hosted a premiere in Prince George, BC for Level 1 Productions' 11th feature film, Eye Trip, all I was hoping for was to sell enough tickets to break even for the night, and maybe have enough money left over to buy a new pair of bindings. But when I made a last minute decision to donate the profits from the night to a young man, whose name I hardly knew, I had no idea the snowball effect I was about to create.
Shortly after last year's Eye Trip premiere I took some time to write to Level 1's Josh Berman to let him know what we had done with the money from the premiere, and being the top notch guy he is, Josh donated Level 1's portion of the profits as well and posted a story about the premiere on the Level 1 website.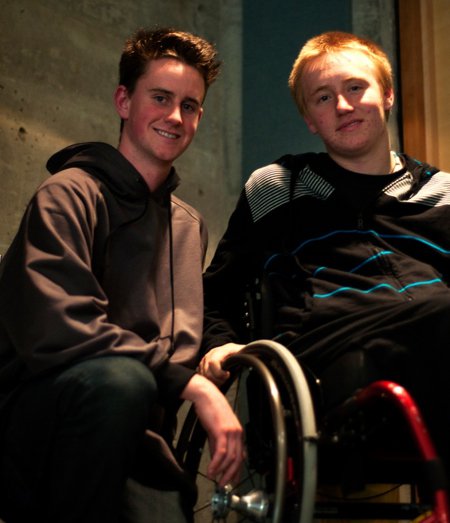 Jason Hamborg and Landon McGauley at last year's premiere.
This is when things really got amazing, as no more than an hour or two after the story went up, I received an email from Roy Tuscany, the President and Co-Founder of High Fives Non-Profit Foundation. Roy had read the story and wanted to get involved with Landon's recovery. I put Roy and Landon in contact with one another and the rest is history, as Roy and the High Fives crew made some incredible things come true for Landon, which is why this year I made the choice to donate all of the profits from our premiere to the High Fives Non-Profit Foundation so they could continue making big things happen for athletes like Landon.
Fast forward to two weeks ago, exactly one year since Landon and I's relationship began, and I am standing at the main entrance to the venue, greeting guests as they funnel through the doors, each one more excited than the next to check out Level 1's latest film, After Dark, when I see Landon and the rest of the j8r crew as they make their way through the doors. It was impressive to see Landon and how far he has come in year since we first met. Mature beyond his years, Landon McGauley carries himself in a way that never ceases to amaze me. After chatting briefly about his latest trip down to Mississippi, where he learned how to waterski with High Fives Non-Profit Foundation (which Newschoolers recently featured a story on), it was time for the premiere to begin.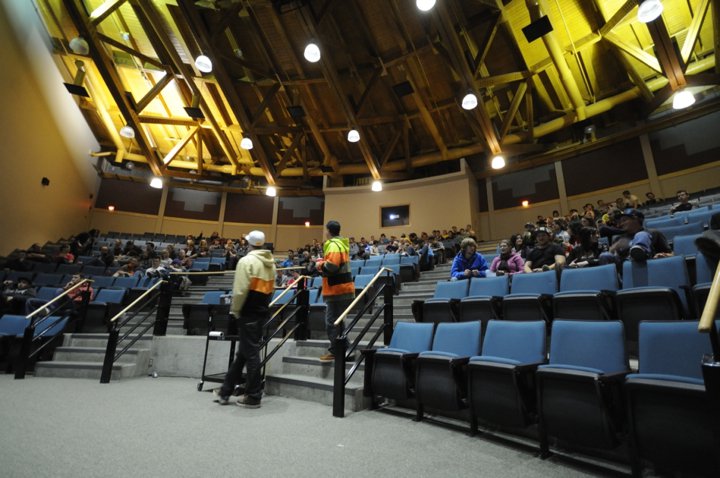 The theatre begins to fill up before the start of the show.
Once all of the stragglers had made their way into the theatre and found their seats, I made a short speech to the roughly 160 people in attendance, and introduced a local ski film, I'm on One, which was directed by myself with the help of Glenn King and Taylor Josephy.
Jason Hamborg, Glenn King and Taylor Josephy's new film, I'm on One.
Once our movie was done playing we wasted no time in delivering what they all came out to see, Level 1 Productions' After Dark. Following the movie, we hooked the crowd up with all sorts of free swag provided by Level 1 and their sponsors, and of course thanked them for supporting the great cause that is The High Fives Foundation.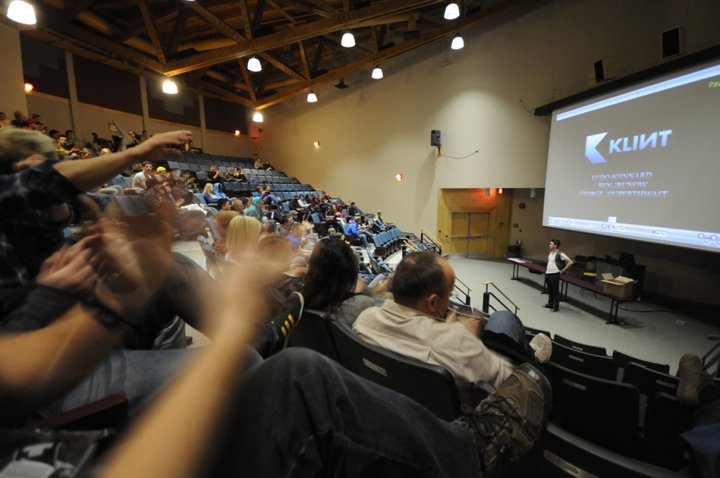 Jason Hamborg thanks everyone for their support.
I want to thank Josh Berman and everyone at Level 1 Productions, Roy Tuscany and The High Fives Non-Profit Foundation, Glenn King, Taylor Josephy and of course Landon McGauley for the positive vibes that never seem to be lacking.