In this day and age advances in modern technology can make it easy for anybody to snap an amazing picture. A little editing here, a slight touch up there and just like magic you have yourself an Instagram worthy photo. Thankfully, there are still a few real photographers out there and fortunately not all pictures can be taken with a basic smartphone camera. Thousands of pictures are posted onto Newschoolers every year, and chances are pretty high that you've come across at least one photo that left you asking, "How did they get that shot?". Many of the photographers that post their images on Newschoolers work hard day in and day out to provide us with these amazing pictures. Some times a shot doesn't go as planned and some days a photographer can come up completely empty handed. However when the conditions are right all of the hard work can pay off with a picture that's worth a thousand words.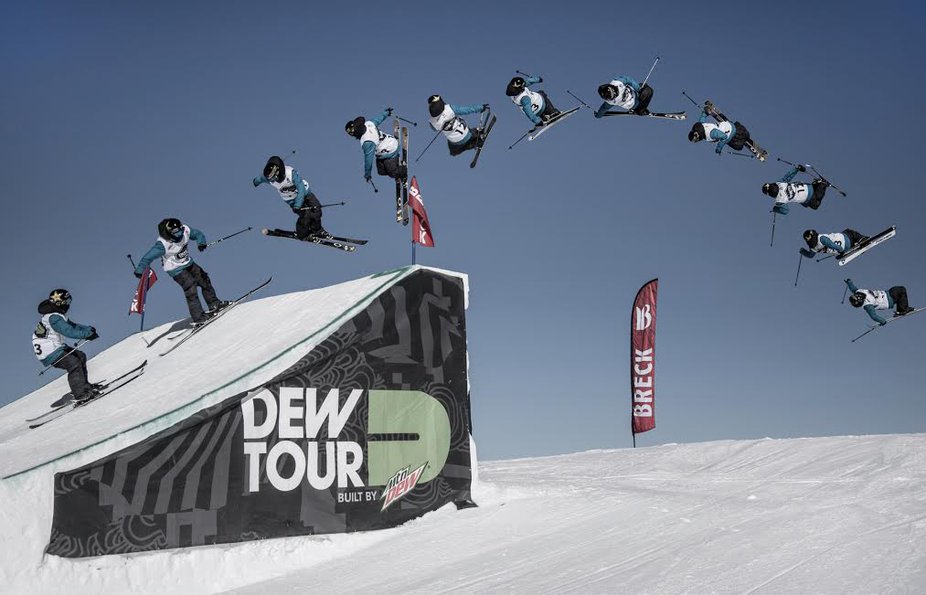 Photographer's Description: This is a sequence of Joss from the Dew Tour Breck 2015 in December. Not only was Dew tour the first "official" event I had ever shot, but I was going into the event with a brand new camera body and lens, without having time to get used to the equipment. Also being a sequence, requires an ability to use editing programs and a combination of photography and graphic design. Definitely had to take a bunch of other shots before hand, even tried some other sequences, I was stoked to get a consistent shot like this one. I ended up using this shot as a part of my senior thesis project as well because of how it shows his rotations.
Photographer: Rachel Bock
NS Name: b0ckmeister
Age: 22
Residing In: Colorado
Instagram: @b0ckmeister
Website: http://www.bockaroundtheblock.com/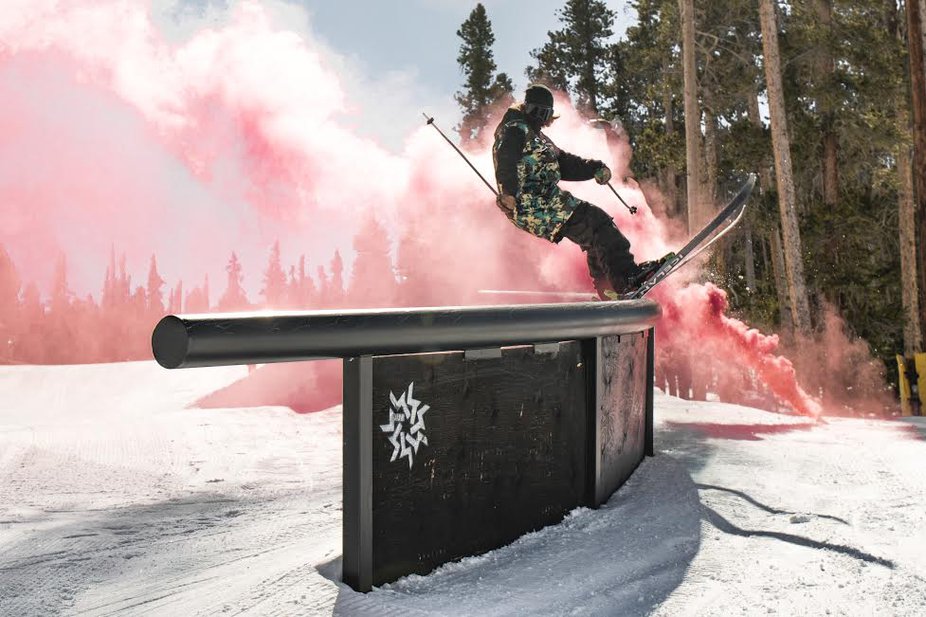 Photographer's Description: I was inspired from a short edit that was released in January titled, Torched, in which some guys attached rescue flares to their skis at night. I thought for a while how I could do something similar yet original with still photographs. After conceiving the idea, I went to my homie Parker Norvell to see if he would be interested in being my subject for the shoot. We were both pretty stoked and had no idea what to expect. After a month of planning and plans falling through, we finally got together in February at Keystone. I only purchased 7 smoke grenades (they're very expensive), and I knew I only had a few chances at getting one quality shot minimum.
I was very nervous and stoked driving up to Keystone that morning. Our first attempt was on the C-Rail. The first try was a complete wreck. We misread the wind and the smoke went in the complete wrong direction. All I could think was that I wasn't going to get at least one shot and this all would have been a waste of money and time. Luckily, the second time around the wind was in our favor and the smoke floated from right to left as imagined. After pulling the pin, I composed the shot, held down the shutter, and prayed. Parker came flying through the rail as the shutter snapped like a machine gun. After he stomped, it was silent for a few seconds as I scrolled to the photograph. We saw the results and we were stoked.
Photographer: Grant Whitty
NS Name: AltitudeFoto
Age: 19
Residing In: Fort Collins, Colorado
Instagram: @altitudefoto
Website: http://www.altitudefotografy.com/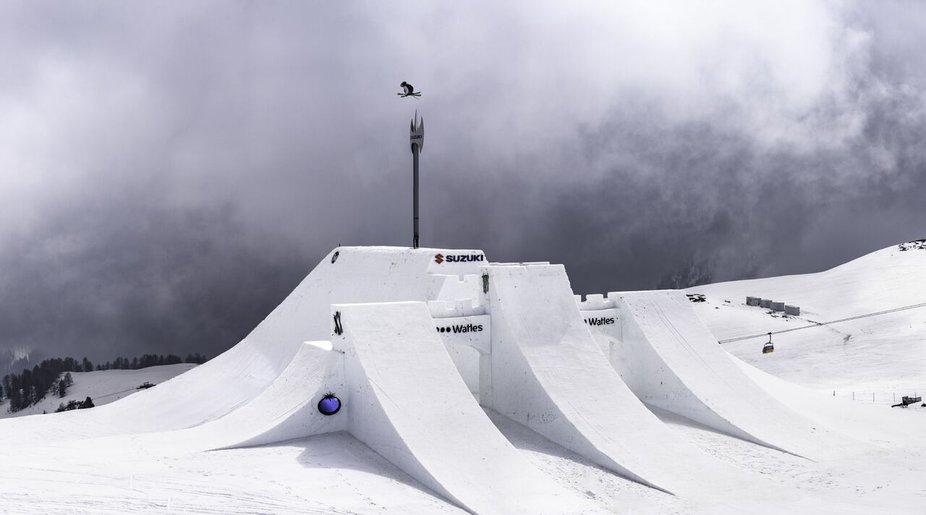 Photographer's Description: Having the opportunity to shoot at Suzuki Nine Knights this year was a huge milestone for me. This was my first time shooting a major international ski event, my first time traveling to Europe, and my first time completely alone in a country where I did not speak the language. Shout out to everyone who tried to understand my broken Spanish/Italian that I would sputter out. It took over two months of email after email, finalizing then re-booking flights, and shuffling through websites with rough English translation for me to finally get to Watles, a small but mighty beautiful resort in South Tyrol, Italy.
This image is from my third day of shooting. I was jet lagged, hungover, and exhausted from a late night editing; the weather oddly reflected the fuzziness of my brain. Most of the morning saw clouds rolling through the feature, at points so thick you could hardly see. But luck gave us a few brief moments of light, and me a Forst beer that I gladly took. This is shot with a Canon 70-200mm lens on a Canon 5D Mark iii. In this shot, Jules Bonnaire sends a massive air over the hip while gunning for the world record, which David Wise eventually ended up taking home a hit 14.2m above the coping (massive). Shout out to Newschoolers for making me getting to this event possible, and big shout out to Sklar and Twig for some much needed advice along the way!
Photographer: Emily Tidwell
NS Name: LynxNation
Age: 26
Residing In: Government Camp, Oregon
Instagram: @lynk_nation
Website: http://www.emilytidwellphoto.com/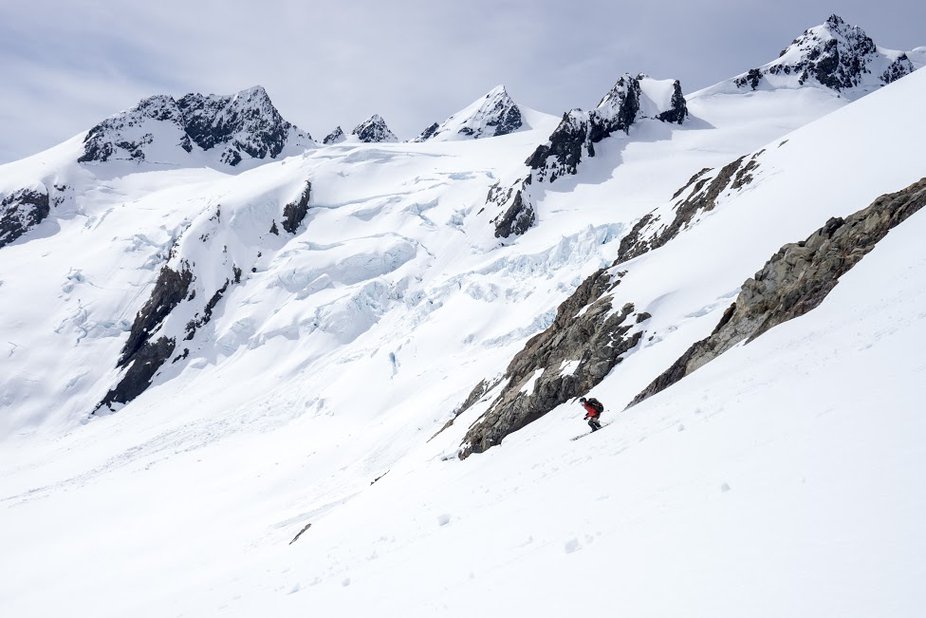 Photographer's Description: I chose this shot because for me it represents an evolution in my skiing, that's been simultaneously driven by my desire to shoot in more hard to reach locations. I started out shooting in the park, all of my early shots were either taken in the park, or on cliffs and features inbounds. That's where I learned to use my camera and work with athletes. However, in the three years since then I've felt more and more of a desire to push myself outside of my comfort zone and take my camera places that no one else is taking a camera. That's led to more ski mountaineering type objectives, and longer trips with less easy opportunities to take photos.
The photo this trip was taken on was a realization of that push. We walked 18 miles before we even put our skis on. We had to skin up this pitch roped up for crevasse rescue. At the top we ended up turning around from our objective due to weather, fatigue, and snow conditions. All in all, this was exactly the opposite of my roots, shooting rails in a sunny terrain park. But along the way we stayed true to those roots. David Steele, the skier in this shot, is active on NS, helping the next generation get into climbing up mountains. After I took this shot I skied part of the run switch, in Dynafits, with a rope and ice axe on my back. Photography is an incredible journey, and for me, this shot represents my own transition within the medium. I still love to get out with the park rats and build booters, but I'm more interested in shoots that push my limits both as a person and a photographer.
Photographer: Cy Whitling
NS Name: cydwhit
Age: 22
Residing In: Driggs, Idaho
Instagram: @cywhitling
Website: http://www.cywhitling.com/