Perfect weather accompanied Alpine Meadows in honor of closing weekend festivities. Skiers, riders and telemarkers were out in full force for their last lift accessed turns in the Lake Tahoe area. The corn snow was perfect; just the right temperature and wind combination to make the turns last through early afternoon. And once the turns stopped, the party began!
Live music on the Bandwagon by Subjektochange rocked the sun deck! Beverages were flowing like the Truckee River; dancing dervishes; and tons of costumed characters. As if the band and dancing was not enough, the ultimate last run of the season took place well after the hill was empty…yes, the Mad Cow Downhill! An event not to be entered by the timid or slow. An event rewarding the fastest skier or snowboarder with a 2010/2011 Midweek Plus Sunday season pass! For over ten years Alpine has held the Mad Cow Downhill, and this Mad Cow was by far the best. Thanks to everyone who participated and for making it safely down the hill.
From all of us at Alpine Meadows, we hope you enjoyed the final weekend as much as we did. You, the skiers/riders are the ones who make Alpine what it is: a good vibe, friendly atmosphere, with amazing talented athletes skiing your hearts out. You are I A.M. Alpine. We look forward to seeing you all next season, and we hope you enjoy the summer!
Think snow.
Mad Cow Downhill winner!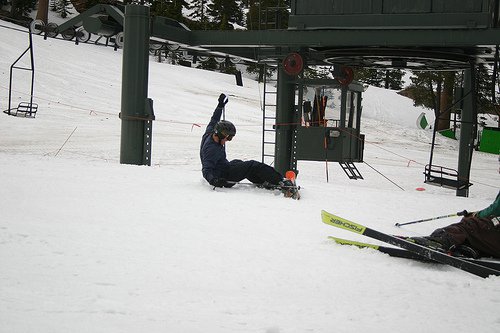 Mad Cow snowboarder catching a little air.
Fun was had by all.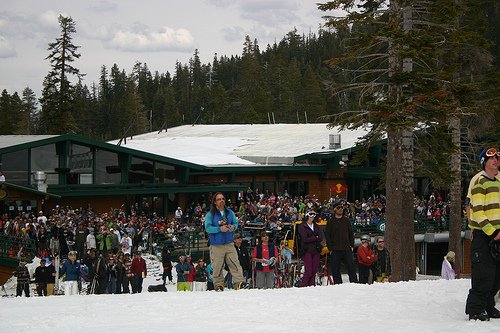 Subjektochange performing on the Bandwagon.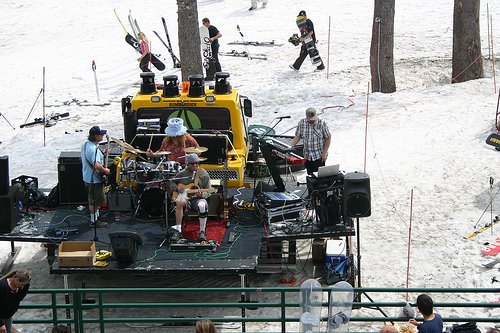 Can you guess who is in the pink jacket?