Words by Jeff Schmuck
Photos by Jeff Schmuck & Jason Mousseau
We're smack dab in the middle of week three of four here in Whistler, and what a summer it's been so far. The weather turned a bit icky for a couple of days over the weekend but once again it's all sunshine and smiles this week on the glacier at COC, Momentum, Dave Murray and PSI.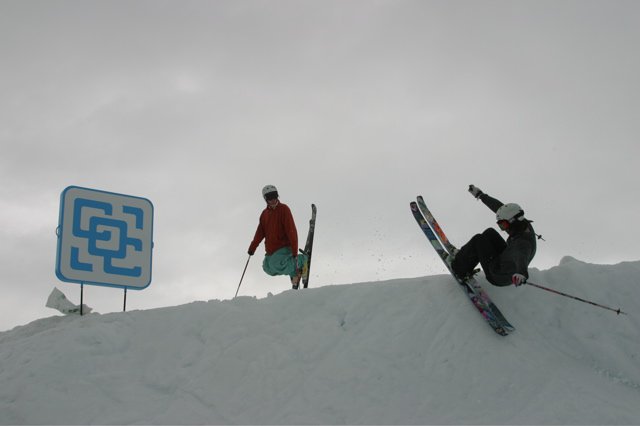 NS's Jeff Amantea & Cedric Tremblay-Fournier
As anyone and everyone who's been to summer camp knows, the chance to ski in the hot summer heat on some of the best parks in the world is what you pound nails, dig graves, or beg your mom and dad for (or as one recent COC camper did, book yourself a session and a plane ticket with your parents' credit card and then leave in the middle of the night without them knowing what you're up to), but once you're here, the good people who run the show do a damn good job of giving you so much more for your money and to write home about. So with that in mind, as opposed to doing another update on just the skiing, I wanted to give everyone out there who's never been to camp (and some nostalgia for those who have) a little behind the scenes look at what goes on in a day in the life at summer camp when the air ramps and grind bars are done being shredded to bits.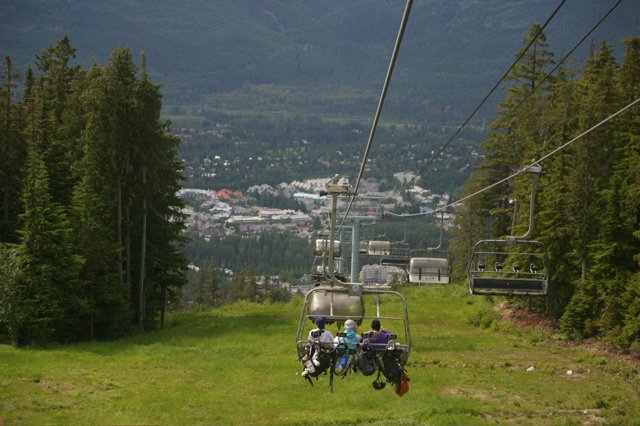 Over at Momentum, John Smart and his crew have hooked it up large for their campers this year. The camp is based in the precise center of the village at Blackcomb Lodge, which is a short jaunt to the lifts and situated right between Citta's and the Amsterdam Café, two of the best patio restaurants in the world.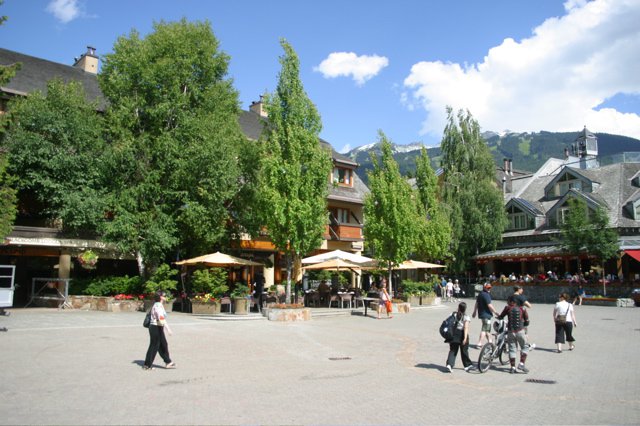 Blackcomb Lodge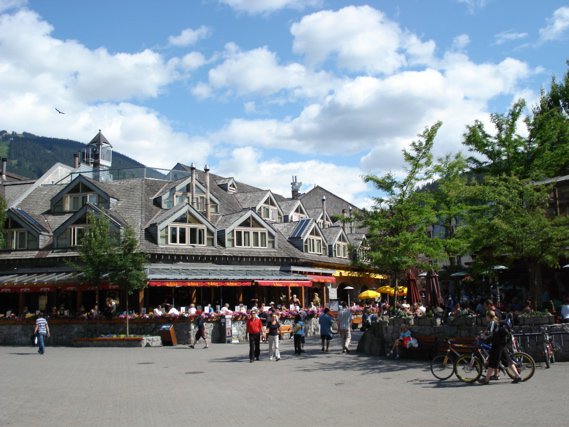 the Village Square...aka patio central. (left to right) Amsterdam, La Brasserie, Citta's.
Inside boasts a plush camper's lounge/office with brand new computers and racks full of the freshest SMS and Momentum gear, and the suites themselves are ballin outta control, as one would expect from any hotel right in the middle of Whistler. Each room also has a nice patio that overlooks the village stroll, where we've been having a ton of fun by crazy gluing coins to the ground and asking unsuspecting tourists to pick them up for us. HA!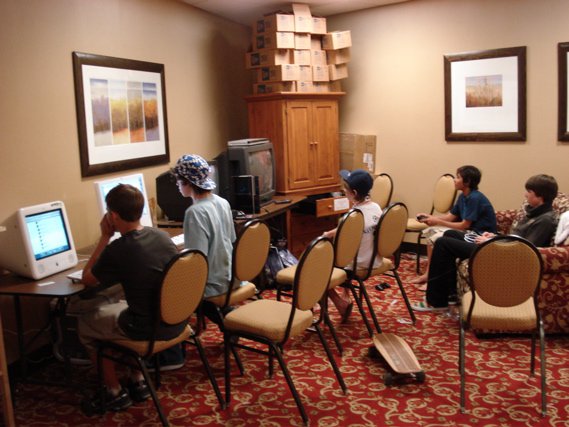 Momentum lounge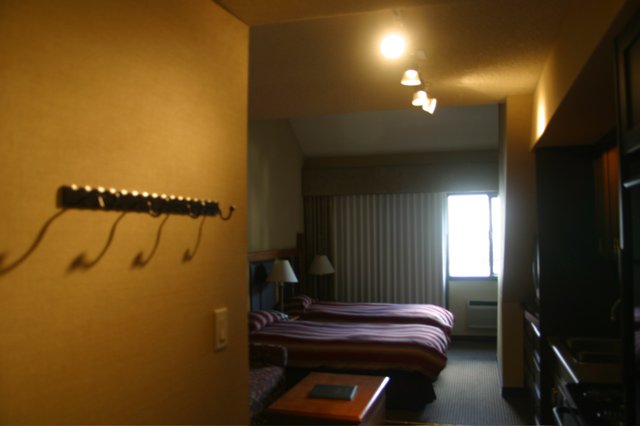 Momentum rooms
Just out back of the hotel is a pimp trampoline, where pipe queen Roz Groenewoud has been holding it down all summer, teaching the campers how to throw new tricks on the tramp that they can then take to the snow.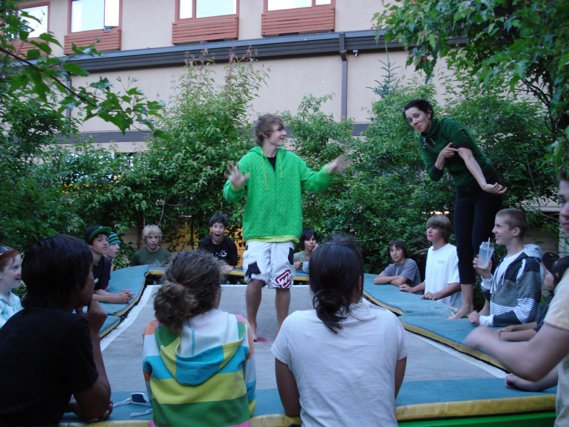 Roz asking campers to please stop doing double backflips...but they don't listen.
Camp of Champions threw down extra hard this year as well, by renting out two of the staff housing buildings at Base 2, which is a rocks throw to the water ramps and just up the hill from the lifts. During the winter the huge and secluded staff housing buildings are home to pretty much the entire population of Australia and Ontario, as everyone who lives there moves to Whistler for the winter (seriously, I've heard OZ and Ontario are empty between November and April) to work for Whistler/Blackcomb, who supply apartment-style dorm rooms for their busy little workers before they fly home for the summer. So as COC got bigger and bigger each and every year, the Champion of the Camp Ken Achenbach decided what better place to house all the shenanigans than there.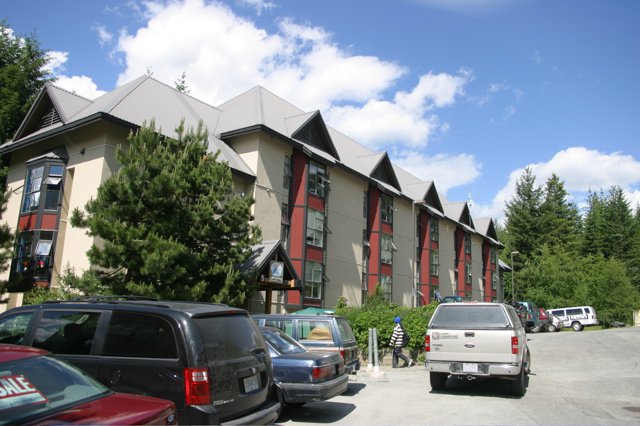 the COC Dorm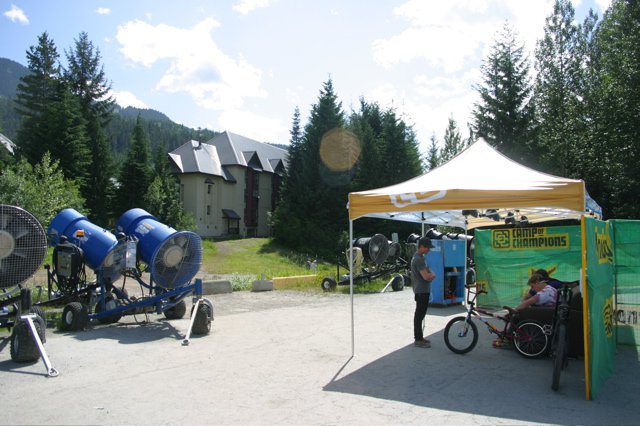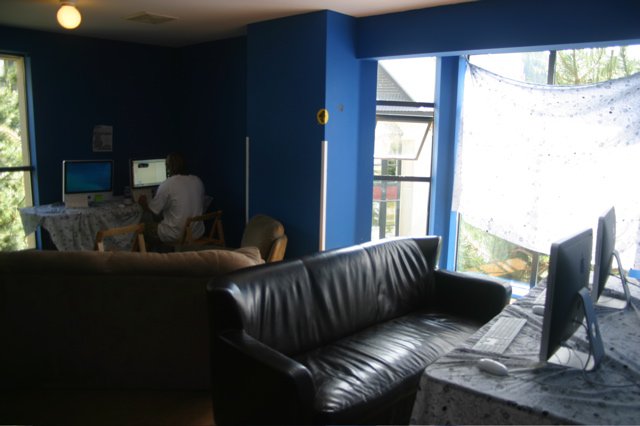 cpu lounge
So shortly after some recent renovations on the complex, COC rolled right in and pimped out the buildings with custom made COC bedsheets, towels, demo rooms, computer and video game lounges, and the crown jewel of it all, the 6 -Ten, a convenience store that's 'almost as good as 711,' run by Ken's wonderful mother in the lobby of building 5.
The 6-10 is where it's at...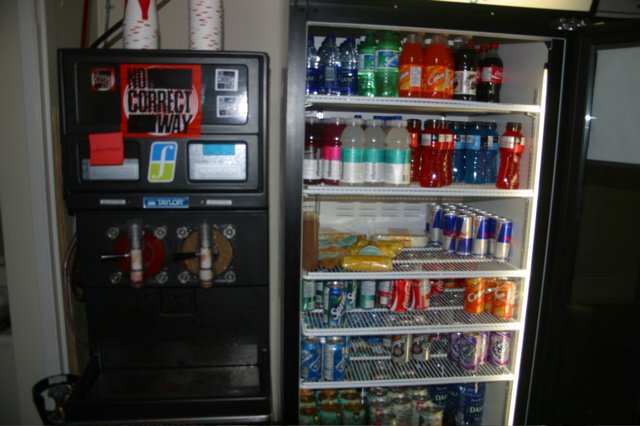 ...just don't pour the Slurpees on your own. Ken's mom likes to do it for you :)
And speaking of building 5, just a friendly reminder that the NS pad is in room 410 of that structure, and although we're nearly out of stickers, we've got some more swag that's about to arrive and we're stocked up on tall tees, which have been a huge hit and are selling fast…so come get yours!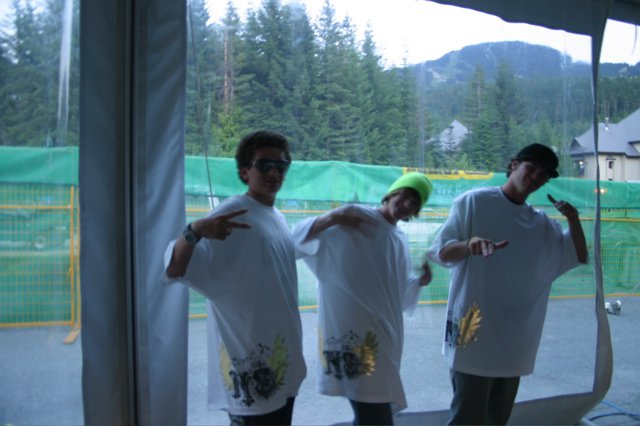 tall tees!
Just a short walk away from the COC Dorm in the parking lot of Base 2 is the tent to end all tents. Inside the 100-foot wide tent are pinball machines, ping-pong and foosball tables, big screen TV's for video games (most notably Rock Band…where weekly intense competitions are held for prizes) and last but definitely not least, a 40-foot wide mini-ramp for all your BMX and skateboarding needs.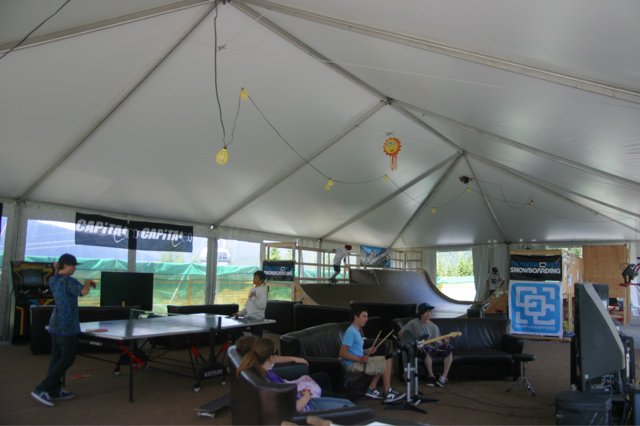 the tent
Outside the tent is a well-used basketball court, a sea of shuttle buses ready to take the campers wherever they need to go and the site of many a BBQ's.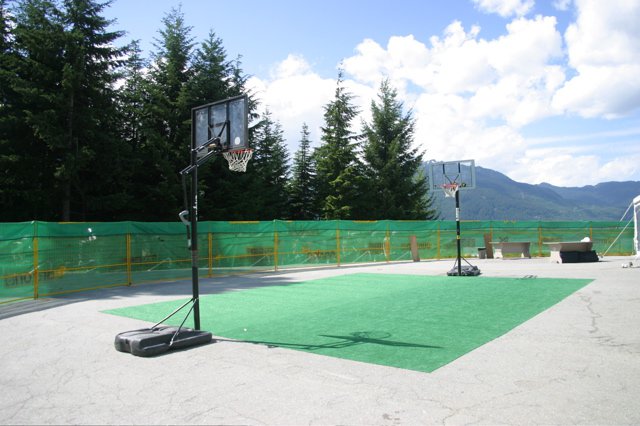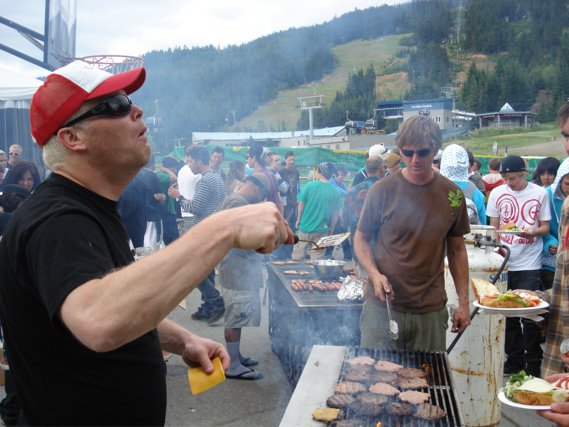 Ken Achenbach, grill master
Every morning the campers get up at the crack of dawn and leave these sweet accommodations to head to breakfast to chow some food and score their tickets before heading up the hill (none earlier than this week's simply amazing NS Bitch, as Ken has demanded he be the first at breakfast every morning).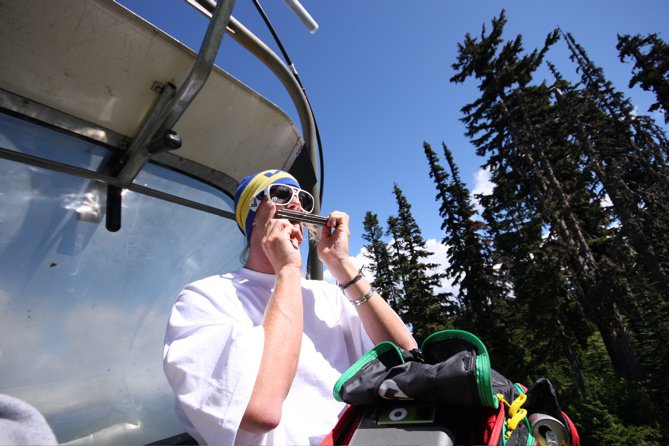 ...and if you're lucky, you'll get to head up with the best person to ride the lifts with: Josh Bibby. With his suburb slingshot skills, ipod speaker system bumping his excellent taste in music while he plays along on his harmonica, there's no better way to start your day at summer camp than with an entertainment-filled lift ride with Bibby. photo: cko
After skiing their brains out all day in the sunshine with friends and the best skiers in the world, the good times are just beginning, as the classic chairlift games are as fun and popular as the skiing itself.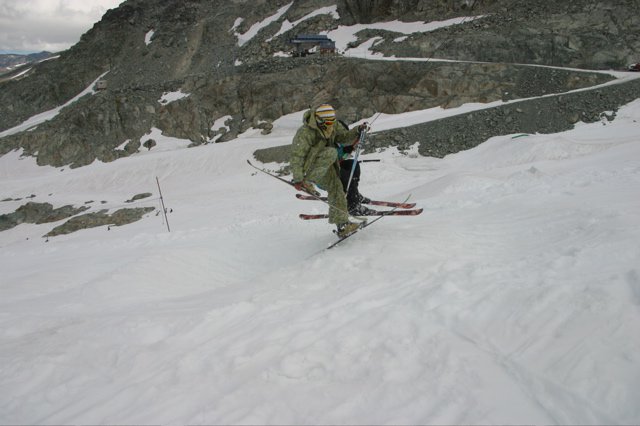 Josh Bishop
On the ride up the t-bar towards the chairlifts at download time, numerous groves and bumps have appeared over the course of the day after excessive usage of the track. Thus begins The Kang Bar, where the idea is to pop off the bumps and throw down your best liu kang, especially since the liu kang overlord Josh Bishop is present on the glacier and may give you a smile and a thumbs up for your efforts.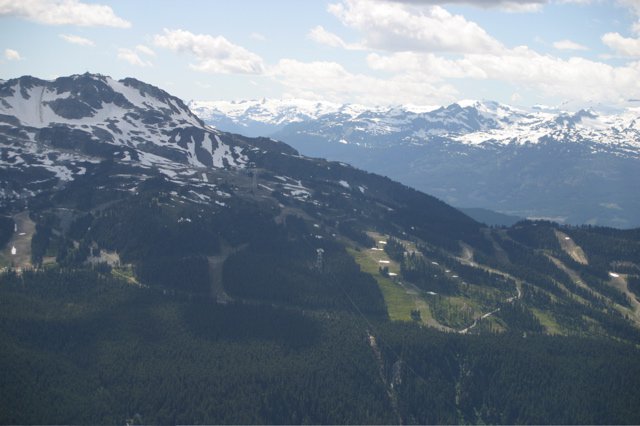 the Peak to Peak Experience tram
After the t-bar everyone hops on the 7th Heaven Express, as the ultra fun ski out down to Solar Coaster has become impossible thanks to everyone's favorite asshole, global warming. On the ride down you can catch a real good look at Whistler/Blackcomb's amazing Peak-to-Peak Experience tram, which once completed will be the longest and highest tram in the world.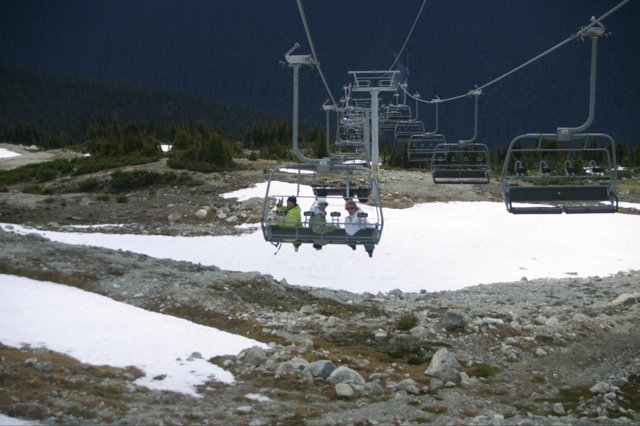 7th Heaven. Matt Hayward, Tyler Spence and Justin Dorey above...Hoary Marmots below.
I personally don't look at it that much, as aside from being terrified to ride it once it's operational this December (I mean the cars are going to have glass bottoms), I focus on searching for one of the sweetest animals in the world…the Hoary Marmot, who hang out on the rocks as they calmly and collectively survey their domain.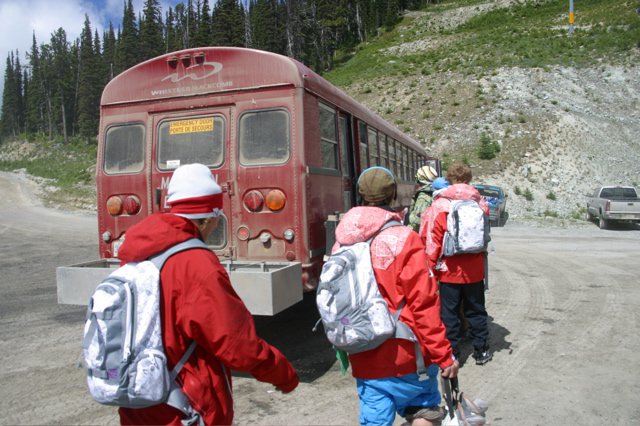 Once the ride down 7th is done, it's on to the next lift via a short bus ride, which is usually piloted by Johnny, an energetic tour guide who doesn't like smelly boots (just ask Margetts).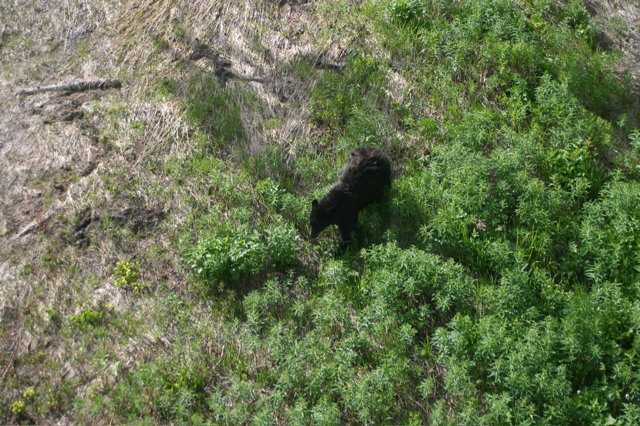 Robot Bear!
Then it's onto the Solar Coaster and Wizard Express, home of the infamous robot bears who are programmed to always be under the lift, before arriving at the beautiful Blackcomb base.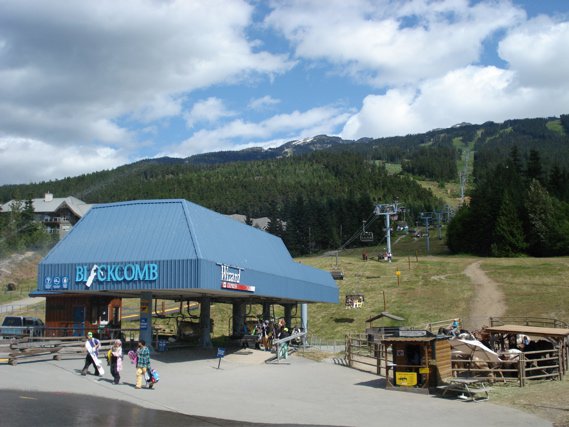 the base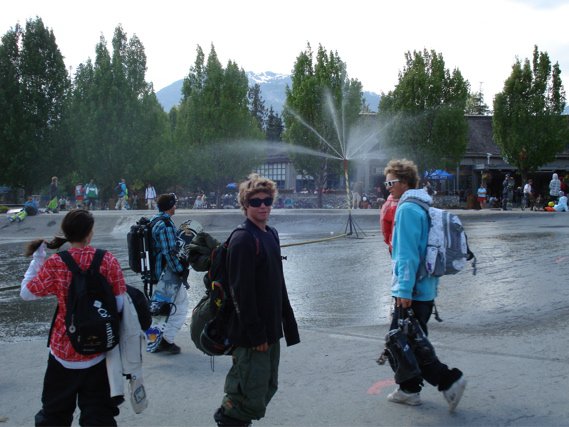 Matt Hayward and Even Sigstad's apres-ski hair
Once at the base many of the coaches gather to relax before afternoon activities at another fine patio restaurant (Whistler is full of them), Merlins, where beers and their world famous nachos are hard to say no to.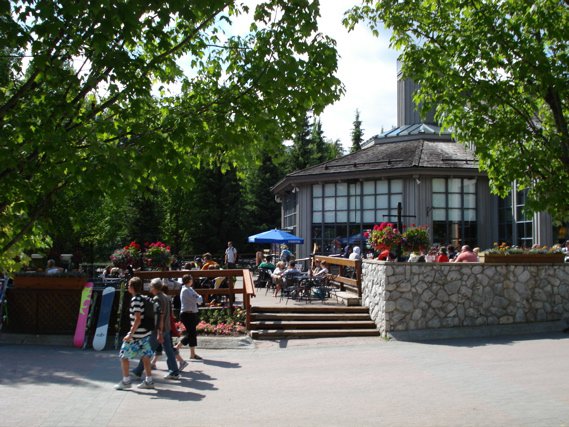 Merlins...get the nachos.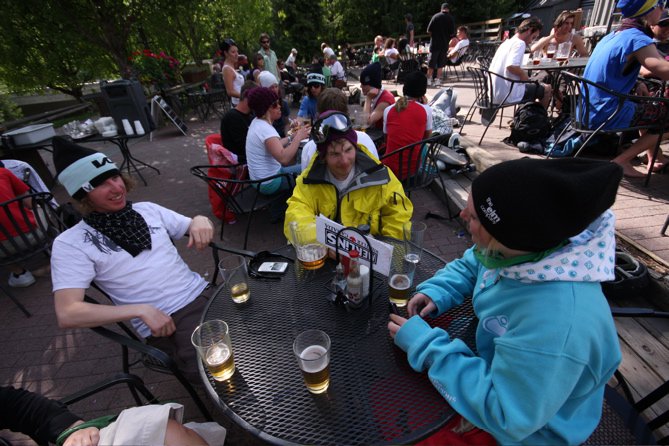 The afternoon activities then kick into high gear, with too many fun things to list, but I'll try…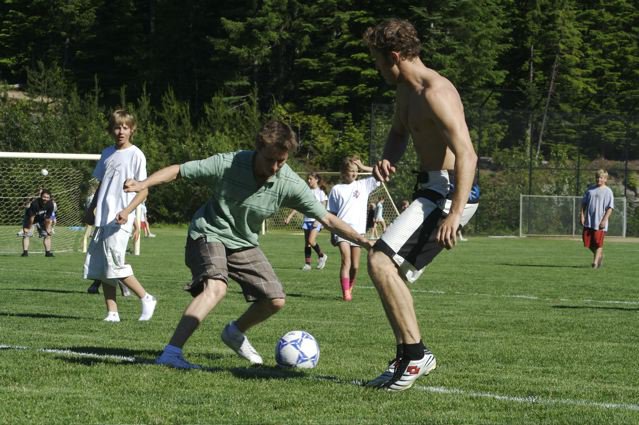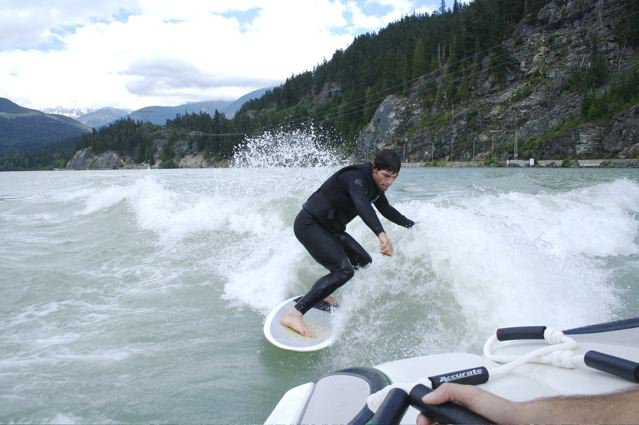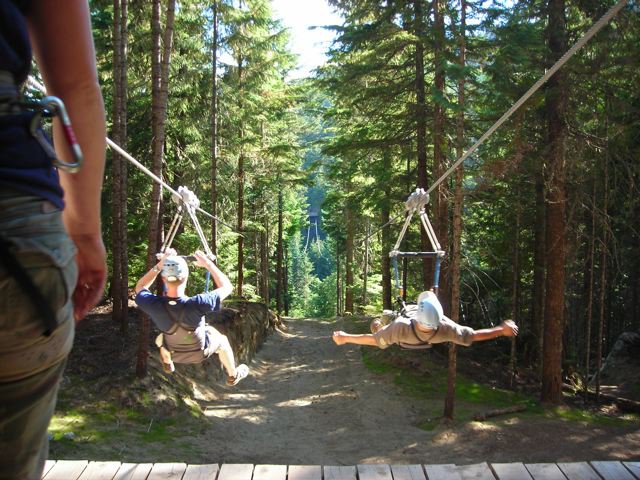 photos courtesy of John Smart
...soccer matches, paintball wars, mountain biking on Whistler's extensive network of trails or intricately and insanely built bike park, golfing at the driving range, wakeboarding and wakesurfing, scaling the climbing wall, zip track, and a host of others, including the fabled water ramps.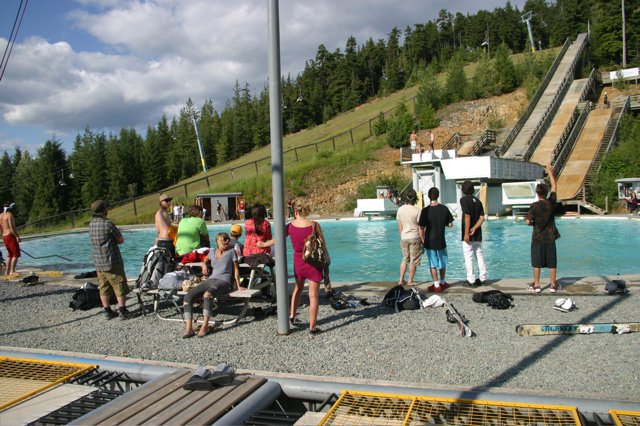 Water Ramps
Momentum, COC and most of the other camps have been regularly partaking in the ramps, which is a facility about a third of the way up Blackcomb that boasts a variety of dry slope kickers that lead into a nice and cool pool with compressed air bubbles underneath (making the landing as soft as the fur on the black bears who are regularly roaming nearby). Much like the trampolines, it's a great way for everyone to hone their tricks off snow with a safer landing before sending it on the hill.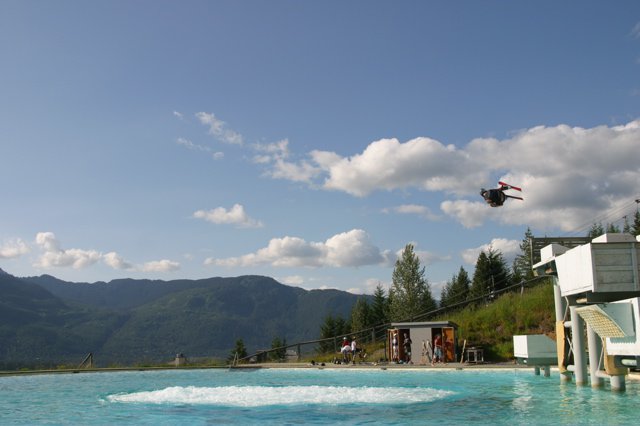 Matt Margetts, working on some new doubles
Smiles are always a plenty on the campers and coaches faces during the activities as they're the perfect way for those not too tired from skiing to pack as much fun into a day as possible.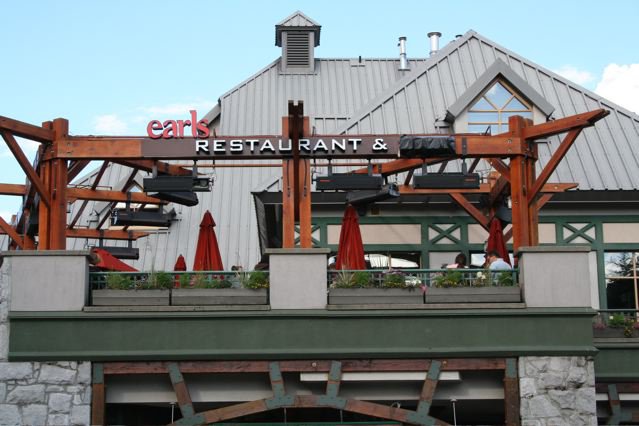 some happy campers at Earl's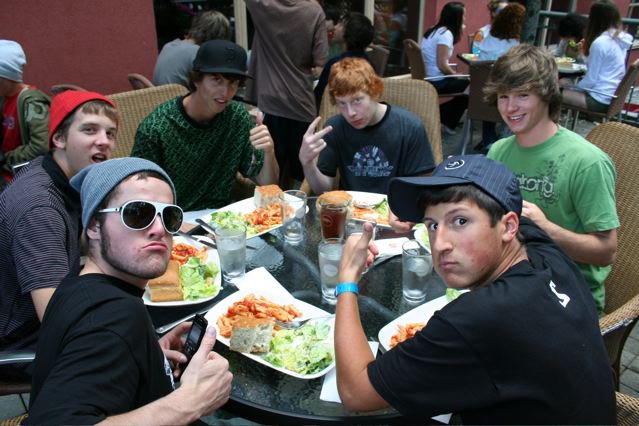 Once all the action is done, it's onto dinner at one of Whistler's numerous fine-dining establishments, of which I'd like to give special mention to three. Earl's is always a favorite, especially for the prepubescent and not-so-prepubescent boys considering the high number of attractive waitresses there, and oh yeah, and the food is damn good too. Mongoli Grill is a classic and my personal favorite, especially since I've got a mean crush on the hostess, and last but definitely, definitely not least, is Sushi Village, which has the finest sushi I've eaten outside of Japan, and the sake margaritas are a Whistler mainstay.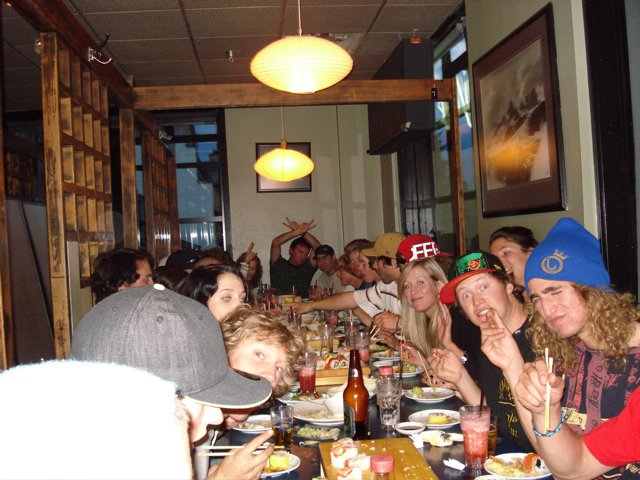 Sushi Village with the Momentum coaches and diggers
But anyway, I'm starting to sound I'm writing for a Whistler brochure, so let's get onto the goods, the skiing…
This past week Momentum saw a few special friends show up in Matt Walker and Andrew Hathaway, who rolled up from Whistler and started ripping the terrain a new one. Also happy to be here tearing it up is Ian Cosco, who thanks to your help got his six kids to sign up so he could coach for an additional session.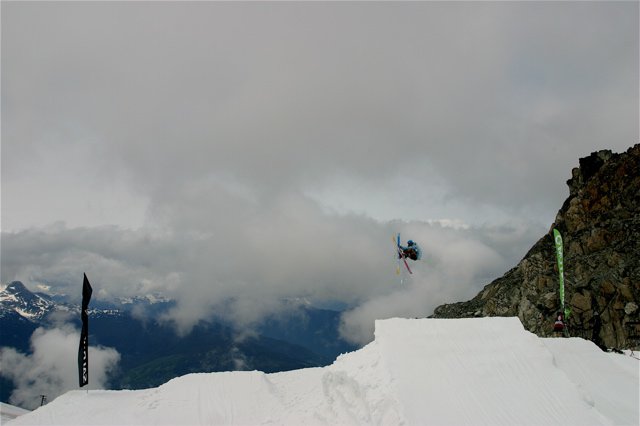 Matt Walker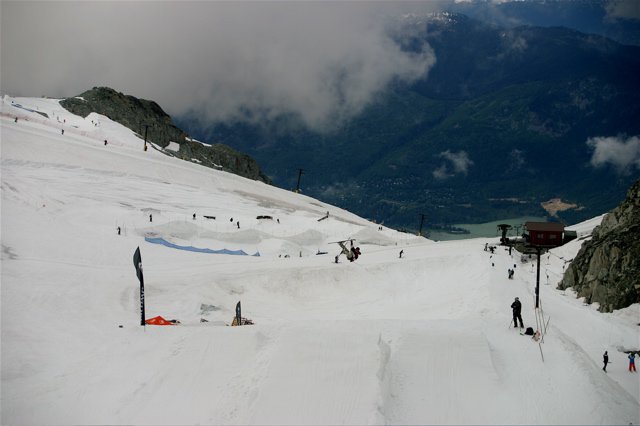 Andrew Hathaway
Stay tuned for an interview with Cosco where he gives much thanks to everyone on NS, plus a plethora of other summerish interviews with coaches including Justin Dorey, Roz Groenewoud, Wiley Miller, Luke Van Valin, Joe Schuster and if he makes up back up to Whistler after reportedly knocking his molars out on an unfortunate knee to face down at Hood, the infamous Jon Brogan.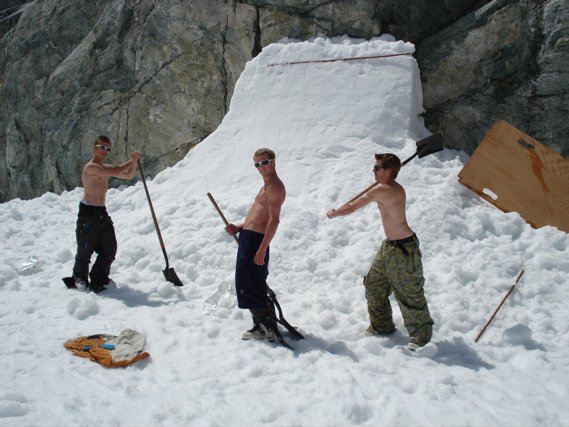 BC halfpipe team members Colin 'Chazz' Vaykovich, Matt Margetts and Tyler Spence (about to SMASH Margetts)
Over at COC 4FRNT week is in full swing, and we'll have a good ol' report on what went down there sometime in the next week. But in the meantime, last week during Oakley week the almighty O organized a night shoot for the boys, and courtesy of Camp of Champions photographer extraordinaire Dice-K Maru, here's some shots of Tanner, Sean and Cam to get you stoked.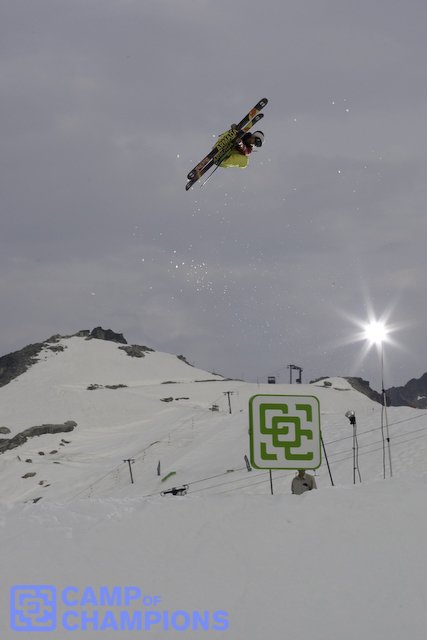 Tanner Hall. photos: Dice-K Maru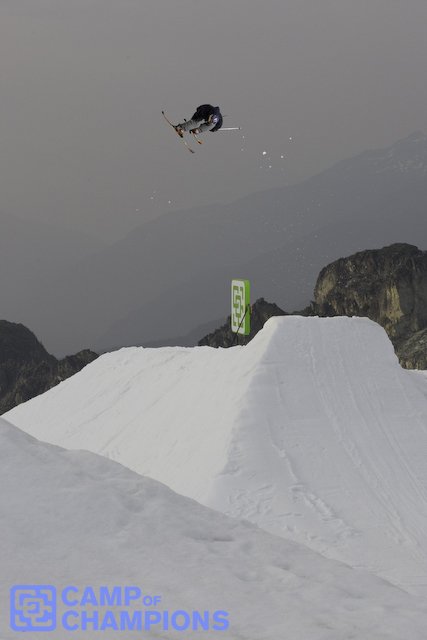 Sean Pettit. photos: Dice-K Maru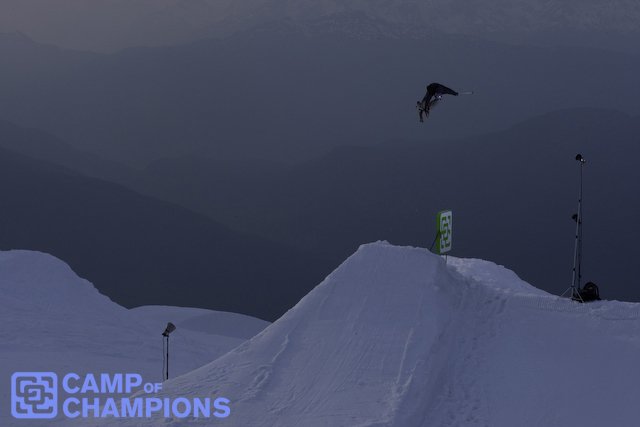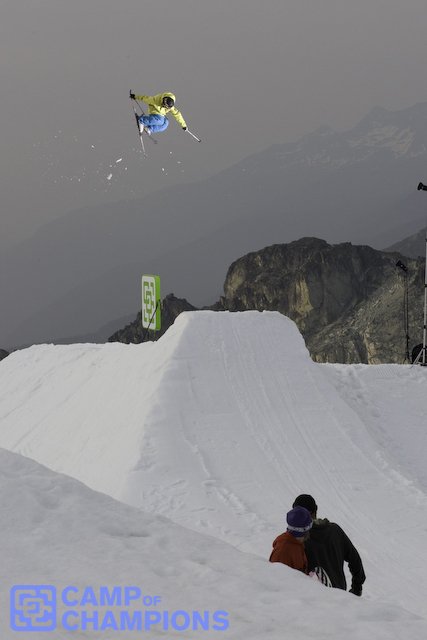 Cam Schuster. photos: Dice-K Maru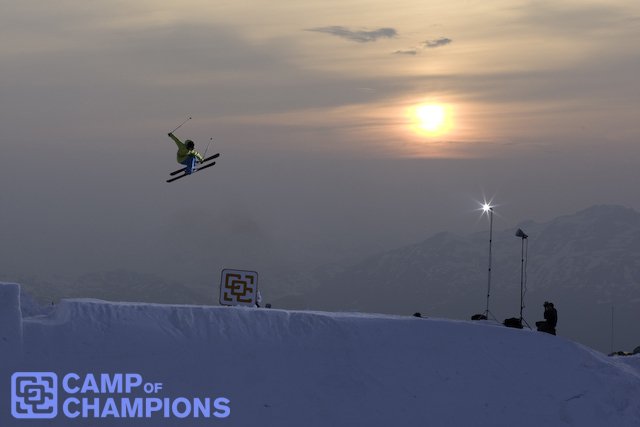 However the talk of the glacier this week was the return of the one and only John McMurray, who surprised the hell out of everyone by showing up at Momentum, and instantly wanting to backflip the gap between the upbox and down box. However in true McMurray form, the gap wasn't big enough for him. So as Momentum virtually stopped dead while the coaches and campers gathered round and the diggers prepared the feature, McMurray dropped in after barely skiing for the past few years and sent it like only he can, doing backflip after backflip over the gap, flawlessly.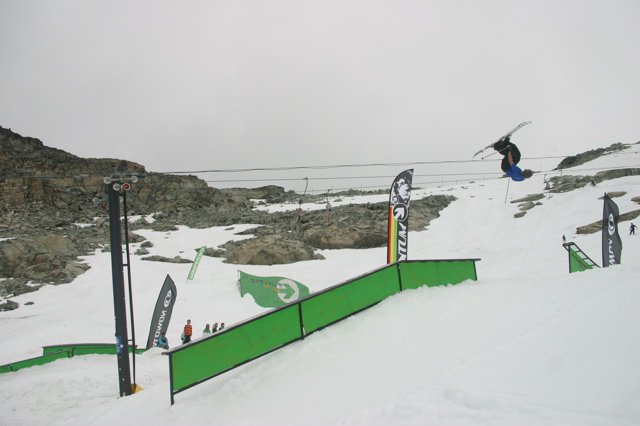 John McMurray
So there you have it, a day in the life of being at summer camp and the latest and greatest from the glacier. Those that come usually wisely return and those that have never been should really break open the piggy bank for next year, as this summer has inarguably been the best summer in years on the glacier. Stay tuned to NS for more interviews and updates from the glacier in the news, and for more skiing be sure to check out the daily COC updates in the park update section, which have been taken over by Jeff 'Yes, I'm Jeff Schmuck' Amantea after Jason Mousseau had to skip town after picking up too many ladies and getting in trouble at the bar.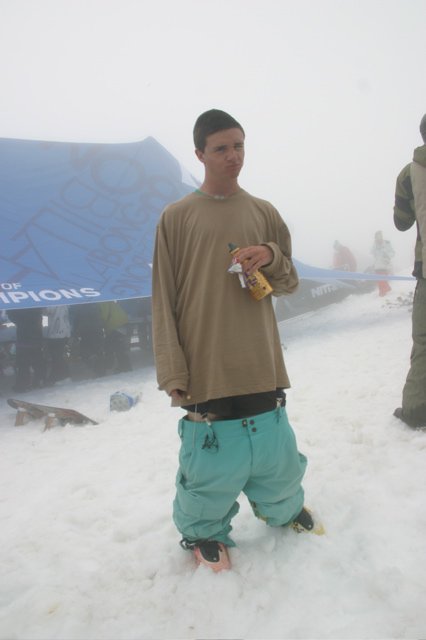 Amantea has a backpack full of free stuff, so go bug him!
See you on the hill!