Source: http://www.rhonealpes-tourisme.com
It is a major first in Europe. The Avoriaz Stash was totally imagined
by Jake Burton, a Californian crazy about snow sports and considered as
the best world specialist. One can move about in the heart of a large
space of non- packed virgin snow in the Lindarêts forest and, for
riders, it is paradise!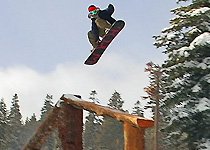 With the Avoriaz teams the rapport was immediate. It
is true that they count among the best in Europe and that the resort
was really determined to make both a playful and a strictly
environment-friendly snowpark.
No scrap metal nor plastic for the obstacle construction,
only wood, earth and stones; you can discover the eighty modules one
after the other, hidden all along the route (which is where the name
 "Stash" comes from meaning "hidden" for Americans) as you come across
the secret passages.
Pillows, road, gaps, walls, log jibs cliff drop and tree rides are hidden so that it is necessary to ride the slopes several times to find all of them!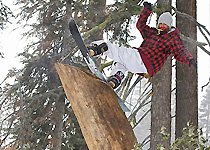 You can slide vertically on the plant wall, get over
stumps and tree trunks, slide on wooden tables, jump over roads and
rocks, bent trees like rainbows ... Mikkel Bak, the Burton Team rider
admits that it is the  nicest slope he ever has tried "it's like if you
go into a forest and find natural rails. It is incredible!" He says
Even so do not believe that this magic slope is reserved for ultra experienced riders.
On the contrary, it is because he noticed that snow parks did not have
structures which allow seniors, who have been riding now for twenty
years, to practise freestyle with their children, that Jake Burton has
imagined Stash.
At mid-way, everyone reaches the hut with its notices which teach how to respect the environment. And one can even engrave a personal message on the wood!