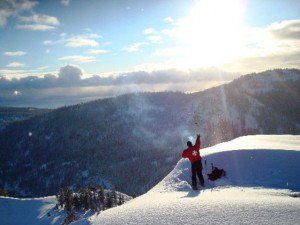 Alpine picked up another 47 inches in the past 24 hours! That makes for the biggest 24 & 48 hour snowfall totals so far this season. That makes a 4 day storm total of 106 inches and brings up to around 90% of the annual snowfall average. Interestingly we had 105 inches the week before Thanksgiving, 105 inches the week before Christmas, and now 106 the week before President's Weekend. And we have more snow on tap for today.
The front that stalled over us last night and brought continuous snowfall is weakening this morning, so the snowfall has gotten much lighter. One last wave of moisture is coming onshore in Central CA and a low coming dow the coast today is going to pull the moisture Northward into Tahoe by this evening. Expecting light to moderate snowfall today accumulating up to 6-9 inches. Then by tonight the snow becomes heavy again and we could pick up an additional 12-15 inches. That's another 18-24 inches by tomorrow mornings snow report.
The snow fall should become showery as we go through the day on Saturday with only a few more inches of snow expected. Alpine has a good shot at hitting 10 feet of snow for the 6 day storm total by Sunday. This is all from one big low spinning in the Northeast Pacific all week that rotated in waves of moisture. That low will move through tomorrow reinforcing the cold air for the weekend. Sunday we will dry out and I think see the sun at some point.
We stay dry through Tuesday and into next weekend as the next storm dives down the coast and just misses us to our West. Then another cold low will work its way down the coast Wednesday through ne and will rotate in more moisture. This low will be much closer to land than this weeks low so it will be much drier, but the trend is too keep it over water so we should get enough moisture for decent snowfall. It will be really cold as well so we will once again have high snow:water ratios. Right now it appears that we will see several feet of snow Wednesday-Sunday.
Then the ridge in the Pacific backs up about 10 degrees to where it is this week allowing storms to pick up more moisture off the Pacific. We should see another low setup in the Northeast Pacific and rotate in more storms. If this pattern holds we could pick up quite a bit of snow into the first week of March. Stay tuned…..