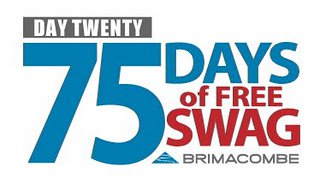 In celebration of Brimacombe's 75th anniversary, we're giving something away every day (except Christmas Day) for 75 days until our big Birthday Bash and Reunion Party on February 25, 2012!DAY TWENTY: TRIVIABefore moving to the Kirby location, where was the Oshawa Ski Club was located?To Enter: Email your answer to 75days@brimacombe.ca before midnight tonight, Sunday, January 1, 2012. All names received by the deadline will be entered to win.Hint: You can find the answer in the History section of our website:
http://www.brimacombe.ca/story/historyThe
contest will close at midnight tonight (Sunday, January 1, 2012), and a winner's name will be chosen at random tomorrow morning. Be sure to come back to the Brimacombe fan page tomorrow to see if you won.A complete list of names is posted here under News on the Brimacombe website, as well as available from the Main Office.Check back daily for 55 more opportunities to win!? ? ? ?Stay up-to-date with everything happening at Brimacombe!Brimacombe website | Blog | Facebook | Twitter You can also stay up-to-date by signing up to receive our regular email eblast.