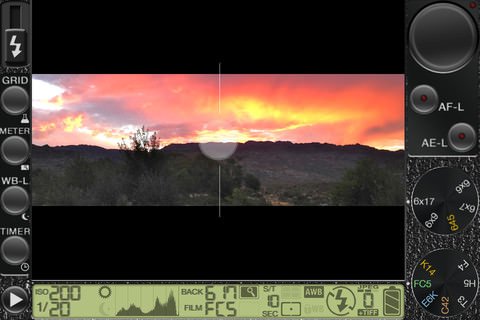 About a week ago rumors of an iPhone app that could shoot in RAW format raged across the Internet. The app in question, the 645 PRO by developer Jag.gr, was to be the first camera app for the iPhone to achieve this feat. And although by all accounts the app is a very impressive and useful app, it turns out that shooting in true RAW isn't among its features.
On the other hand, what the app does do — for $2.99 no-less — still makes it as much a "professional" camera app as there has ever been. Even though you can't shoot in RAW format you can choose a lesser "developed RAW" TIFF format, or go one step down to lossless JPEG. Beyond that, the level of control that the 645 PRO app offers is impressive to say the least.
The app displays a live histogram alongside real-time ISO and shutter speed readings; it allows you to control your exposure, focus and white balance; it offers both multi-zone and spot-metering options; and it even gives you five separate backs (6×6, 6×7, 645, 6×9 and 6×17) and seven individual film modes (F4, H5, T3, C42, E6K, FC5 and K14). And if all of those features have your mind a bit boggled don't worry, jag.gr have also provided a comprehensive manual to help you understand and better use the app.
Here's a video introducing the app:
Like we said, this is as close to "professional" as a camera app is likely to get. For $2.99 it's a hard deal to pass up.
(via jag.gr via PopPhoto)