As skiers we all have the privilege of standing atop glorious snow capped mountain peaks all over the world before we begin our descent through the nooks and crannies each hill has to offer. We've all heard of the legends like Whistler, Jackson Hole and Squaw Valley and it's obvious that North America is home to some of the world's most famous resorts. Even though this may be the case our planet is littered with mountains of all shapes and sizes and where there are mountains you're sure to find skiers. Year after year countless vacations are taken to resorts around the world with many of us traveling to the same destinations time and time again. We see countless powder shots from Japan on Instagram and endless park edits on Newschoolers from Mt. Hood. But how about a powder day in India? Or maybe you'd prefer skiing park laps in Africa? Next time you're looking to travel off of the beaten path check out these five ski resorts for a unique experience.
1.) Gulmarg, India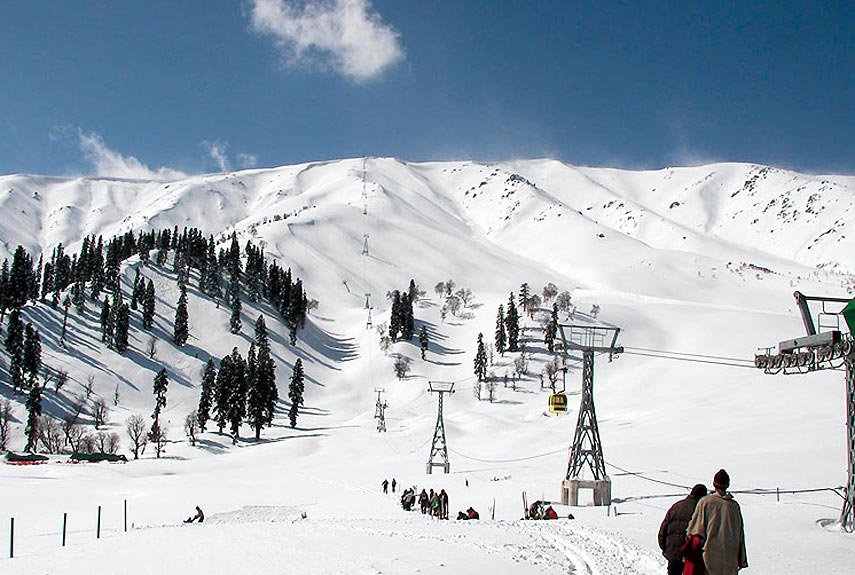 Photo Courtesy: Popular Mechanics
If you've ever wanted to ski untouched powder in the Himalayas then Gulmarg in Northern India is the resort for you. Located in the state of Jammu and Kashmir near the India-Pakistan border, Gulmarg is a powder skiers paradise receiving an average annual snowfall of over 550 inches. Storms making their way to the Himalayas move west through Gulmarg burying the area during the winter months. The resort is home to the world's highest skiable gondola which sits at an elevation of 13,057 feet and it boasts over 4,300 feet of vert. Mt. Apharwat, the central peak at the resort is home to some of the world's most underrated big mountain lines and 70% of the terrain at Gulmarg is listed as advanced for expert skiers only. Ski patrol is very limited and infrastructure at the resort is lacking but who needs a lodge with endless powder runs?
2.) Dizin, Iran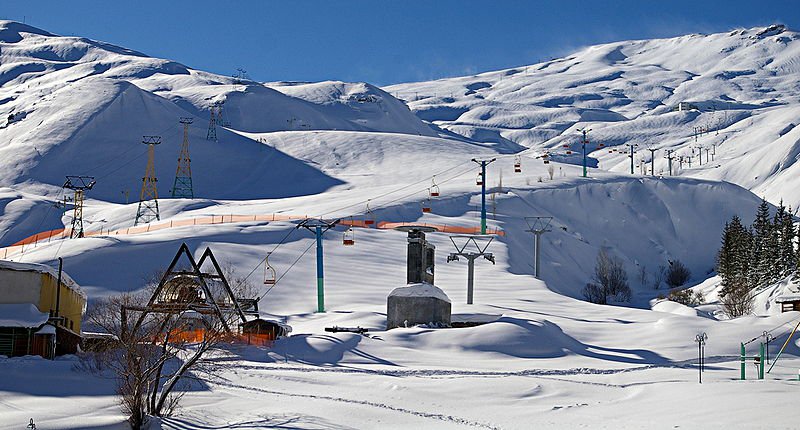 Photo Courtesy: Michal Salaban
Two hours north of Iran's capital city Tehran high in the Alborz mountains you'll find Dizin, the largest ski resort in the country. Established in 1969 Dizin is a very developed ski area that features two hotels, five restaurants and three gondolas. With a ski season that lasts from early December until May skiers at Dizin enjoy a longer season than most resorts in North America. Unlike a majority of Iran which receives very little precipitation due to it's desert climate Dizin profits from substantial storms all winter. Sitting at a base elevation of 8,694 feet the resort see's cooler temperatures most of the year and powder days are common. Topping out at 11,811 feet Dizin provides over 3,000 feet of vertical skiing. Terrain at Dizin caters to all ages and ability levels and the resort even offers lessons from certified instructors.
3.) Mt. Hermon, Israel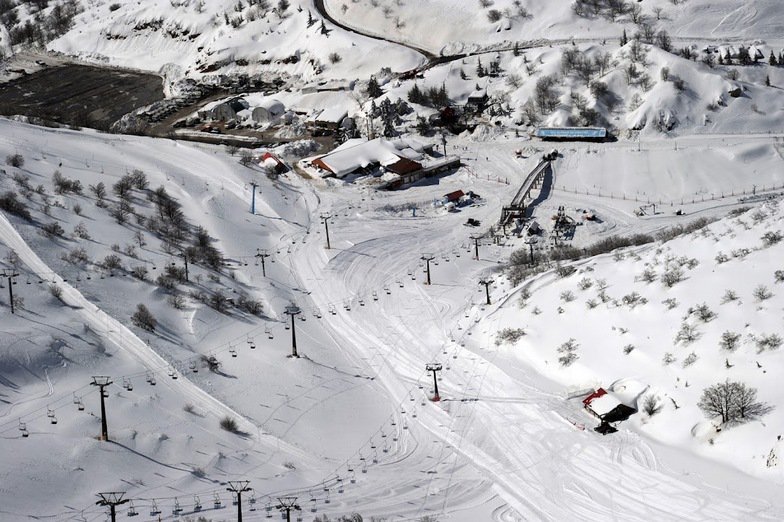 Photo Courtesy: snow-forecast.com
For many years Israel and Syria have clashed over land in the troubled Golan Heights region. Many battles have been fought and to this day the border between the two countries is still in dispute. Mt. Hermon is positioned square in the middle of Golan Heights and has played host to many significant battles between the two countries. On the southeastern side of Mt. Hermon you'll find Israel's only ski area, Mt. Hermon Ski Resort. Hermon has a peak elevation of 6,690 feet and the resort offers over 28 miles of trails. Unfortunately the area does not benefit from heavy snowfall and the season usually only lasts from January until March. Terrain at Mt. Hermon is suitable for all ability levels with access to the slopes being provided by four chairlifts and five T-bars. Due to the ongoing conflict between Israel and Syria the mountain top is also home to a year round military base which can be seen from the resort below.
4.) Afriski, Lesotho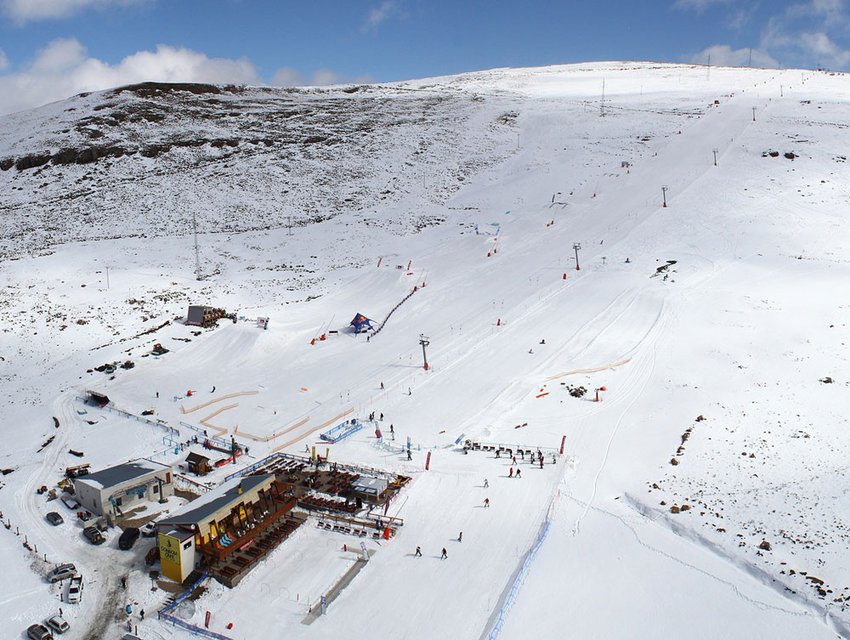 Photo Courtesy: skiboardmagazine.com
If you've never heard of Lesotho before don't worry most people have no idea that the tiny country even exists. Land locked by South Africa, Lesotho is a small independent nation covered with mountains. Afriski a small resort located in Lesotho is one of only two ski resorts in southern Africa. Since Lesotho is located in the Southern Hemisphere Afriski Resort has a winter season that lasts from June until August. The mountain has a summit of 10,571 but with a base area resting at 9,570 Afriski only provides slightly over 1000 feet of vertical terrain. Even though the resort has decent snowmaking coverage its size only allows a total of six trails and one chairlift. Afriski provides tourists with a unique opportunity to ski on a continent where snow is seldomly thought of.
5.) Malam Jabba, Pakistan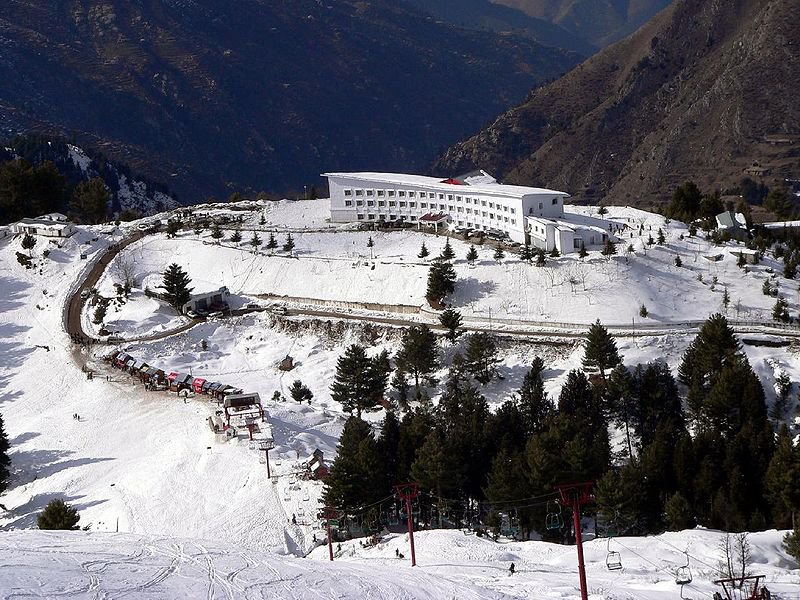 Photo Courtesy: Sajid Ishaq
Just under a decade ago Malam Jabba was a small and peaceful ski town nestled high in the Karakoram mountains of Pakistan. Sadly tragedy struck in 2006 and the ski area fell into the hands of the infamous Taliban. The group which views skiing as un-Islamic burnt the area's hotel and only ski lift to the ground. After years of Taliban rule the Malam Jabba area is finally back under the control of the Pakistani government. A newly constructed hotel and chair lift have been put in place and the resort is now better than ever. With a peak elevation of 9,199 feet the resort receives enough snow to provide skiers with a season lasting from December to March.