4 Reasons Why Every Skier Should Take An Annual Road Trip To A New Resort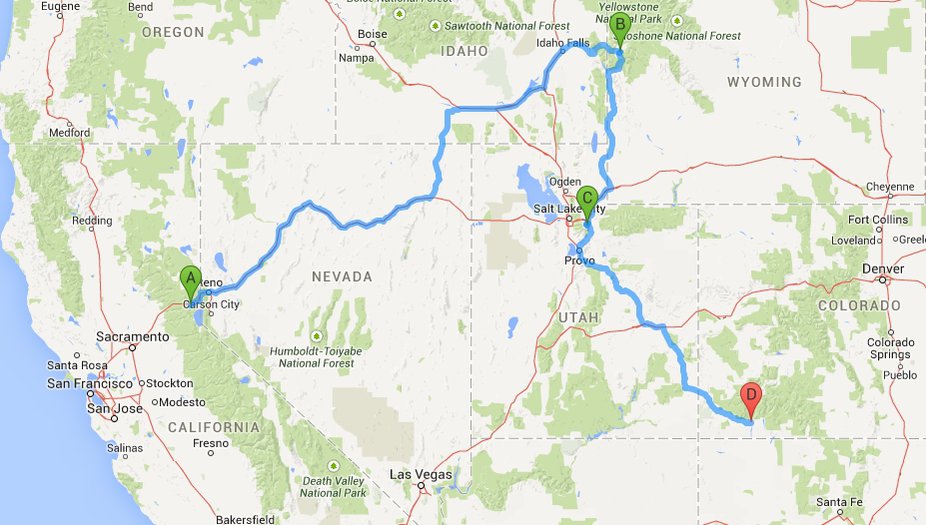 Truckee, CA - Jackson, WY - Park City, UT - Durango, CO
Six states and 3,082 miles later I have recently completed my first ever skiing based road trip. After months of careful planning and weather watching, prepping the car and anxiously counting down the days until take off, the trip of a lifetime has come and gone. The dust has settled and the stresses of everyday life are piling back on. I daydream of the powder in Jackson Hole, the endless views of southern Utah and the unique town of Telluride. As I reminisce on those adventure filled spring days that have passed I come to one major conclusion; I will be taking a skiing road trip every year until my legs stop working. The excitement of learning a new culture, the endless self progression that each mountain provides and the chance to support the economy of a local ski town should be enough to send you traveling down powder highway.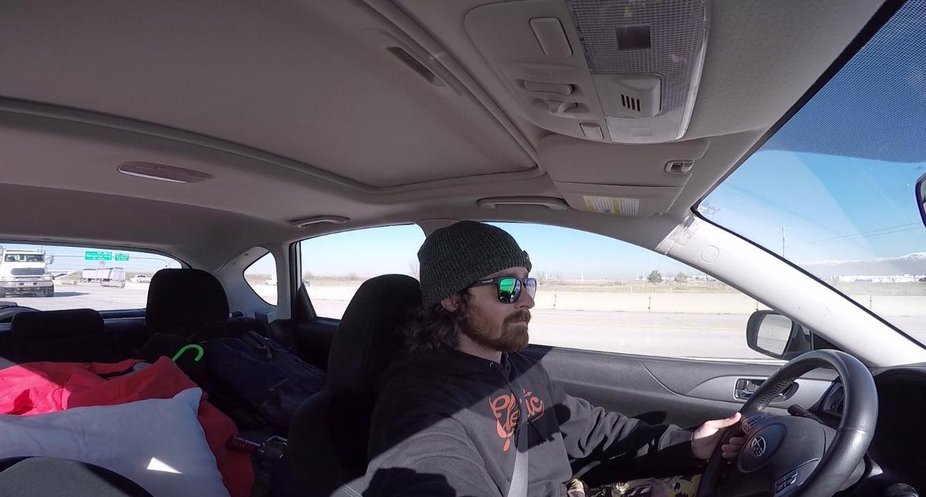 Subaru Selfie
The long journey to your destination has finally ended and you can relax for the night. In the morning you'll be catching first chair and exploring new terrain with every turn. The stoke level between you and your crew has never been higher and everyone is going 100 MPH on the first lap. As the day goes on you become increasingly comfortable with your surroundings and a whole new playground starts to open up right in front of your eyes. Everywhere you look new features and obstacles present themselves. You scope out the lines and contemplate whether or not you're ready for the challenge.
There is no question that skiing at a new mountain gives a rider an endless high and if you use this to your advantage the world of progression is unlimited. Anytime you place yourself in a new situation you provide yourself with a chance for learning and growth; you are forced to adapt. Placing yourself on a mountain with a steeper pitch and choppier terrain is going to force your body to react differently than it would at your home mountain. The snow in New England is not the same as the snow in Jackson Hole, and the park at your local Midwest hill is definitely not the park at Keystone or Copper. When you're on a road trip you only have a limited amount of time to slay that new feature that caught your eye in the park or rip that pillow line that no one has touched yet. Knowing time is of the essence you willingly push yourself past your normal boundaries and you take on that cliff drop or big kicker in the park. If you stomp it you've won, if you fall you've still taken the first step in progressing yourself as a skier. The next time you see a feature of that size or shape you'll have experience and a better idea at how to take the challenge head on.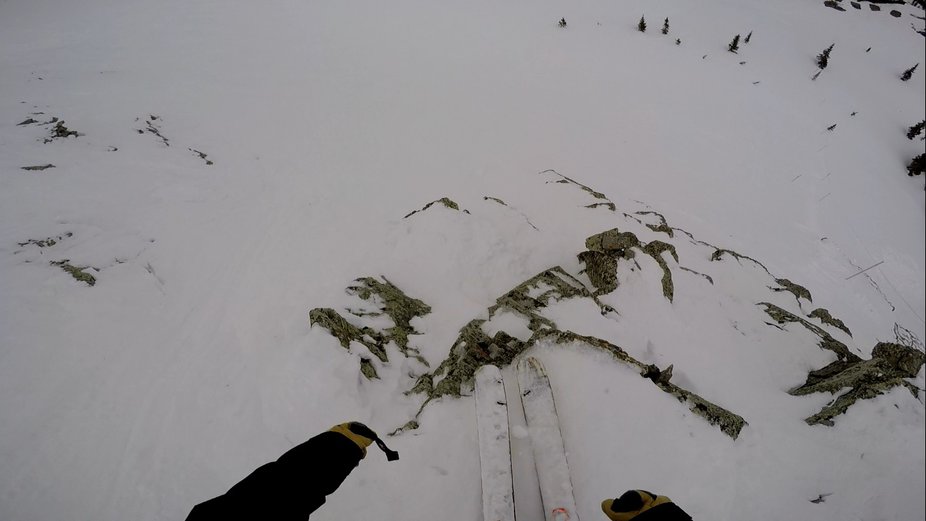 Launching off a bigger than expected cliff at Telluride
Your day of shredding has drawn to a close and the lifts have all stopped turning for the night, after a quick drink with your friends at the resorts watering hole you head back to your hotel. After cleaning up and checking the weather for the next day the crew assembles for a night out on the town. First you head out for dinner and drinks at the famed burger joint down the road then it's off to the strip to check out the bars and the night scene. You chat with some of the locals and get a feel for what life is like in their shoes. They coach you on ways to approach your skiing for the next day and share some facts on the history of the town. It was a fun night but you have to call it quits if you want first chair again tomorrow.
Traveling to a new state or town is a great way to learn about the world you live in. Every ski town in the world has it's own unique culture that has been molded over years and years by the folks that settle the basins and valleys at the bases of these historic mountains. You can learn how the 1960 Olympics helped Squaw and Tahoe grow as resort destination or you can walk on a Native American reservation in Durango, Colorado and discover how the tribes of the 17th century shaped the landscape long before the European settlers arrived. Mountain towns all have a past that is just as rugged as the landscape surrounding them. A lot of unfortunate people never get the chance to take a trip outside of their small town in middle of no where America. Getting out of your state and exploring a new one is a great way for the country we live in to synchronize on a higher level, instead of learning about Yellowstone in a text book or that documentary on Netflix you can venture out into the wild on your own and experience what the land has to offer.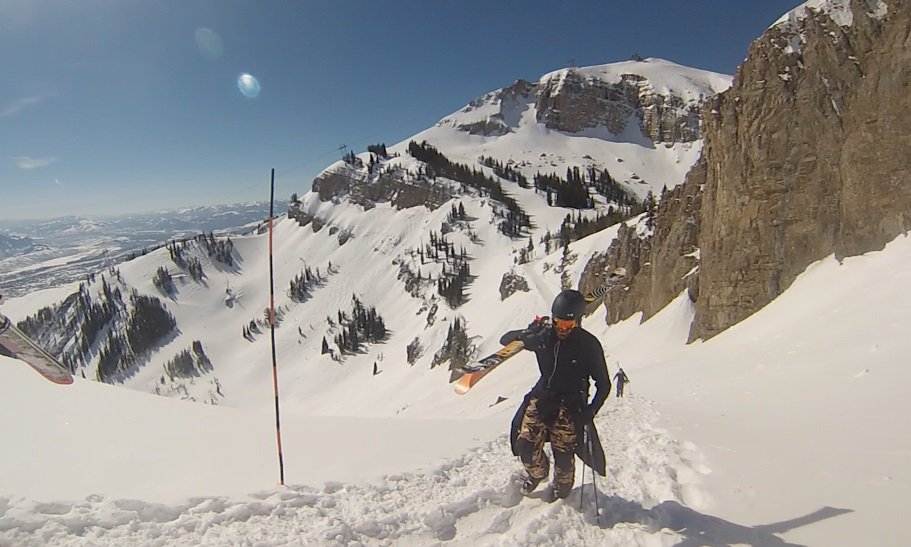 Bootpacking for some fresh turns in Jackson
Before you leave your destination of choice you fuel up at the local gas station and your friends all grab some snacks and drinks for the long journey back home. The cashier at the gas station clearly spends most of his time at the place and knows just about everybody that walks inside by name. They all joke with him and ask him when he's gonna take a vacation and spend some time with his wife. He can tell you're not from the area and comments on your accent. You figure he's a good guy so you leave him an extra few bucks for his future vacation.
What most of us don't realize is just how much the towns and resorts we visit depend on our money. Year after year ski resorts launch numerous marketing campaigns attempting to draw in crowds by the thousands. Along with the resorts are hundreds of thousands of small businesses that rely on tourism year after year. Most of the ski resorts out there aren't lucky enough to operate during the summer months so the towns surrounding them desperately thrive off of the 6 months a year they are lucky enough to see some snow. That local burger joint, the place you pumped your gas and every little shop in between are all depending on tourists from all over the world to support their well being. Most ski towns in the world are small in every aspect, they can't rely on big supply chains and businesses to support them so 'Mom and Pop' shops are the way of the land. The employees of your favorite ski resort need your season pass and ski rental dollars to pay their wages, if they don't get paid the lifts don't run. Every time you vacation in a ski town you support the snow sports industry in numerous but valuable ways and allow the amazing destinations we dream about to survive year in and out.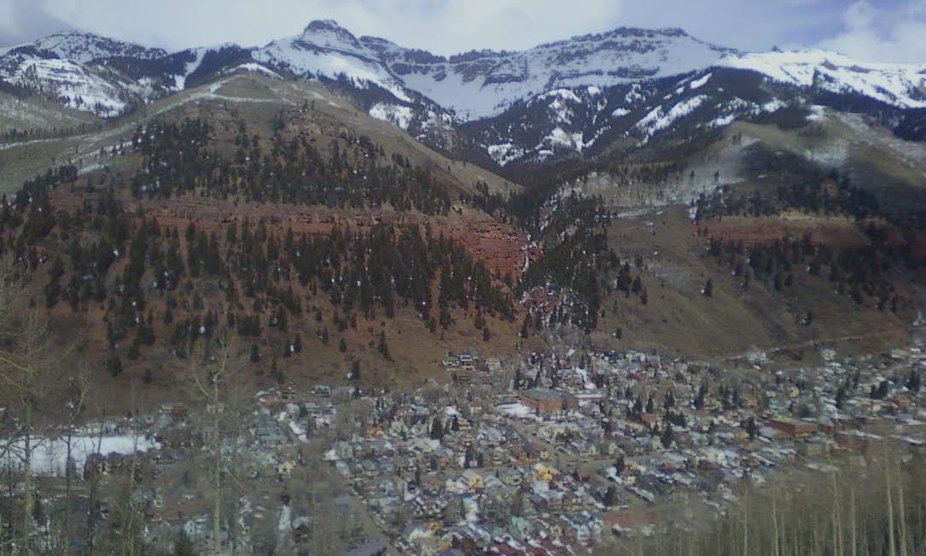 Looking down on the town of Telluride from the hill
The final reason to take a road trip to a new ski destination is simply everything you come across between points A and B. If there is one thing I have learned from my cross country and ski driven road trips is that our country is so much bigger than you actually imagine. The drive from Lake Tahoe to Jackson hole takes around 12 hours, North America is a rugged and ever changing land and in that 12 hour drive you see every landscape from desert to dense forest. Driving through southern Utah you see rock features and sights that are unique to the entire world, every state has its own distinctive characteristics and they all provide us with a special chance to see what billions of others never will. Next time you plan a spring break, family vacation or just need to get away from it all I recommend you give the open road a chance.