Wow! What a day. Got up at 7, had a quick coffe and breakfast, before I checked out of my room and was ready for practice at 8.00 AM. Rise and Shine!
As todays competition was bigair, this was the setup. Pretty stupid to squeze in three kickers when it is not that wide at all. You needed plenty of speed to clear the 21 meter table, and you flew high like nothing I have ever tried. Pretty scary the few first times of practice.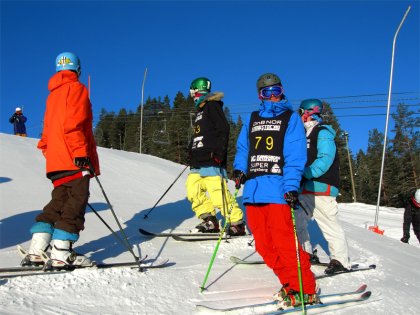 Pc Fosse is also awake, pretty cool guy who allways make you laugh. haha. He stomped the shit out of his kangaroos today.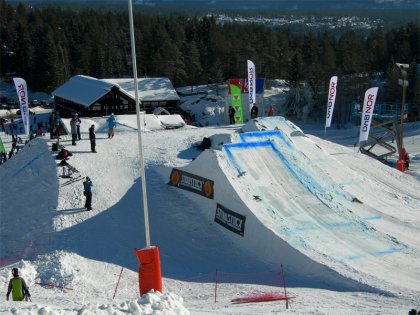 Money-booter in perspective. Pretty gnarly, and the transition was not suitable for everyone, as there was only 5-6 out of 60 who hit it switch. My plan was simple, do what I know best, and keep it steezy. I had a few sw 9s and 10s which I was very saticfied with. Especially on this jump, which scared the living hell out of me.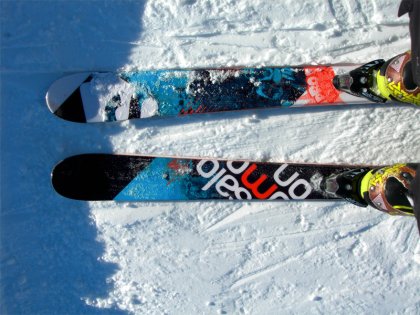 And yeah, this is my new skis for jumping only. Salomon Pro-pipe 2011. Slightly thinner, but very stabil. I LOVE them, easy to stomp the landings with these babies.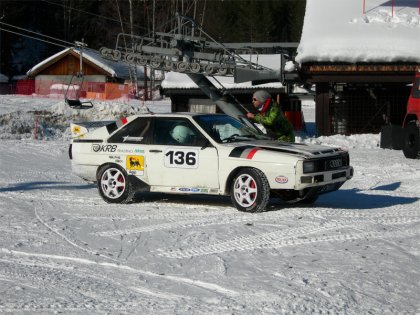 In the break between qualifiers (which I had 8th best score overall, last one getting final-spot), and the finals, there were some guys showing off their skills with cars. Hillclimbing the skihill with trucks and cars was fun to watch. Especially this Audi. I love audis, and this old quattro with way too much horse-power was awesome! Boosting up the hill with the turbo whistling.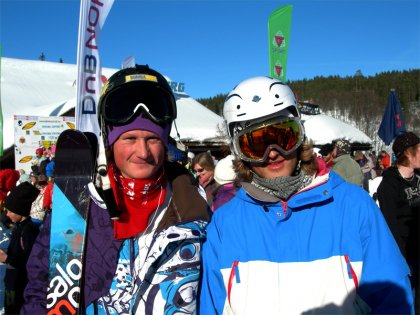 In the final it was man-to-man, head-to-head. I met Lasse Nyhaugen (1st met 8 th place and so on). He landed his double 12, while I stomped my sw 10. A little rusty on the grab, but saticfied. I knocked him out, and met Thomas Dølpalds in the next round. His double 10 mute knocked me straight out, leaving me and Alex Aurdal on 3rd. (Picture).
Superstoked about the result, as I don't do bigairs that much. Really hard to do well, and you need to be crazy, basically. I hate beeing crazy, I am mostly afraid and want to go hit rails or the park, haha. Well, maybe not that bad, but I cannot do doubles and crazy rotations, which leaves me with no tricks other than sw 10s.
After the price-giving cermony and a lot of high-fives, it was time to hit the road again, in my Bombaclot-car. 3,5 hours to Lillehammer, were I got stuck in Hønefoss for 30 mintues, trying to find the way out of the shithole they call town. The road out of the town was beeing re-build, and no signs telling me were to go. Really sucky! But I finally got home in time for chill-out on the couch. Hafjell tomorrow, have a good one!