[Editor's Note: This review was conducted on the 17-18 K2 Catamaran, which is unchanged for '19-20 except for graphics]
We may be barely into 2017, but when it comes to new ski gear January marks the time when the latest gear is revealed at the annual SIA trade show in Denver. All the big brands were there to show off their latest and greatest skis, so most of you should have already seen what will be in the shops this time next year.
Luckily for me though I got the chance to go to the head offices of K2 last October to get a sneak peek of what was on the way. Even better, the new skis arrived late December so I have spent the last month testing out the new products.
Of all the new skis the one I was most excited to try was the Catamaran. The Catamaran replaces the Pettitor in K2's range but is still the ski Sean will be spending a good amount of time on. Why the change in name? Basically at the time the ski was being developed, Sean's contract was coming to an end and at that point it was not clear whether he would be staying on the team, so rather than call it the Pettitor, the name Catamaran was used. When Sean did sign on again he was happy with the new name so Catamaran it is.
But isn't K2 Going out of Business?
Before I get to the ski, it's maybe worth clearing up a few things around the whole K2 going out of business rumors which were circulating at the end of last year. In early October K2's owner Newell announced they were looking to shed some businesses from their portfolio, which included K2 and the other snow sports brands under K2, such as Line and Full Tilt. This announcement sent the internet into full on debate mode with everyone voicing an opinion on what would happen. To clear things up, on the 7th of October Newell released a follow-up press release, but being only in German, it largely got missed. Basically it said that although Newell was looking to sell off the brands, if a buyer could not be found, it would continue to operate the brands. So the whole K2 going out of business was never really on the cards, despite what many websites would have had you believe. The current situation is that Newell are considering a number of offers and an announcement will be made later in the year, but fear not the brands are going nowhere and you will all be able to continue buying Full Tilt boots for years to come. However if daddy has a few million in the bank maybe you could be the new owner.
Asymmetry
But anyway back to the skis. Building on the success of the K2 Marksman, which was released this season, K2 went for the asymmetric shape on the new Catamaran too. Asymmetrical skis may sound confusing but basically an asymmetric ski is one which uses a different shape for the inside edge and the outside edge. It's also not something new to skiing. Many brands have been using the idea but it is something which until recently has never really caught on, but why use it?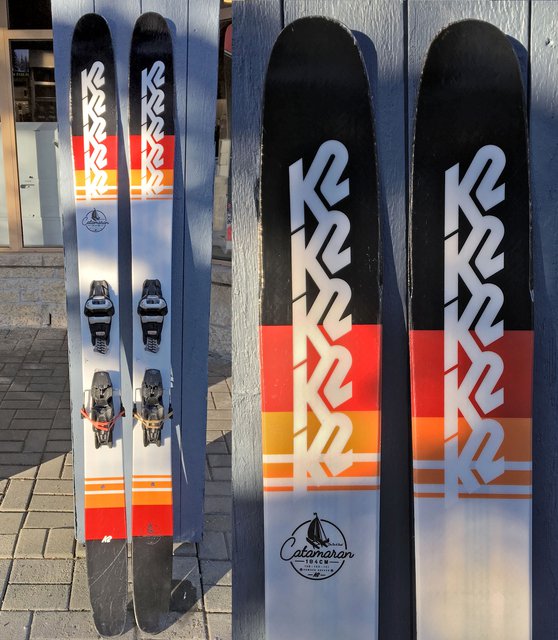 Most of you will be familiar with a tapered shape on a ski. Taper is used to move the widest point of the tip or tail back which has the effect of helping the ski track better through deep or cut up snow. It also helps reduce the swing weight of the ski as the widest point is brought back towards the bindings. It has been used on any number of powder and all mountain skis and can really help the skis track, however it's not without its downsides.
By bringing the contact point back the effective edge is shortened and this can make the skis feel less stable on edge. To get around this, people sometimes up-size but longer skis bring their own issues, including being less maneuverable and the swing weight actually increasing as you are using a longer ski.
Asymmetric skis aim to solve this problem by using the best of both a tapered tip and a traditional longer effective edge. The outside of the skis feature the tapered shape and the inside edge, which is used for carving, has a longer more traditional shape. This combination gives hopefully the best of both shapes, meaning you can rip the powder but then also carve your way back down to the lift.
Shape and Build
Hopefully asymmetry makes a bit more sense now but there is more to the Catamaran then just asymmetry. Like the old Pettitors the Catamaran is 120mm underfoot and anyone who has skied the Pettitor will know it's not the lightest of skis. To try to improve this in the Catamaran K2 has used its double barrel core which uses aspen, a lighter wood, throughout the centre of the ski and the denser yet heavier wood Fir along the edges. The edge of the ski is where you want a firmer wood for power transmission but using a lighter wood like aspen through the centre helps reduce the overall weight and also the swing weight without sacrificing performance.
To further improve the swing weight K2 used a capped construction in the tip and tail, something quite a few other brands do. The rest of the ski uses a traditional sidewall construction and carbon bands are layered on top of the wood-core to help with both pop and stability when using lighter woods.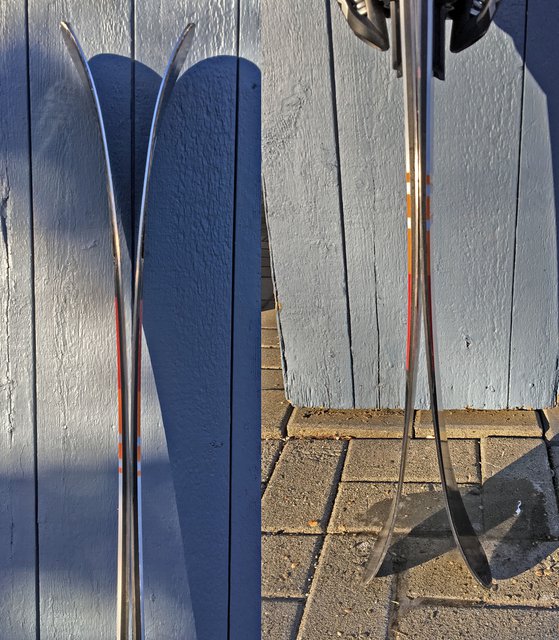 At 136 – 120 – 131 the ski is fairly close to being a symmetrical shape and the large rocker profile is symmetrical meaning they should be as happy riding switch as they are forwards. In a first for K2 they now add a mid-sole recommendation on the top sheet (at -4.5cm from centre) along with the scale on the sidewall which has been present on K2 skis for years. When I questioned the designers on this location and whether switch riding had been considered they did admit that this would be the best mount point for riding forwards, so if switch riding is a big part of your skiing you may still want to move forward of this mark. For reference Sean rides his at dead centre.
Riding the Catamaran
All this new tech is all well and good but does it actually work? Put simply, yes. I have spent quite a bit of time on the Pettitors over the last few years and although it is a really fun ski, for me the Catamaran beats it on all levels.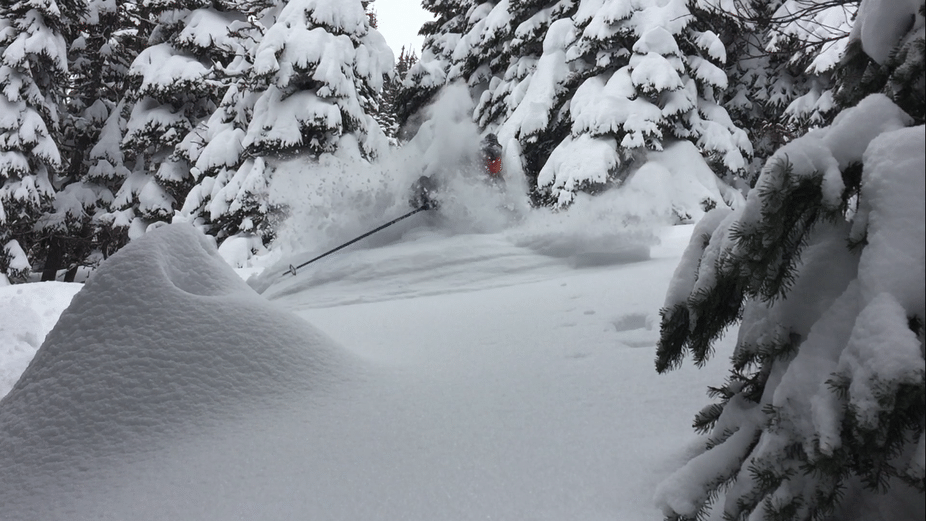 The biggest things I noticed were the crazy amount of pop the skis had and how light they felt. On my first few laps I was finding that on any small hit the skis were wanting to get airborne. Not in an out of controlled way but more a pop you into the air way. Even small hits became things you could boost off and the reduced swing weight was apparent. Some pow skis have the feeling that they will dislocate your keens if you try to shifty them too much, but you can throw the Catamaran around and bring it back with no effort.
In the deep snow the tapered outside edge lets the skis track well and they were seriously good fun through the trees. The pop and easy turn shape made them easy to throw around trees and the float was as you would hope for a 120mm ski. But in all honesty any wide ski will be fun in deep snow, where many fall down however is when you get back onto the groomers to get you back to the lift.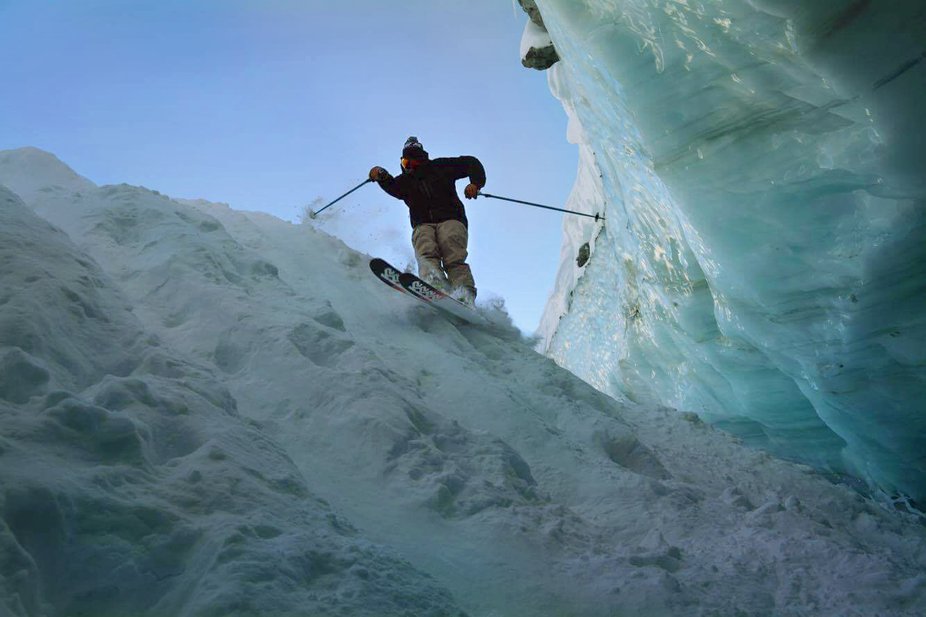 These groomer laps were where I really fell in love with the Catamaran. Having the longer effective edge on the inside really does make the skis carve incredibly. Not just OK but they really carve a turn. One of my main issues with most pow skis, the Pettitor included, is that they are not much fun on groomers when you try to carve them. The Catamaran is different it carves like a much narrower ski. I took one of the shops in town out for a ski and lent the Catamarans to one of the park kids who really wanted to try them out. His reaction, "they carve better than my park skis!". He may have been slightly exaggerating but actually not much. These are one of the first pow skis which I would consider riding as my every day ski. I almost prefer how they ski on hard-pack to powder, and that is not because they are bad in powder they are just so good at carving.
I have done a few park laps on them and even though I told myself I would take it steady within a few laps I was trying things I would normally only try on a park ski. No they wont be your new park ski but if I only had a park ski and these I really don't think I would ever need anything else.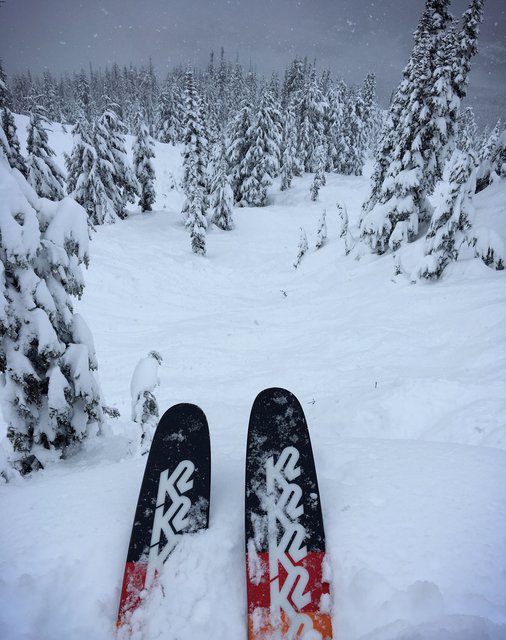 They are not perfect for everything though. One area I did find them a little lacking was heavy cut up snow on steep slopes. The flex is certainly pretty soft in the tip and tail, however its reasonable underfoot, so when you are skiing faster into heavy blockey snow they can begin to feel a little unstable. These are not your big mountain shredding skis like a QST 118 from Salomon, but really you could never expect a softer twin ski like this to preform well in stuff like that.
What they are is a super playful powder ski which excels on the groomers. You can happily jib down your favorite pow lines then rip some big GS carves back to the lift.
Downsides
I have already mentioned that these will not be your next big mountain ski, but there are a couple of other little things I did find a little less than ideal. One was the mount point. Luckily I was using a demo griffon binding on my pair so was able to easily change my mount point. I started off skiing they at recommended, -4.5cm from centre, and I will admit they ski really well there. You can push the nose into things without it over-flexing, but I did find at this position I felt like I was too much on the tail and did wash out the tails a few times.
Moving the mount point forward really helped in the stability of the tail, I could push it into butters much better, but it was at the expense of stability of the nose. My favorite position was about 2cm forward of recommended (-2.5cm from centre) but I did at times wish for a little more nose. I would not want K2 to change the flex however, but maybe making the nose just a little longer to maintain the stability while keeping more ski in the tail could be good.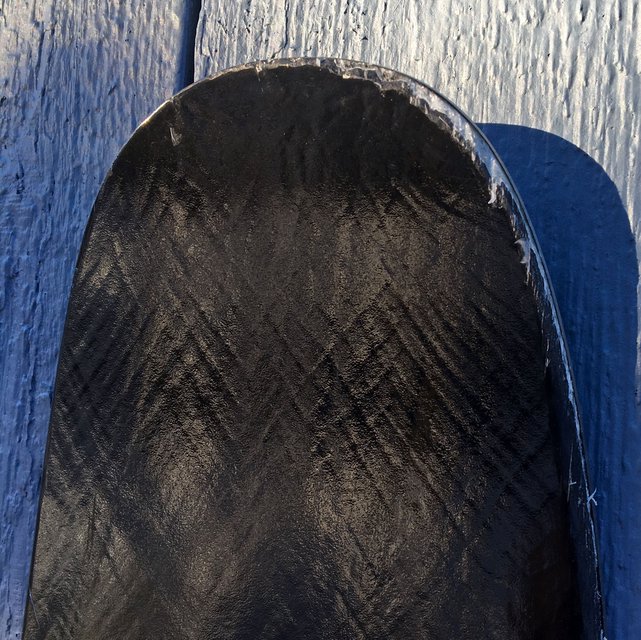 The other slight issue I found was using a cap construction in the tips. Wider skis like this are easy to hit together and I have found some decent wear has begun to show on the tips after only about 12 days use. Sure some of this may be my skiing style but it could be one area for K2 to look at how to make the tips slightly more durable. Apart from this durability has been good but you would hope that would be the case after 12 days.
Overall
I said it above but I'll repeat it here. If I had a park ski and these, I really couldn't see myself needing anything else. When I'm going up to solely ride the park I'll take a park ski but for everything else I have been using the Catamaran. Even if there is no fresh snow and I'll mainly be on the groomers these were the skis I took, they are just so much fun.
I did ski the new Marksman (unchanged ski, just new graphics) and although it's still a super fun ski, I would take the Catamaran over it any day. Deep snow performance is on par or better then any jibby pow skis on the market but I am yet to find a pow skis which carves as well. The only reason I would look elsewhere is if I ever got the chance to do some crazy AK lines but that is not going to happen anytime soon.
If you like the way guys like Sean ski and want a playful pow ski which you can have fun on in and out of the pow, give them a try.
Disclaimer
I do work as a contractor for the sales company which distributes K2 skis, among other brands, in BC. That is the reason I get to try the new skis out so early. I do not, however, work for K2 directly and these opinions are all my own. When I ski a ski that really impresses me, I will write a honest review, so please don't take this as me pushing a product. K2 have in no way pushed me to write this and these are my honest feelings on the ski. We'll be getting other reviewers on these over the course of the season to add their opinions here.