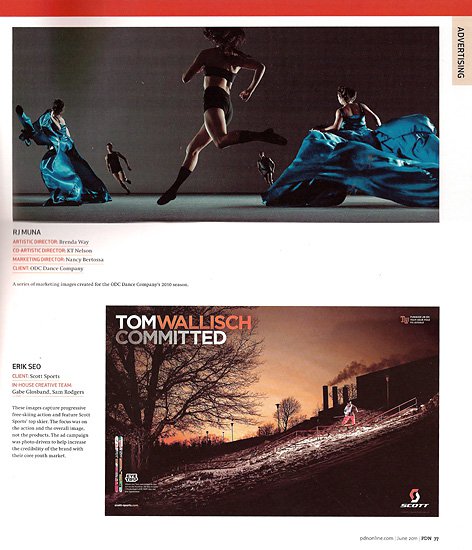 A few months ago Jussi Grznar reminded me about the PDN (Photo District News) Magazine Photo Annual. It's something I've been wanting to enter for a while, but this year I finally had photos in the Scott Sports Tom Wallisch skiing ad campaign I was stoked on. Fast forward to this week and I finally picked up the copy of PDN Magazine to see it in print in the advertising side of the awards. It's a big honor for me to be in this issue as it's one of the most regarded publications within the photography industry and I'm one of the few action sports photographers that is represented in this issue and the only ski photographer. The last thing I would have expected was a jib ad to be in something like this! I'm usually trapped in the niche of action sports, and then hidden in the corner of that in the world of skiing so it's an even bigger deal for me to be among all of the different genre's of photography.
It's been a pretty amazing winter for me and have had the opportunity to travel to a lot of cool places with good friends and have a lot to show for it. This has become the icing on the cake! It is now the second PDN photo contest I've had photos in, the first one being the 2009 PDN Top Knots wedding photography contest and hopefully not the last!
Check it out here at PDN's website.