Well, we have had quite the busy year. After launching a single model last fall, the Crop Duster powder ski, we have expanded our lineup and are stoked about how they have turned out. 
Let us know what you think of the art on our new skis.  We have James Barber to thank for the graphics.  Here is the 2011-2012 lineup: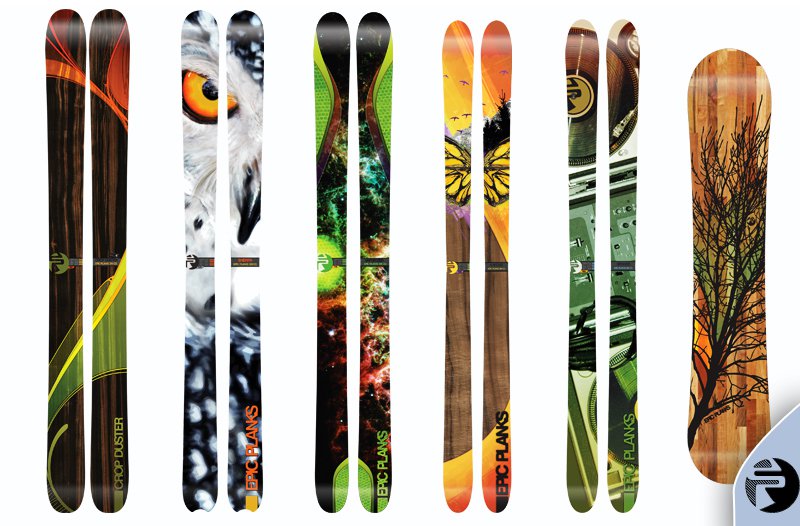 Here are some details on our skis for next year.  For more info, check out our website to read more about our handmade skis.
Crop Duster: Our flagship powder ski gets you up on
top of the fluff. Fast. The Crop Duster is the tool for the days you
dream about; pure, deep, untouched powder. It just surfs the deep stuff,
but is also super controllable and fun on the run back to the lift
line. Bottom line: it's big, but it's a great all-mountain ride. Ride
some grooomers, duck off into the sidecountry, profit. Those old days
of riding with a snowboarding buddy and struggling to keep up as he
poaches all of the pow turns? That's a thing of the past. Snowcat, heli,
or sled access? Hello permagrin. Symmetrical rocker at the tips,
zero-camber underfoot, and a light and playful poplar core are the
backbone of the Crop Duster. The nylon topsheets are both durable and
vivid, and the bases grab attention while sending it over that road gap.
Sherpa: True to its namesake, the Sherpa will take you up, down, and
over any mountain in your path. This all-mountain model is fat enough to
shred pow in the sidecountry with plenty of stiffness and sidecut for
ripping big, fast turns in the resort. A traditional camber profile and
flat tail maximize running length and make the Sherpa an excellent
touring or telemark choice.
Vaporizer: Get set to blast into orbit and chill with some little green
homeboys with the Vaporizer, a new park and all mountain ripper. With
matching rocker tip and tail, a smidge of camber underfoot, and a true
symmetrical sidecut profile, you'll be buttering lips, sending booters
in the park and backcountry, and shredding rails like never before. The
rocker smooths out otherwise choppy rides, while the camber underfoot
helps the ski hook up and shred turns in whatever conditions the
mothership beamed you down in. A full poplar core ties it all together
with a perfect blend of light weight and pop. Land forward, backward,
sidewards, whatever - this ski doesn't care. Just strap 'em on and send
it.
Spinner: Got a couple of urban rails in mind? Maybe a backyard booter so
you can throw down the sickest double daffy your mom has ever seen? The
Spinner is built to handle it. Unique graphics top and bottom grab
attention while you're in the lift line or sending it from the half
pipe, and the textured nylon topsheets are super strong and add a 3-D
appearance. Sorry, you can't actually crank up that volume knob… but it
looks like you can.
Khione: The sun peeks over the mountains as Khione, goddess of snow,
readies for a day of floating over everything in her path. With moderate
dimensions and twin tips, the Khione is ready to rip everything from
groomers to the park. The textured topsheets give the graphics some wild
depth, and if you're like us you'll notice something new every time you
ogle them. A wood core brings light weight and responsiveness to the
Khione. Hey, that's a nice piece of ash you've got there!
We have had a crazy summer getting ready for the fall and working to fill our shop and website orders.  Here is a shot of us as we build handmade skis for the fall:
Last winter, we went on a filming trip with Dendrite Studios and hit up TLH Heliskiing in Goldbridge, British Columbia to ski, film, and product test with our athletes.  It was a sick trip to say the least.  Dendrite will be releasing a web edit based on the trip in the next couple months, so stay tuned. 
This is a shot of Epic Planks athletes Jon Whelan & Alex 'Blazer' Blais checking out a line at TLH: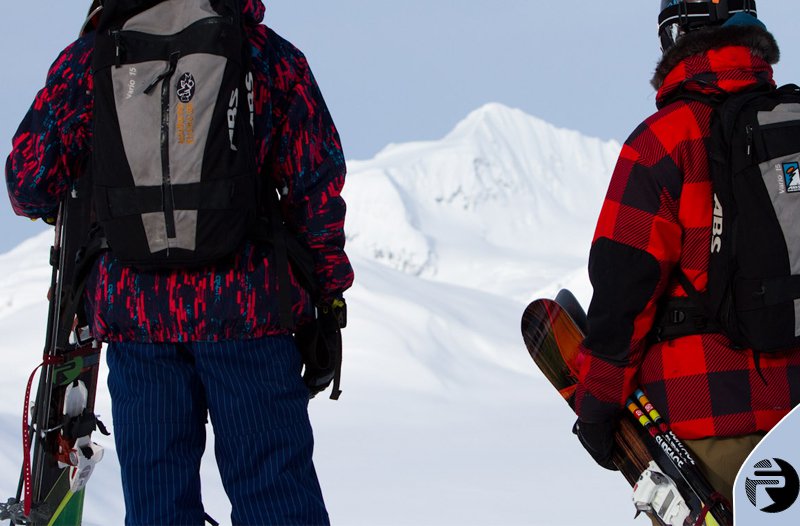 And here is a shot of some of the guys by the heli after another sick run: