Chance of snow. Finally. No hundred percent chance of sixteen inches that leaves us like a jilted bride at the altar. Chance, that's all we ask here in the Vail valley. My favorite forecast.
Currently puking here, and Thursday/ Friday provided the best EV skiing of the year, but with different stability indications. Yesterday, stomping the edge of the yet to be formed cornice of Old Man's with skis sent the 60-80cm of wind load to the frying pan with an easy shear, but did not propagate or step down in the rollover gulley past the first flats.
Friday, at the same place, with renewed wind load even deeper, around 80 cm, the same test produced no shear and moderate cracking that didn't fully break. Soft slab blocks stood perched on edge, but refused to drop and run. Temps were warmer on Friday with pockets of sun popping out. Might have something to do with it.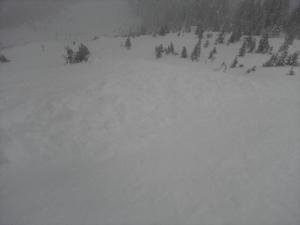 Thursday
Skiing was excellent both days, the snow on Friday was thicker and sprayed like spoonfuls of mashed potatoes on each turn. The snow stayed knee-deep and fresh all the way through. Watched a group of four ski left Benchie with no results. The tracks in West Wall, Tele Line, Benchie produces no slides that I could see. Didn't have much movement on my run and only minor sluffing running the right middle concave gully. The following four tracks had only minor surface pockets moving a very short distance Draw your own conclusions. Snowpack is no better, but stability on the upper part of the pack seems to be stronger. Definitely interesting to see the change in 24 hours in the same kind of rudimentary test.
Super big Saturday with the Teva games in town and the mountaineering race ends up at Benchie. Will racers and EV skiers be battling for the same skin track? We will see. Much pressure this weekend and hope the seeming increased stability is for real.