10 Tips for Surviving a Summer in the Oregon Woods
By Jake Lewis
In Memoriam - Matthew P. Newton and Gregg E. Greer
As we approach the summer season here in the Northern hemisphere, many skiers and snowboarders will begin to make their way towards the Mt. Hood National Forest to chase the summer snow up on the glacier. You, yourself have thought about making the trek, but due to the expensive summer camp and housing options in the area, you've decided to opt against a Mt. Hood excursion.
But don't roll out the good ol' summer setup just quite yet. You can still enjoy that summer shred, but for half the price that sunburned, slush rat's parents paid for summer camp.
Camping in Mt. Hood National Forest is not only cost-efficient, but often puts you closer to the mountain than many of the residential areas surrounding the mountain. Hell, you could even sleep in the parking lot of the resort if you so desire. It is for these reasons that many attempt to live out of their cars, or outside in a hammock or tent during their visit.
It is in tribute to these brave souls that I put together this little list of 10 Tips for Surviving a Summer in the Oregon Woods.
1. Find a Good Spot
First things first, you gotta know where you're going to camp. Luckily, the Mt. Hood National Forest is bursting with spots to set up. Here's a few of my favorite:
I. Old Timberline Road / W. Leg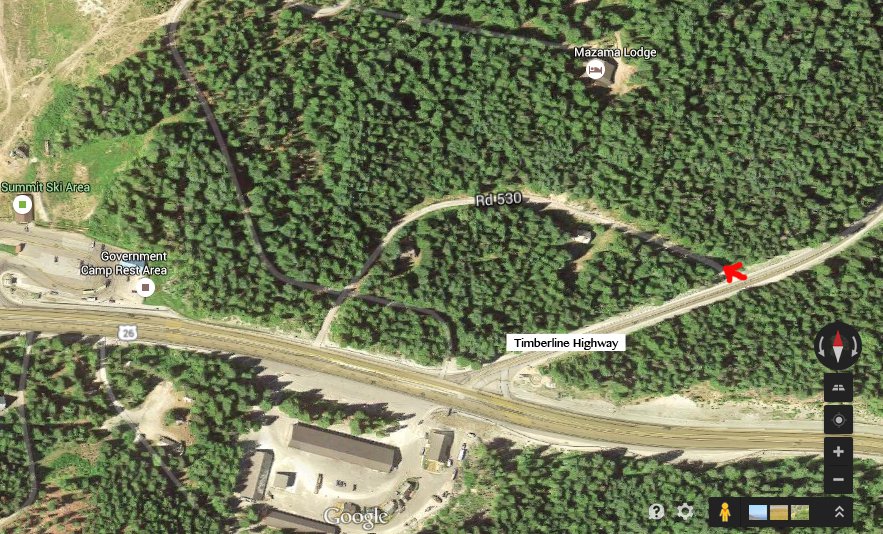 Turn up Timberline Road and immediately begin looking for an unmarked dirt road to your left. Follow that road around it's many twists and turns and you'll begin to see pullout areas that line each side of the road.
II. Tollgate Campground (costs $)
Located just a quarter mile East of Rhododendron, this spot sits among some of the tallest trees along Highway 26. It also has really convenient oven-style firepits that make cooking food in the rain WAY more enjoyable.
III. The Airstrip
Head East from Govy and look to your right for signs signaling for Trillium Lake. Turn down road and immediately turn left.
2. Pick a Dry Arrival and Departure Day
Setting up a campsite in the rain is not very fun. That's why it's key to plan your arrival and departure around the weather. Try and be flexible with these two dates, as the rain in Oregon can be relentless.
3. Stay Dry
The moisture, especially towards the beginning of the month of June can be quite intense. I would recommend buying a heavy duty tarp from a recreation outlet, or a hardware store like Home Depot to keep you and your goodies dry during your stay.
Staying dry is the main ingredient to staying warm during nightfall. Even in June, the average low temperature is 41° F, and to combine that with soaking wet ski gear is a recipe for disaster.
4. Stay Entertained
Unless you are a woodcarving savant, or have spent the bulk of your life studying the lifespan of ferns, then you're going to have a rough time sitting under a tarp waiting for the rain to stop. Here's a list of inexpensive fun activities to do while you're in the woods.
-axe throwing
-binge drinking*
-card games
-dig a hole as deep as you can
-tightrope/slackline
And of course if you're over 21 there's always Charlie's or the Rat
5. Be Prepared
Shit happens more frequently than you can imagine when you live outside. One tip I would recommend to handle such emergencies is for every dollar you spend on gas/food, you should set an additional dollar aside for dire situations.
6. Sharing is Caring
Selfishness will get you nowhere in the woods. Pool your resources together for a much more enjoyable experience. (i.e. rotating driving, who's buying the 30-rack, Laundromat runs, groceries, etc.)
7. Lock it Up
Crows and critters will steal your food if you leave it exposed. I would recommend storing food in some form of lockable dry storage, whether that be your car or sealable bins you need to keep it locked down. Same goes for your prized possessions. We had a couple pairs of ski pants stolen over the course of two days.
8. Buy in Bulk
Especially if you plan on an extended visit with multiple people. Everything is cheaper this way. You save gas on slimming down your number of excursions to Sandy to get groceries, utensils and extras.
9. Make Friends
There's a lot of people chasing the same dream as you this summer. Head down into Government Camp and walk around, absorb the culture and meet the many individuals that share the same ideals you do.
10. Variety is Key
And finally, you don't want to get stuck eating the same food day in and day out. So plan ahead and bring an assortment of goodies. A 48-pack of ramen and beer will give you a sodium overdose. Trust me on this one.
Thank you for reading and enjoy this summer while it lasts!