Our good friends at Orage have recently teamed up with their long-time team rider and friend, JP Auclair, along with Retallack Lodge, Sherpas Cinema and Freeskier, to help raise money for JP's non-profit organization, Alpine Initiatives.
Founded in 2008, Alpine Initiatives (http://www.alpineinitiatives.org) provides a platform for the snow sports community to participate in sustainable initiatives that create and care for healthier communities around the globe. For the greater portion of the past four years, Alpine Initiatives has focused its efforts on a Kenya-based community project by building an orphanage for children who were left homeless and sometimes without parents as a result of the AIDS epidemic in Africa. 
In an effort to support Alpine Initiatives and its projects, Orage has launched a fundraising campaign called 10,000 Ways To Help on their Facebook page to raise $10,000 for the organization, and they need your help. For every dollar donated by the skiing community, the good people at Orage will match your donations up to $5,000 USD, so together you can cut a cheque for $10,000 for Alpine Initiatives, which they will then put towards their humanitarian efforts.
For everyone who donates, Orage, Retallack Lodge, Sherpas Cinema and Freeskier are sweetening the deal by offering over 100 prizes valued at $15,000 to further encourage you to donate to a great cause. For every $1,000 that's received, Orage will unlock a round of prizes to be awarded amongst those who donate (and any donation of any size will make you eligible to win any of the prizes), and here's the extremely impressive list of prizes they're offering to those who do...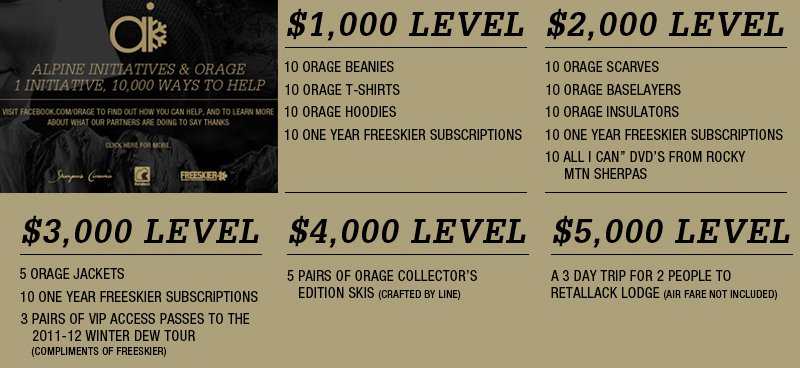 *Once again, please note that ANY donation of ANY size enters you for a chance to win ANY of these prizes.
For more information on this contest and to donate for a chance to win one of these incredible prizes (and more importantly, to support the great cause that is Alpine Initiatives), go to Orage's Facebook fan page and click on the 10,000 Ways To Help tab.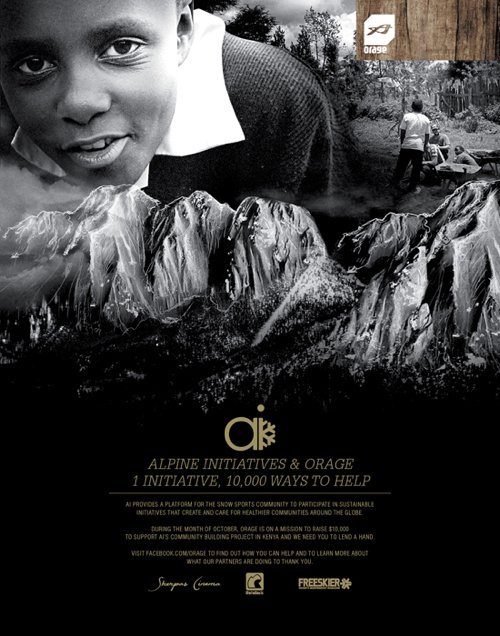 On behalf of everyone at Newschoolers, Alpine Initiatives, Orage, Retallack Lodge, Sherpas Cinema and Freeskier, thanks in advance for supporting this fundraising effort, and good luck to everyone who donates!