The trip to EV on Friday was an interesting one. Without a doubt best pow turns of my season, however it was also the most high stake avi danger day as well. Had multiple signs of weak snow pack, wind, numerous whoomfs, cracks, and even triggered a few small slides on both open faces and trees north-through-east. The aspect skiers right of our line had slid rather large and rather disturbingly as it is a line I have skied weekly in past seasons. Martineast recapped the day well and I only regret not having a camera to take some shots.
A few days later, and naturally, I wanted to go and search out some pow. However, after Friday's findings I already knew it may not be the best idea. So, in an effort to feed the need, I went out all geared up for another EV lap, keeping in mind I would most likely be turning back and skiing in-bounds with a fully loaded pack. After some quality lift chair time I reached the top of Sourdough and decided I'd keep my self busy with some beacon training and check the snow to see if the drop in temperature had improved the snow pack.
I searched to find areas which represented the terrain I had been skiing yesterday and just as I had expected, the snow was rotten — super rotten. Below are pics from a "hasty pit" I dug in a north-east facing tree'd area similar to the terrain and aspect where I had encountered the most activity two days prior.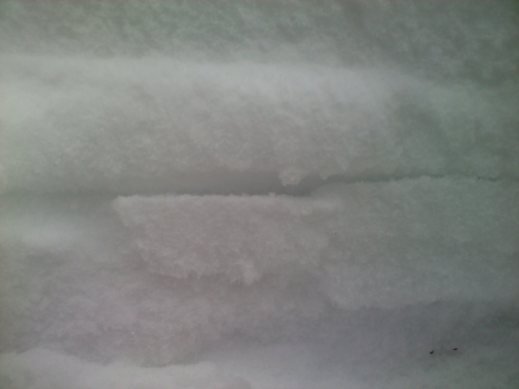 Looking at the photos, you do not need to be a snow scientist to understand what is causing the high risk conditions in our surrounding area. Keep in mind, this photo was taken on a treed northeastern slope, the same aspect as many tree lines in EV.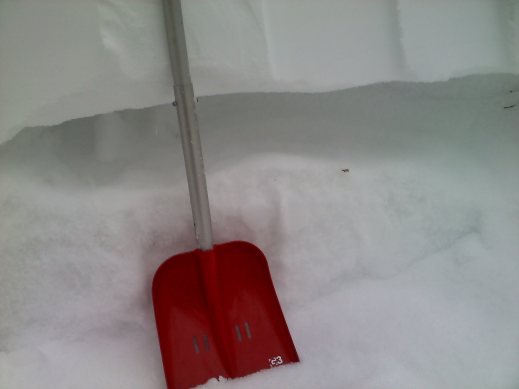 The photo above with the shovel clearly illustrates the newly fallen snow on a super consolidated layer created by warm temps and wind supported by an extremely faceted snow layer. After digging and looking at the snow I was convinced to turn around.
With the newly fallen snow, it will be hard to resist heading out for some fresh turns. New snow likely means raising the already crazy high avalanche danger. This pit shows that even in the trees and in areas we may think are safe, avalanche danger persists. If you are thinking about heading out to EV, be careful.