ÂÂ
ÂÂ
[caption id="attachment_552" align="alignnone" width="430" caption="half way there"]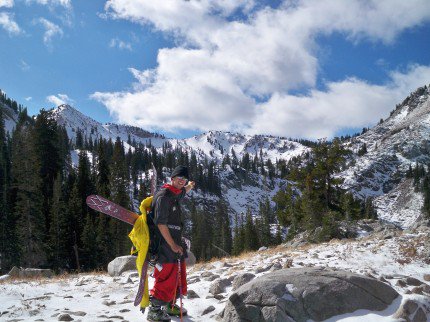 [/caption]
    This year I decided to get my roll on outta Colorado and into Utah where i can ski Backcountry, handrails, and Park within 30 minutes of eachother, along with being around a huge, emphasis on huge, crew of skiers and my brother who i havent gotten to really rip with in a good 4 years since moving out of NY. I do not regret my decision at all, i have been skiing rails since september 30th and took my first little backcountry venture of the year.
[caption id="attachment_553" align="alignnone" width="430" caption="girays first run down"]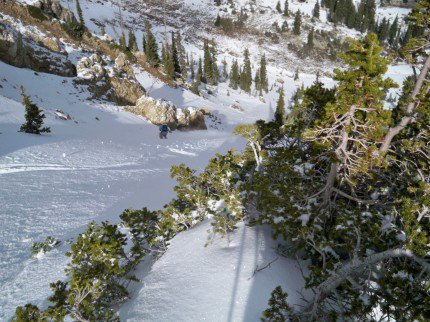 [/caption]
   I rolled up with my little brosif to brighton to ski the peaks in the far ridges of brighton. There is nothing better than being out in the mountains with nothing else going on but the beautiful views infront of you and scoping out the lines you want to rip down. 2 hours, 3000 vertical feet, and about 2 miles in we were finally at the top of our first line. Both of us had a smile on our faces after skiing our first real run of the year where from the looks of it no one has ripped yet for the season. we immediately began to rehike the far peak another 2 times. We started at out 10:30 am and made it back to our car at 6:00 pm, a hell of a session, i was retarded enough to only eat a banana for breakfast and was dying by the end. This preseason session was way more than worth it, the snow wasnt perfect but it was good, the sun wasnt shining but it was fine, it doesnt matter what the weather is like, its all about being out there on skis and having the most fun you can.ÂÂ
ÂÂ
[caption id="attachment_554" align="alignnone" width="430" caption="last run of the day, real long and fun"]
[/caption]
ÂÂ
ÂÂ
    Check out my facebook for more pictures. Hope you guys enjoyed this little update, I'm heading to Switzerland next week so expect another one with many pictures and a video to cap it off! get excited for ski season.
ÂÂ
[caption id="attachment_555" align="alignnone" width="430" caption="what a view,"]
[/caption]