Seriously though. Is it me or does everything seem like it's headed right for the shitter and all those eviction moratoriums and stimulus checks and student loan pauses did was prolong the inevitable?
I know they say the housing market won't crash like 2008. OK, so explain how this trajectory will be sustained.
Some other stuff...
Rent prices are astronomical on top of stagnant wages.
People have trillions in student loans, and many can't afford to pay them.
Trillions in auto loans. You've got people driving cars that cost more than they make in a year.
This is all on top of the lavish lifestyles and having to have brand new everything and the gratification that comes with it.
Medical bills? Good luck.
Retirement savings? Americans have practically none.
Emergency savings? LOL
I was bored and took a look at housing prices in a few areas that I've considered moving to in the future. Holy fucking fuck. There are entire cities and towns I can't even afford now, but was able to just 6-12 months ago. I'm neither poor nor rich however my income puts me above the 90th percentile. You're telling me that only that 10% is responsible for these price increases and still buying homes? Doubt it. It's probably that plus kids buying homes they can barely afford with lenders passing out loans on max debt to income ratio applicants. Who the fuck is paying $3-400+/sq ft? That's a great way to buy a house you'll have to live in til you die. Or foreclose... Jesus. Affordability is a relative term to an extent but our spending as a society is unsustainable. The whole reason I bought a house 2 yrs ago was because apartment rent was unsustainably increasing and a money pit.
I looked at current listings in my own city just for shits. Look at this entire screenshot. It might seem affordable but the value is dirt. This is an area I wouldn't buy a house in if it cost half that much and you put a gun to my head. These are prices in literally the most dangerous area of Columbus. Who is paying for this garbage; it's not like the houses are even nice enough or have the bones to rejuvenate like they do in the hoods downtown. The people living here (prior to the increase) can't afford half what these homes cost. This is the type of place where stray bullets fly through windows and kill children. Don't let the Kroger deceive you. That's a bad area.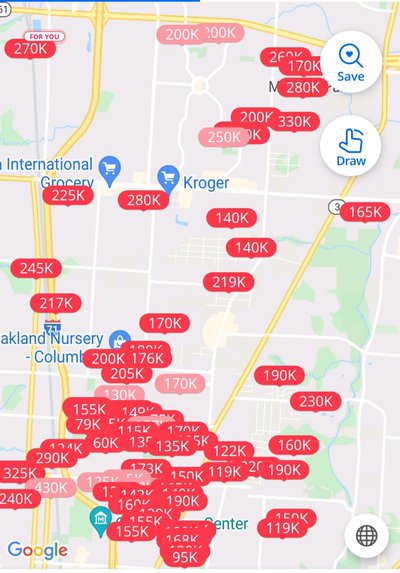 Idk I felt like ranting but also what the fuck people?!
Tldr
: this was all a joke. Go buy a lifted truck and pimp that ride.