Wanted to put a feeler up for a little project a friend and I have been working on. I don't do ski forums so not sure if any of you have seen this elsewhere. We are huge believers in the Cast system, and have a ton of respect for what they've come up with, but have seen the drawbacks from misaligned mounts and screws backing out after heavy use. Since we love to tinker, we've been working on a different approach to the Cast toe setup.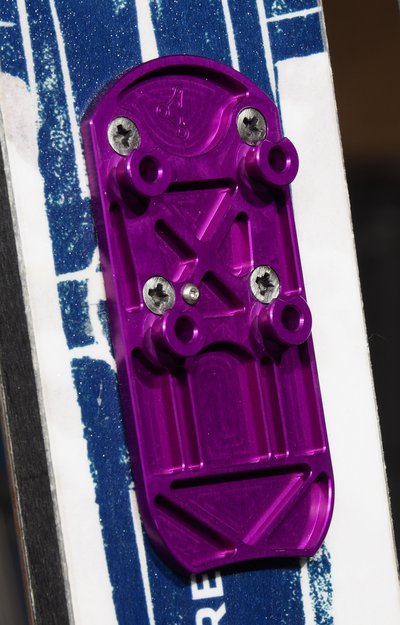 We're putting a feeler up to see who would be interested a single piece toe plate that replaces the screws, shoulders, and steel plate that cause many of the issues people have with the Cast setup. The main drawback to this setup is that it raises the toe by 4mm over the stock Cast toe height, creating a flat ramp angle (20.5mm toe and heel height). The stock Cast height measures 16.5mm at the toe and 20.5mm at the heel. When you remove the steel plate, and add our machined toe piece you net out at a 4mm increase in toe height. The way I think about this is that I commonly ski my touring boots in an STH2. In order to do so you have to crank the toe up 3-4mms, effectively raising the stack height with the thicker sole. My legs haven't exploded yet, and I think they ski fine, so we thought we'd see what people think of how this setup skis before adding more options (and costs) to raise the heel.
For those of you that were around for the old Salomon tech toe debacle, one of us is a mechanical engineer with a background in CNC'ing parts, and we've designed these to be stronger, and more reliable than the stock setup. Here are the full details. Depending on interest, our goal would be to get a pre-order page up in the next few days.
Cascade Components Cast Toe Plate
Material: 6061-T6
Specs: 5mm stack height, adds 4mm to the stock Cast stack.
Color: We're thinking black, but can also do clear. Let us know if you have a preference. We're aware red is faster.
Mount details: Uses the FKS toe mount pattern. Toe holes move 1cm forward, heel holes remain the same.
Weight (est.): ~58g with screws, which works out to about 7g less than the Cast steel plate, screws, and longer screws. This is also a prototype weight, which might change slightly for production.
Price: $130 + Shipping. We'll most likely put a pre-order link up on the Cascade Components website.
Shipping date: late-December to early-January (depending on pre-order quantities).