I was a bio major at a decent college.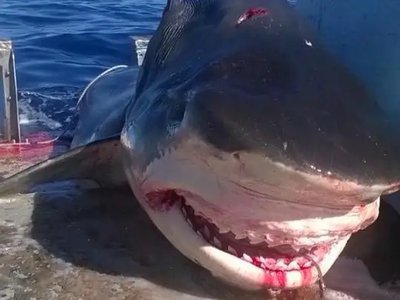 from an evolutionary standpoint, the more calories a shark eats the better it will be able to survive and reproduce. Every single shark week show shills the same bullshit— "humans are not the sharks preferred food!" or "sharks only bite humans because they are curious!".
and all these divers who swim with sharks act like the reason the sharks dont go straight for them is because "humans arent on the menu" or some hippy detritus bs like that.
The reality is that these sharks are so fucking brainless they cant figure out that a human being in the water is one enormous pussy just begging to be fucked. If a shark figures out a human is absolutely defenseless in the water and packs a fuckton of tasty calories, it will attack immediately and brutally. Many sharks out in the ocean will attack a person with the genuine intention of eating them. Get over your "sharks are mans best friend" subconscious defense mechanism.
if you really want to make sharks more domesticated you have to cull the shit out of them after an attack. If you never culled, then whichever sharks had a genetic predisposition to attack humans are going to get a calorie boost, and have better chances at survival and, yes, reproduction so then their offspring will attack more humans and so on until eventually you will have sharks all over the ocean that will attack humans immediately with the intent to feed.
But if there is an attack on an island like hawaii, if you cull like crazy and hopefully kill the shark that attacked the human you are removing those genes with a maneating proclivity from the shark population and you will see less attacks in the future. Also the lower the number of sharks in the ocean competing with eachother for food, the more food there will be for them and they will be less likely to be starving to the point that they learn to depend on humans as an easy meal. If you let the shark population explode there will be an enormous number of sharks that are desperate for food to the point they will attack anything that moves.
I dont understand why the whole "apex predator" designation is supposed to assign some sort of nobility to an animal. I mean do these shark lovers also have a hard on for fucking jellyfish?
the concept of natural innocence of an animal is interesting to me. And as far as that is concerned, i dont have much sympathy for an animal like a jellyfish that has effectively no brain.
imo they are just a waste of space and would be better off extinct.
sharks are not as degenerate as jellyfish, but they are incredibly stupid, just like any other fish in the ocean. They arent like lions or tigers which have very large and sophisticated brains. Sharks are almost braindead—so stupid, as i said above, that most of them cant even figure out humans in the water are like a fucking bag of mcdonalds hamburgers just floating there waiting to be eaten. Also, the mothers of many shark species will eat their own babies. If you read anything by richard dawkins you would recognize how stupid of an animal you would have to be to destroy your own dna like that.
and oceanic whitetips (the shark that will eat you if your plane crashes in the ocean or your boat sinks) are one of the most aggressive sharks in the ocean and will attack humans very quickly. They often follow dolphin pods around, eating the dolphins shit for nutrients (omg what a majestic and noble creature!). Maybe oceanic whitetips act pissed off because they swim around eating dolphin shit all day. Who knows.
I dont have any hatred of sharks (obviously i shouldnt given my major) but i just cant stand bullshit on the discovery channel and elsewhere that says the reason these scuba divers on this show arent getting attacked by these sharks is because sharks are friendly and dont want to attack humans….….SHUT THE FUCK UP.
the reason sharks tentative is bc they are too fucking braindead stupid to figure out how much of a bluff these defenseless humans are putting on.
I dont think animals that hardly have a brain like fish or sharks or jellyfish deserve to be exalted to a position of nobility just because their physical weaponry is impressive.
fucking covid 19 is a highly evolved weapon of nature; do you also expect me to fucking respect covid 19?
Sparksnotes:
sharks are braindead killing machines and if humans made them go extinct God wouldnt give a fucking planck volume of fucks