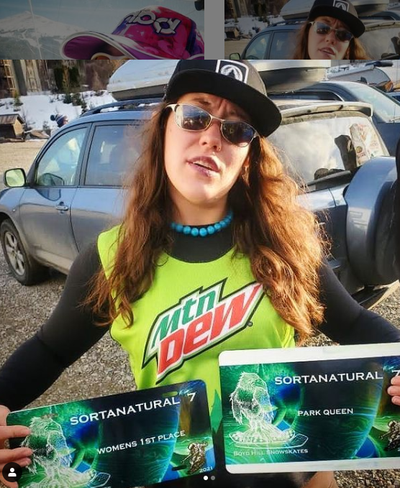 Yesiree, I'm hot off the Sorta Natural 7 podium, the world championships of Snowskating Banked Slalom and one of the most bizarre events in winter sports.
How did my candy ass just become a pseudo-celebrity in a niche extreme sport?
Well, I kinda thought a lot about it on the long drive through 5 states: Colorado, Wyoming, Utah, Idaho, Montana, and back…
It's really very simple:
I've arrived at a chaotic state of entropy that results when you ski/skate around in a bunch of energy drink girl outfits.
Sometimes I would get paid by the brands to dress up.
Sometimes, I just did it on my own.
Either way, I did it for the same reason - to make action sports events seem more exciting.
Hell, I was dressed like a vitamin C packet girl when I discovered snowskating at Outdoor Retailer.
When snowskating came into my life, I was there working it – dripping in team girl shit trying to drool over the gear and make a little money.
As I was trouncing past the snowskate booth, carrying about 600 vitamin c packets, I treflipped the flat deck.
You see, when you're dressed up like an energy drink girl, sometimes you can do superhuman shit. That's why Redbull has those helmets.
"Well of course I'm gonna be at the on snow demo!"
The rest is history.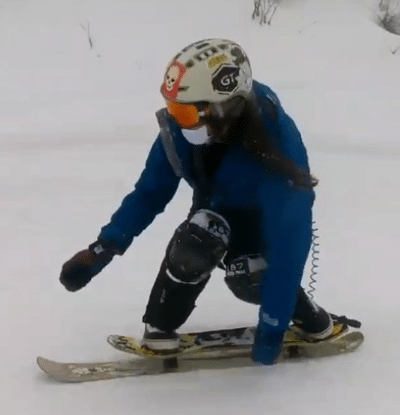 There's always room for an energy drink girl at ski/skate/snowskate rides or parks or events or whatever.
Everyone is supportive of energy drink girls shreddin' it.
Since they'd be totally stoked to ride with me, I got spots on the group rides.
Thus, I got plenty of practice.
Enough practice to bring home the Snowskate Banked Slalom, Chinese Downhill, and Park Session at the Sorta Natural 7.
Now I just gotta wonder… will the life of silliness and debauchery that this energy drink girl alter ego provides me be my glory or my destruction?
Only time will tell.