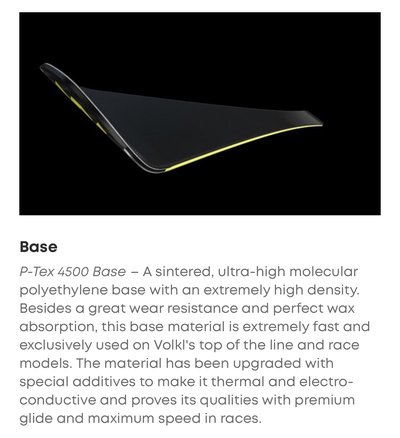 Its the base they use on the revolt 87. All the other volkl park sticks use the normal sintered park base but the 87s use the same on as their race skis.
anybody know if fischer uses their race ski base on the nightstick?
I have a theory that alot of companies use different bases on their park skis than they use on their race skis, probably for durability reasons.
Armada bases might as well be extruded bc they are really fucking slow, but i think they make that tradeoff in order to have very durable base and edges.
volkl seems to make that tradeoff to a lesser extent on most of their parkable freeride skis and park skis, but its obvious the revolt 87 is their top of the line park ski because they just used the same genocidally slick sintered base they use on their race skis.
if the revolt 87 is at least somewhat durable then its probably the best park ski you can buy. Like 4 of the 10 xg slopestyle 2021 competitors were riding the 87.
head almost certainly does the same with their park skis and uses the same base as their race skis. Theres no other way to explain how fast head skis glide.
Ok thats enough sintered base masturbation for this evening.... carry on