Intro
Howdy all of my fellow degenerates, today I am here to give my thoughts on the best ski that I have ever put my boots on. While it may not be the first touring ski that Armada has come out with in the JJ line, I am here to tell you why it is the best. I had my eye on this ski when it came out simply because I saw masta Harlaut ripping these in the backcountry off some moon booters with Sammy C, along with THall and some of the other kings that we grew up loving. While I'm not hucking cork sevs or dub backies off of the baker road gap, I am starting to progress into learning some steezy basic tricks. One of the biggest things that intrigued me about the whole ZERO line from Armada was the limited amounts of them. I saw them in my local store and from the first time I laid eyes on them I was fully torqued, I knew I needed them.
Other Options
I spent a lot of time looking for a ski that I could occasionally tour with and still catch the deep scuba days in the resort with. I really looked at the Atomic Bent Chetler 120's, Armada WhiteWalker, and K2 Reckoner 122. I wanted something that had some huge rocker in tip and tail so I had no problem landing switch in some deep chowder. I settled for these because they really seemed like the best fit for what I was looking for.
The Ski
2020 Armada ARV 116 JJ UL (truly a mouthful)
139/116/135 @ 175cm
1600grams/ski @175cm
17m radius
Cost me $750 at our local Armada dealer
Personal Flex Rating- 5 (tip) 8(underfoot) 5.5/6(tail)
Bindings
Armada Shift MNC
10 DIN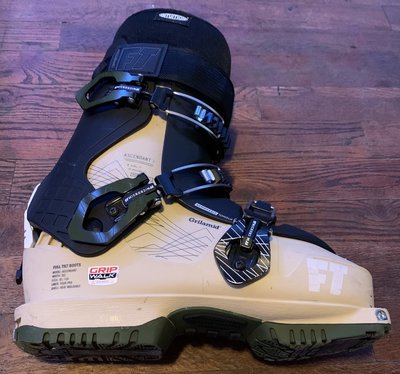 Mounted at freestyle mount point (I think -1.5cm of center)
My Skill
As I said earlier I have been ripping the slopes since I could walk, never really did ski teams or comps but I wish I did. I am 5'7 and 135lbs so I didn't want something that would be stiffer than I was looking at Jennifer Aniston in We're the Millers. I am somewhat new to the backcountry, and really only looking to get up some good lines in Tahoe, Utah, and Idaho.
The Butter Sticks
I've gotten 14 days on these baby's so far, and I have definitely pushed the limits of these skis. I had a grand time at Squallywood at the end of January when we got the megalodon of storms. In waist deep powder they are probably the best tool for the job unless you had a Magic J UL. In soft groomers they carve surprisingly well and can get on edge somewhat effortlessly. This is the one ski that I would hate to take out in any sort of ice, which makes sense because they are a freestyle powder ski. In the soft chop they perform well, not incredible but if you just get backseat you can drive them. Hard chop is not really preferable with these planks simply due to how flexible they are and with them being so light. The one gripe that I have with my setup currently doesn't pertain to these skis at all really, I have the Armada MNC Shift 10's on them and have the Full Tilt Ascendant boots. With these boots and the bindings they are so annoying to get the toe piece to fit with the boot, if there is a spec of snow on the bottom piece they will not go on. I also wish I would have went with the 13 din since my dins are cranked all the way currently. Overall, it is a great package and I would still prefer the shifts over a kingpin for the amount of resort skiing that I currently do. I am truly eager to get these sticks out into the backcountry once work and school frees up with the conditions.
Conclusion
If you are looking for a 60/40 setup or even less backcountry setup I could not recommend a better setup if you are looking to still toss tricks and feel like you are literally surfing on some pow. From hucking some 20-30 foot cliffs to skiing some snorkel deep days these things have served me well so far. If you guys like this review please throw a thumbs up down below! Always open for questions, shoot me a dm on the gram @maxmccarver