Hi everyone,
We are teaming up with Tom to give away a Line Skis flow sponsorship, and a invite to the pro division of the Steel City Showdown. This is a really awesome chance for a talented skier to win money, a sponsorship and get a foot in the industry. Check out the information below and come to the Killington TAFT stop on 1/4.
During the day (10:45 - 2:15) the TAFT crew will be in the park holding rail jams and giving out cash. At 2:15 the kids with the most money (top 8-16) will battle it out for a final cash prize.
SCHEDULE
9:00 a.m. to 10:00 a.m. – Registration / Check-In (Ramshead Lodge, 3rd Floor)
10:30 a.m. – Skier meeting / Rules (TBD)
10:45 a.m. to 2:15 pm – Ski and give out money to participants
2:15 p.m. to 3 p.m. - Final Jam
3:15 pm to 4:00 p.m. – Standouts and Thank you! (Ramshead Lodge, 3rd Floor)
COST
$20 Entry Fee
$40 Lift Tickets for competition participants only
Purchase both entry and lift tickets at the registration table
You WILL need a Helmet to participate in this event!
**You must have a signed waiver in order to ski, kids under 18 must have a waiver signed by a parent or guardian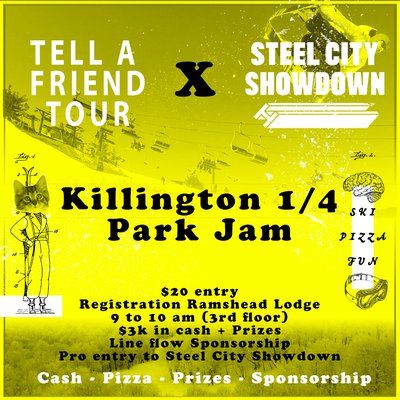 TAFT is also selling some limited edition shirts for the tour. Check them out on our website.
https://tellafriendtour.com/shop