What's going on newschoolers! I'll start this off with my name's Cam and I'm the assistant Park Crew supervisor here at beautiful Lake Louise Ski Resort. Located just 57km/35miles west of Banff, Alberta.
A brief background on myself is I grew up in southern Ontario. As a young kid my older brother got me hooked on watching JOSS edits, Travelling Circus, 4bi9, Chug life, Stept movies...it never ends. My home mountain is Glen Eden situated just 30 minutes south of Toronto with a 268m elevation. But I was eventually dragged west in pursuit of phenomenally better skiing.
Sunrise during morning park maintenance.
Cool, now let's get down to it. I'm looking for some input and opinions on content ideas that people may have or be interested in for the upcoming season. For now I have an idea/goal of a regularly posting girthy edits showcasing our park and mountain riding. Additionally exhibit some events that'll be going on throughout the season (possible live streams?). Lastly dive into a bit of the raw work we do around here and how it all comes together.
If you are interested in the sounds of that or possibly have some ideas, throw em at me. I'm all ears. Can't wait to see everyone out there!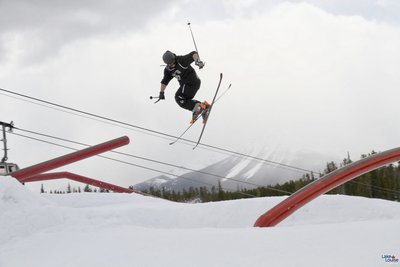 Myself at our Shake the Lake jam back in May.
**This thread was edited on Aug 13th 2018 at 2:04:38am