Buy them all for $200 shipped, I'll throw in some extra bits
...Trades for Smith IO/7/X ~ Airbrake Lens ~ Snow Pants Orange or Blue Color...
...Don't Like The Prices Listed... ...MAKE ME OFFERS...
$45 ~ Black Canopy
- lens was scratched while opening box, used em for a week
frame 9.5/10 ~no flaws found
strap 9.5/10 ~no flaws found
lens 8/10 ~center scratch is only a big deal looking down at your phone, looking down the mtn it fades out


$50 ~ Flight Canopy
- compiled from spare parts laying around
frame 10/10 ~New Jfit
strap 8.5/10 ~Minimal wrinkles by rigger ends
lens 10/10 ~Never been used

$70/$50 w/o Hi Y ~ Black Splice
- used half a season
frame 9/10 ~some signs of mascara on the nose foam
strap 9/10 ~no flaws found
lens 8/10 ~Black Iridium has some scratches they don't impede vision
lens 9/10 ~Hi Yellow no flaws found, used a handful of times

$45 ~ Retro Crowbar
- H.I. Amber Polarized lens, gold riggers, retro stretch strap
frame 7/10 ~relatively clean, top 2 vents foam torn, side foam bit compressed
strap 8/10 ~bit dirty on the edges, no stretch wrinkles
lens 6/10 ~they've got bunch of little scratches, noticeable while wearing


$30 ~ Camo Crowbar
- they're used...
frame 7/10 ~Frame/Riggers could use some magic eraser
strap 7/10 ~strap is decently good, some stretch curvature
lens 5/10 ~OG pink iridium, inner lens midway cracked scuffs on right side too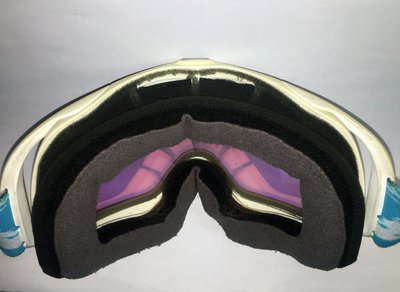 ...Then...
$?? ~ B&W Crowbar
- these have seen some shit, probably worth shit lol
frame ?/10 ~ let someone 'borrow' them, got hungry on the chairlift?
strap 4/10 ~prob only salvageable bit along with the riggers
lens 2/10 ~ no inner lens, you'd see better without a lens - russian safety goggles maybe?

**This thread was edited on Jan 28th 2018 at 10:45:54pm