Whats up NS!!! I am currently in need of some extra cash since I'm running a little short on rent for this month. So I got a few things for sale and prices are negotiable but I am pretty firm on what I am asking for. I am open to trades so feel free to offer and please no lowballs. When it comes to cash I will only be using PayPal. Thanks for looking and shoot me a message or post in here if anything interests you or if you have any questions.
First up I have this older model Bloom Outerwear jacket that is super fresh and has a baggy fit. The jacket is a size XL and you can tell it has seen some use. It still is an excellent jacket though with plenty of life left in it and I personally love this jacket and how it fits along with the color scheme/design it has. Everything on this jacket works so all of the zippers and buttons work. Only minor flaws with it are a few small minor stains and the velcro on the sleeves where you would put the jacket over your mittens or gloves are starting to not stick like it use to when it was new.
Looking for $120shipped or best offer
Next I have a pair of XL UnderArmour black snow-pants that are really warm and techy. They are pictured in the above pic with the Bloom jacket and are in very good shape as well. All zippers and pockets work perfectly and these pants will also come with a pair of Under Armour overalls so if you want you can really sag them if you are looking for that extra baggy look. These pants have no tearing or fraying at the bottoms which is where this normally and usually occurs with snow-pants after normal use. There is however one small hole located by the right knee that is about the size of a dime and just goes through the first layer of the pants. I can post some more pictures of this upon request but this minor imperfection doesn't effect the snow-pants at all.
Also I have a basically brand new XL Jiberish black crew-neck that I wore once around the house and decided it really just wasn't my style. The name of the piece is the Late Night Lo-HI and as stated it is in absolute perfect condition and I could say it is brand new and nobody would be able to notice otherwise.
Looking for $40shipped or best offer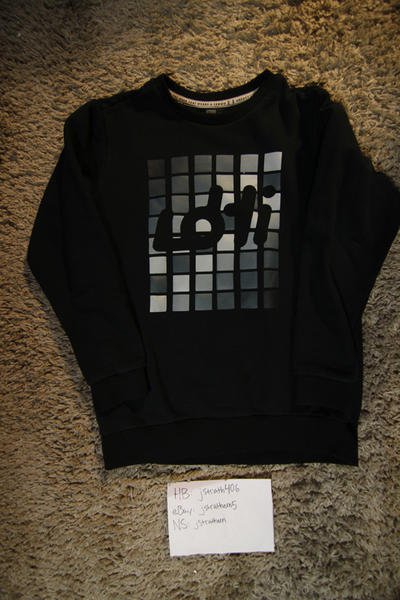 Next I have a pair of Fulltilt Drop Kick's in size 27.5. They have been used for the past two seasons but unfortunately I was only to ski about 5 times at most with these boots. They have also never been heat molded and are in excellent shape. I would be willing to trade for a larger size of boots so hit me up and let me know what you got. Not really sure what to ask for these so I'll start the price off at $175shipped and obviously best offer will take for these since I am unaware of what to ask.
Thats everything for now thanks for looking!! Once again if you have any questions please feel free to ask!! Also, my feedback is excellent on this site and I have completed many transactions so feel free to check out my feedback on my profile page if you are at all skeptical!
**This thread was edited on Nov 17th 2017 at 10:10:07pm