Hey NS,
We've made a fun new range of boots called the Hawx Ultra XTD ("extended"). If you have any questions about them, drop your queries here and I will do my best to answer them.
Here are some general details: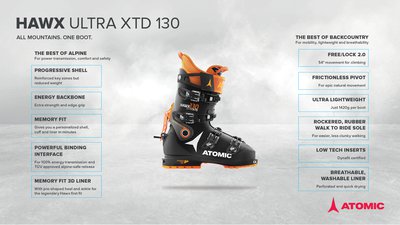 Das Range: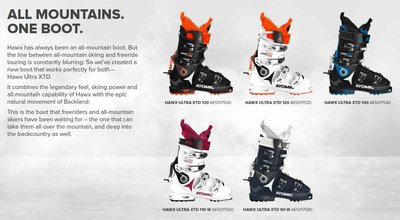 FAQs
Who is this boot for?
Literally, the skier who wants one boot for almost all types of skiing. This boot is the ONLY touring-mode boot that flexes and feels like a real alpine boot, yet has 54° of cuff mobility, lightest-in-category weight (1.42kg), and fits better than anything else.
How is this possible?
By combining the best of Hawx Ultra and the best of Backland. We use all of our alpine know-how to make sure it skis the best, and we use our touring know-how to make sure it tours the best.
Does skiing performance change because of this boot's low weight?
No – our main goal in making this boot was that it skied just like normal Hawx Ultra. Progressive and powerful, no compromise.
How do I set up the boot for touring?
Unlike Backland, you will need to unbuckle the cuff and loosen the power strap in addition to disengaging the Free/Lock 2.0 mechanism. Position the buckle catcher into the hook on the tooth plate, and "close" the buckle. This will open the cuff enough to provide all 54° of cuff mobility.
What kind of sole is that?
All models utilize an integrated WTR rubber sole. The sole is integrated (glued on) in order to save weight, provide the best traction, and reduce stand height. WTR is a type of Touring Norm (ISO 9523) that uses hard plastic AFDs in the toe & heel in order to provide a TÜV-approved safe release and 100% power transfer to the binding. It fits all pin-style bindings (including Kingpin), all WTR bindings, and any binding that accepts an ISO 9523 sole (Warden, Marker Duke, Marker Griffon ID, etc.). It
does not fit
standard alpine bindings (Z-series, X-series, Lithium, Mercury, etc.) nor Grip Walk bindings.
Why not just use a "normal" full rubber sole?
While full rubber soles are great, they have their drawbacks. First, in an alpine-style binding (i.e. Warden), rubber soles will compress during skiing causing a loss in power transfer from the boot to the ski. This means your "130" flex boot isn't behaving like a 130. Secondly, we wanted to ensure the safest release from the binding possible and this means adding plastic AFDs. Jamming your full rubber sole into an STH2 16 binding is a really good way to injure yourself.
Can I heat the Platinum/Gold liner on its own
? Yes – if you don't want to do Memory Fit, you can heat the liner on a hot-air blower for 15 minutes or in a Memory Fit oven for 3-4 minutes.
How do I wash the Platinum/Gold liner
? As with Backland liners, hand wash only in 30°C/86°F water and air dry only.
What tech inserts are used in the boot
? All Hawx Ultra XTD models use Dynafit Certified tech inserts.
What plastics are used in the boot
? All lower shells are Grilamid, one of the lightest, strongest, and best skiing plastics available. The cuffs of the 130 & 110 W are also Grilamid, while the cuffs of the 120, 100, and 90W are PU.