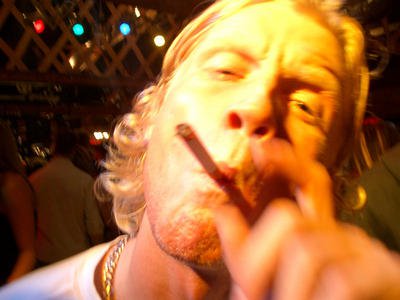 Tanner hall has apperantly quit smoking weed. This comes shortly after he stopped posting his Facebook statuses in all-caps letters. The 32-year old says that: "I do not want to only be known as a pot smoker, I have other qualities that I want the world to see."
Hall's fellow professional skiers have already expressed their reaction to this shocking news. Sammy Carlson was heard saying that "It's just his life, it's what he do, yeeeahhh, just his life." Henrik nose-butter Harlaut was also heard saying "Damnn yessir wu-tang fo children bless up one love." Obviously the weed smoking community is heartbroken by the loss of Tanner and his dreadlocks. "We must learn to smoke our herbs without watching a video of the blessed Tanner skiing some rightious lines to the beat of Cali P's reggae tunes." Said a local ski-bum.
We are very upset to hear that Tanner Hall will stop smoking his "ganja" as he calls it. We hope this new behaviour he is adapting does not cross the line, we would hate to see him posting about his love for FIS and Nick Geopper's style.