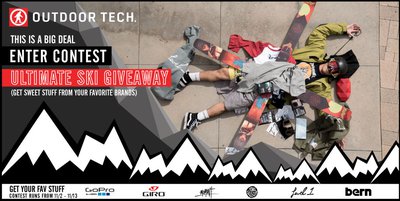 I was watching SmallWorld thinking that we should give a bunch of stuff away to get you hyped for the season. So here we are, go here and enter to win
https://gleam.io/fb/uCvvy
Here is everything we are giving away:
Bern: Watts Carbon Fiber Helmet
Giro: Two Pairs of Goggles
GoPro: Hero4 Session
Level 1: Small World Blue-Ray/DVD combo & a few shirts & hoodies
Moment Skis: Ghost Train Skis
Outdoor Tech: Big Turtle Shell & Chips
Yoke Collection: Bristol Jacket
Whoever wins this is going to be stoked. I have all this stuff right here, just waiting to go to someone. Don't believe me, check our Snapchat (outdoortech) right now.