Trying to get rid of some of my gear from the past two seasons. I'm open to offers on everything, and I will trade any of my pieces for Jiberish (preferably older but I'm open to anything), some non saga suspenders, or possibly some large die cut stickers for my truck.
Buyer pays for shipping
- Small Full Tilt hoodie signed by Logan Imlach 9.9/10: $20
-Large Saga Mahalo hoodie 8/10: $40
-Small purple Armada Stabilizer pants 7/10: $25
-Medium black Saga Anomie 2L pants 8.5/10: $35
-Medium camo Saga Fatigue jacket 9/10 (missing a shoulder patch): $40
-Saga suspenders 10/10: $15
SOLD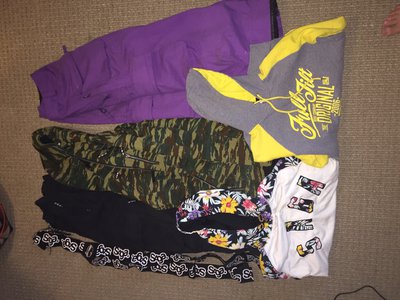 NOTE: If you're located in Alaska I will ship for free or will do local delivery if located in the Fairbanks area.
Email parkerstoltz@gmail.com for more pictures or if you are interested in buying/trading.
**This thread was edited on May 27th 2015 at 2:13:43am
**This thread was edited on Jun 9th 2015 at 4:23:53pm