"When you perceive others'' needs, opinions, and judgments as important than your own, you may feel hurt, anxious, and even angry. This kind of passive or nonassertive behavior is often indirect, emotionally dishonest and self-denying."
I am just a skier.
I've never made an edit, never asked for a sponsorship, and the only contests I've done have been to hit the features, not compete with the other skiers.
I do not have a unique style and I am far from innovative. In fact I haven't really learned a new trick since about 2010. Refined and added variation I'm sure, but I have been doing all the same shit for years on years and it's still fun AF.
I am not a filmer. I don't spend my days on hill chasing my friends around with a camera, wearing a GoPro on my head, chest, nor pole, and I don't wait for someone else to get "the shot" either. I'd much rather just get on the lift, get off the lift and ski between the top and bottom. If someone wants to film me, cool, but don't expect me to wait around.
I am not an editor. Probably because I just explained why I have no footage haha.
I don't have a sponsor. I have never tried to. It sounds glamorous, the free gear, the travel and of course the pay checks. But I prefer just to buy the gear I like, not limit to certain brands or certain styles. I am not a billboard, and honestly my personality doesn't scream "try to be like me". I also don't see the need to risk my neck at the expense of pleasing sponsors. I snowboard too, a lot. So most companies would just laugh me out the door if I wanted to represent them.
I am not a try hard. I am not pushing the boundaries or doing tricks that have never been seen before. I am just looking for the adrenaline. I love the feelings of going huge, landing clean, learning something new, but it happens naturally by just going riding. Feeling it -> think of trick -> try-> either get it after a try or two, or move on. You won't find me trying something over and over or taking my ski off to slam it against a rail or yelling, "FUUUUCK!" out of frustration. Out of pain sometimes, but not frustration. If you this is you, that's cool, but in my opinion your trying too hard.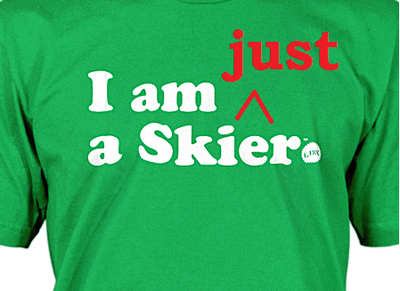 Whether skiing to you is a sport, or lifestyle, or hobby; however you classify it, it's just what makes me happy. Thus, I am a person that has dedicated my life to it. I've never rode this years' skis, or been heli skiing nor hit an urban handrail either. Hell I only made a NewSchoolers account a couple years back even though I've been skiing my entire life. I am neither proud nor embarrassed by that, it just what it is.
Does this mean I am a bad skier or a good skier? The internet will probably never know, because I am just a skier. That is all. And I am proud of that.
I guess I wrote this because I want to get more people stoked on riding for the sake of riding. I don't want to discourage people from making edits, or getting sponsors, or for Gods' sake stop pushing the boundaries. But I do want to encourage some thought about your motivations behind your actions as a skier.
And yes, orange/red/purple names, I am talking to you too. To some of you skiing is your secondary passion meanwhile cinematography, writing, photography or being a celebrity is really what makes you happy. I'm not trying to step on your toes, in fact I can't get enough of your craft. I am just asserting myself as nothing more than a skier, which has taken me years to realize is kind of unique.
Thanks fore reading all that.