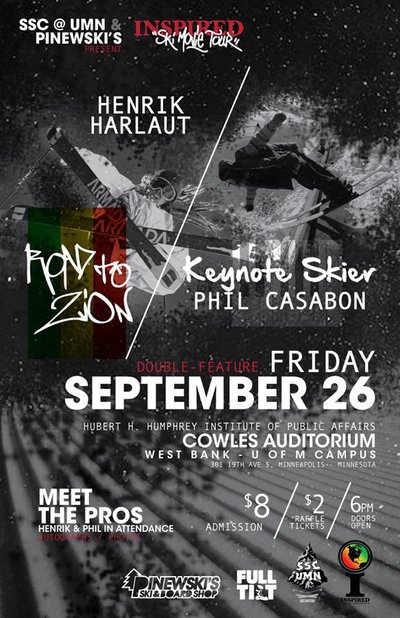 Inspired Ski Movie Tour - Minneapolis, MN
@ The University Of Minnesota
Cowles Auditorium - Within the Hubert. H Humphrey Institute of Public Affairs (West Bank)
301 19th Ave S, Minneapolis, Minnesota 55455
Friday September 26th, 6:00PM
RSVP ON FACEBOOK:
https://www.facebook.com/events/738763776181144/
Come out and view Henrik Harlaut's "Road to Zion" and Phil Casabon's "Keynote Skier" with the legends themselves before you can see the movies anywhere else!
Meet & Greets with both Henrik and Phil, Autographs, Raffles, Movies, and much more.
TICKETS: $8
RAFFLE TIX: $2
'Keynote Skier' Teaser:
http://philcasabon.com/2014/08/11/keynote-skier-teazer/
'Road To Zion' Teaser:
https://www.newschoolers.com/watch/723706.0/-Road-To-Zion--teaser?c=11
Be there, all the cool people will be :)
INSPIRED!
don't hesitate to PM me for more info.