I know there are more brown pow lovers on this site, yah there is pinkbike but lets be honest, newshcoolers is wayyyy cooler. so lets posts our rides, questions about components, mechanic questions etc in this thread.
I just bought this beauty and i definitely sacrificed uphill capabiltiy in order to get a beefier dh/park bike. id been on a nomad for a while and it's a huge switch in riding styles for me. definitely getting used to the weight and having to keep speed a lot more.
specs for said beauty, 2011 rc2 dh totem, 2012 dhx rc4, highrollers front and back (gona go dhf front and highroller in the back), mtx 33 wheel set, slx brakes, diablous cranks, FSA 760mm Handlebar, Shimano SLX Shifter & Shimano Deore XT Derailleur.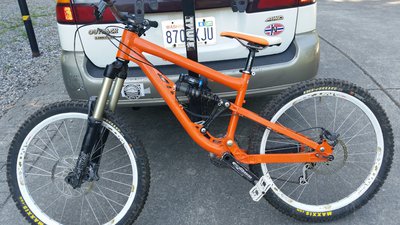 Alright newschoolers, post your bikes. i wanna see some sexy steeds.