Meier is giving away a pair of skis to a lucky fan! No Rules except be creative! Why should you win?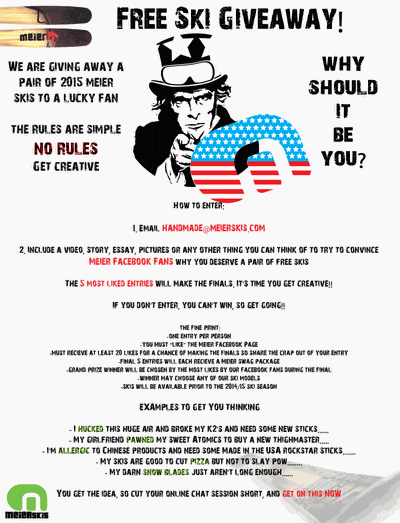 How to enter:
- Email handmade@meierskis.com
- Include a video, story, essay, pictures or any other thing you can think of to try to convince Meier Facebook Fans why you deserve a pair of free skis
- The 5 most liked entries will make the finals. It's time you get creative!!
- If you don't enter, you can't win, so get going!!
The fine print:
-one entry per person
-you must "like" the Meier Facebook Page
-must recieve at least 20 likes for a chance of making the finals so share the crap out of your entry
-final 5 entries will each recieve a Meier swag package
-grand prize winner will be chosen by the most likes by our Facebook fans during the final
-winner may choose any of our ski models
-skis will be available prior to the 2014/15 ski season
EXAMPLES TO GET YOU THINKING
- I hucked this huge air and broke my K2's and need some new sticks......
- My girlfriend pawned my sweet Atomics to buy a new thighmaster.....
- I'm allergic to Chinese products and need some Made in the USA rockstar sticks.......
- My skis are good to cut pizza but not to slay pow........
- My darn snow blades just aren't long enough......
You get the idea, so cut your online chat session short, and get on this NOW
**This thread was edited on May 6th 2014 at 3:41:12pm