pussyfooterHaving some sort of fluid head would be nice, I know guys who would take their nice head off their legs, put the slider on the legs, then the head on the slider, little more complicated but then you have a nice smooth head on your slider.
For sure a fluid head helps with this. I don't have a super nice head but it get's the job done (Manfrotto 503HDV). I don't use my slider much anymore but when I did this is how I would use my setup. You can get some really nice fluid shots. You just have to be really fucking careful when you get to the end of your slider track. Make sure your tripod legs are set super wide. Things get really tippy when you've got a heavier rig out on the end of the track when your panning and tilting at the same time. I've had more than a few close calls with it.
Here's a pic of how I had mine setup...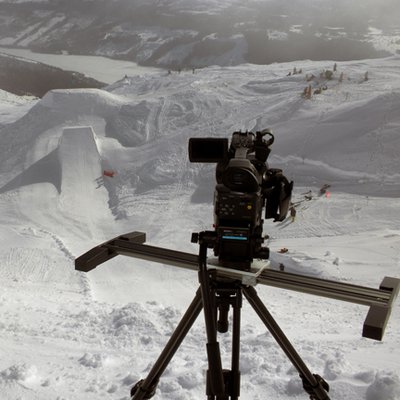 The shot at the one minute mark of this clip has one of my favorite sliding/panning/tilting shots:
http://vimeo.com/10664323#t=57s
**This post was edited on Apr 15th 2014 at 10:55:42am