Title says it all. NO TRADES UNLESS ITS FOR A STH2 16 (new STH) as always, im happy to hook up local buyers (Bellingham to Portlandish). yes the pictures are sideways.
PM with questions or offers!
First up, my afterbangs! Or, as I call them, the forever bangs (because they are rockered)
1 mount for fks (317mm boot sole) at true center
was my park ski when i lived in Colorado. edge cracks underfoot, no edge ripped out.
$75 + shipping (OR LOCAL PICKUP FROM 98105)
FKS 185's. this binding is basically indestructible. no lowballs, or i'll save them and ski on them after the zombie apocalypse (BECAUSE THEY WILL STILL WORK). These are a 90mm brake, haven't been bent out at all.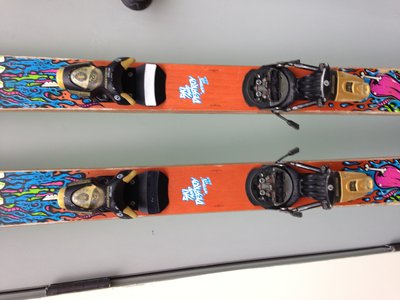 yes, they are the FKS on the afterbangs. yes i can find you an AFD for the one thats missing the little white piece (although its still totally functional without it)
$200 + shipping (OR LOCAL PICKUP FROM 98105)
27.5 Salomon SPK Pro 2012. The pro version is about a 100-110 flex, 2 seasons on them skiing ~15 days/season. Good for a wide foot, not too big of instep. The soles sitll have plenty of wear left on them, meaning that you dont have to worry about getting haggled by shop techs when you get skis mounted!
$75 + shipping (OR LOCAL PICKUP FROM 98105)
Black Diamond Agent 30L Avalung Pack. Used twice, have since got an airbag. Solid pack, avalung never drooled into. No wear/tear. All the features you could want for a pack. Awesome ski pack, has helmet carry, goggle pocket, probe/shovel organizer, and best of all BACK ZIPS (so you can get your pb&j out without going through the back of the pack!)
$75 + shipping (OR LOCAL PICKUP FROM 98105)