So you've been prepping for your epic season edit, walking around the neighborhood in your outerwear bagging 'lifestyle' shots, holding a GoBro out in front of your face while you slay lines/flat boxes, and are just praying that your edit gets Video of the Day on NS. Why not take that same edit and try and beat a tiny field of competitors for a new Sony Action Cam or... gasp... the chance to
FILM WITH TGR??
Yes, those guys (well, us, actually) want to find out who the hottest kid on two planks (that's also under 18) is that we should be filming with but have never heard of, and that's why we're hosting our Grom Contest for the 5th year in a row. Here's the deal:
TGR's 5th Annual Grom Contest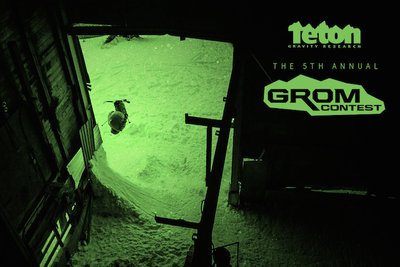 -You must be 17 years or younger on April 27th, 2014
-Your edit can't be longer than 3 minutes long
-You must have the rights to the footage you use, and it can be shot anywhere in the WORLD! (this is not a contest for Jackson Hole locals!)
-Each week (after Sunday's midnight weekly deadline), we will choose the best ski edit and send that dude or duddette a brand-new Sony Action Cam. It's like a GoPro that doesn't make you look like a gaper with a small TV on your head! You can actually enter a new edit every week if you want to, but chances are we'll get bored.
-Submissions close April 27th. On June 20th, a panel of judges that include past Grom Contest winner Daniel Tisi, TGR co-founder Todd Jones, and the one and only Dale Talkington, will judge the Best Ski overall edit as well as the Grand Prize edit.
-The Best Ski edit will get to have their edit featured on the DVD of TGR's 2014 ski film, Almost Ablaze, and will have their edit featured before the film at all 150+ international fall film premiere stops. You'll be famous!
-If you win the Grand Prize, you'll win a chance to film with TGR (and their RED Epics, heli-mounted nose GSS 250 cameras, and army of cinematographers) next season!!
This contest has helped us find some serious gems - guys like Daniel Tisi and Willie Borm - and with the caliber of edits uploaded to NS on a daily basis, we wanted to let you guys know we're even doing this contest so your season edit has a chance to make a huge difference in your dream of becoming a pro skier dude.
But first you got to please the judges. Keep in mind what kind of skiers TGR likes to shoot with - guys like Sammy Carlson and Tim Durtschi who can not only shred the hell out of a park, but can ski powder, ride lines, and are just incredible all-around skiers. If your edit is only rails, you probably wont' make it far; if it's rails, jumps, cliffs, trees, powder, and wallrides, you'll have a much better chance. Show how well rounded you are!
But enough about me, here's what the judges are looking for:
Daniel Tisi, winner of the 2011 Grom Contest:

"I'm looking for smart, smooth, and consistent skiing. And most importantly a person who just has fun. Having making good decisions and having fun is key to progression.
[Talking about his winning Grom Contest edit] I remember just putting a POV camera on my helmet and skiing. Looking back at it, I was surprised with the shots I got. My brother Jackson played a big role in the Grom Contest for me, though. He edited my entry and found the music for me.
I think what won the Grom Contest for me was just showing the everyday skier that I was. I had as much fun as I could! The features I hit included park, pipe, big mountain, and deep pow. It's always good to show your versatility. Just create your own image and show us your everyday style and I will be beyond stoked to watch it!"
Todd Jones, co-founder of TGR:
"I don't know what I am looking for. Maybe that special sauce, the style, something unique and diverse. I only know it when I see it. It triggers an emotion that is hard to explain or capture. It inspires. There is no way to work towards it or it would be false. It just is there in the end. In fact, it was probably already there before it began."
Dale Talkington, Winner of the 2013 TGR Co-Lab:

"All around riding, definitely someone with a unique style, someone who sticks out from everyone else. I'd definitely like to see people who can do both urban and big mountain. Good jumping with both-ways spinning - just an around ripper who looks comfortable on their skis and not forced."
-Ryan Dunfee, Associate Editor