How was your first day? I know this thread may have came a bit late for some of you but today was my first day back on snow and i had a pretty interesting day, ending with me chillin in the hospital
Basically i woke up with a swollen knee with two little pinpricks in it, but i just brushed it off because i wasnt going to let it get in the way of my first day. felt fine on the ride up, just a bit of throbbing, and felt fine riding, pain was only like a 5/10. Hit up the mini park setup cuz the full park wasnt open, and actually slid a couple rails, which was encouraging because last year all i would do is eat shit on rails. Everything was going good until my friend dared me to hit a drop to flat that was round 15 feet. Hit it, double ejected and got a nice face full, and twisted my knee abit. but other than that i felt alright, just a bit of shinbang. After spending the rest of an amazing first day shredding, we went in to the lodge and i was starting to feel my knee. Got on the bus, fell asleep and forgot about it. When i stood up to get off at the stop i experienced some of the worst pain ive ever felt, and my leg completely gave out. After hobbling to my car i unrolled my pants and looked at my knee to find that it was a nice bright red and was pretty swollen.
Since the pain wasnt getting any better, i decided to go to the hospital to see whats up. After a nice long wait in ER a doctor finally took a look at it, and thinks that its either a black widow bite or a super infected spider bite. Right now im sitting making this thread, high on morphine and other painkillers, and getting an IV hooked up. So all in all very memorable first day!
Picture of knee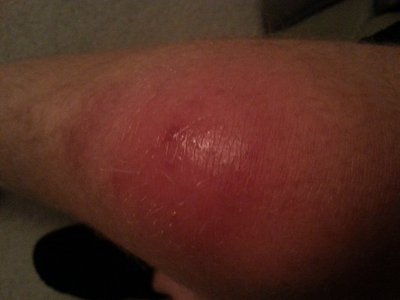 tl;dr - woke up with a bite, had a great opening day, end of day my knee hurt like a bitch, went to ER, nasty bug bite (probably black widow) and now im on lots of painkillers and making this thread for something to do