Go here for more information and to enter
--
http://www.newschoolers.com/contest/119/The--Newschoolers-x-J--ski-design-contest
- Contest begins on October 30th, 2013
- Uploads open until November 4th, 2013
- Voting round begins November 5th, 2013
- Voting round ends November 11th, 2013
- Winner announced November 12th, 2013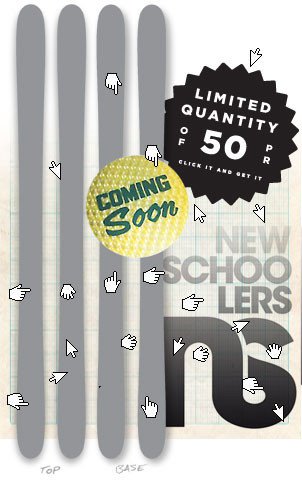 ---
Download the ski template here
--
https://www.wetransfer.com/downloads/cd31a87b8dc8a06b57036e298b02356b20131031132544/01175b6400b4b6a9420361e5c5fbaad520131031132544/4257d6
Check out this thread for some inspiration
--
http://www.newschoolers.com/ns/forums/readthread/thread_id/760898/

Pre-order your pair today
--
http://jskis.com/collections/skis/products/newschoolers
---
THE WORLD'S FIRST CROWD SOURCED SKI GRAPHIC COLLABORATION.
SUBMIT YOUR DESIGN & VOTE! on which graphic deserves to be on this ski.
This is a collaboration in the truest sense of the word. I'm putting the decision for this limited edition ski graphic model in the hands of the 200,000+ Newschoolers.com community. Newschoolers has done a lot for me & the sport of skiing over the years & I want to give back by empowering them to create a ski graphic they want to ride. There will only be 50 pair built using my 90 shape. I will be hand signing & numbering each pair. This is the same shape used for Steve Stepp's "Snowboarding is Cool" ski. Trust me, this is going to be the best ski I've ever made for shredding the park and anywhere else on the hill.
Limited Edition: 50pair hand signed & numbered by Jason Levinthal
Lengths cm: 171, 178
Shape mm: 113-90-110
Sidecut Radius m: avg. 20
Boot Mount cm: 2 back from center
Tip Height tip/tail mm: 62 / 62
Rocker Height tip/tail mm: 2 / 2
Rocker Length tip/tail cm: 17 / 17
Rocker + Tip Length tip/tail cm: 28 / 28