StartFragment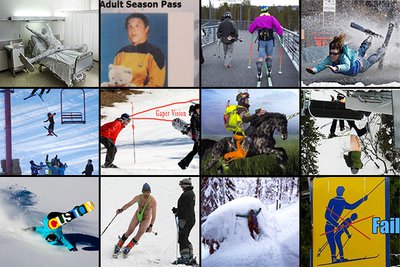 We here at TGR's evil corporate HQ here in Jackson Hole are sitting on an iTunes download codefor Way Of Life, which, you know, is an incredible ski film (that we might have made...). At any rate, we're putting on a host of contests across our social platform under the "Way Of Life Crisis" contest banner. We know that despite our awesome heli-filmed coverage of everything totally epic in the snow world, the embarrassing and hilarious moments in the ski and snowboard lifestyle are as much a part of the reality, and the appeal, as the most radical pow day.
That's why we want you mags to reveal to us your most embarrassing moment in the NS forums. Whether it was posting a thread in the absolute wrong place, making an asinine comment that got you torn up for page after page, or starting a thread with a ridiculous question ("How do they make the moguls?!?"), we want to hear about it and celebrate all the hilarious comic tragedy of navigating this legendary portal of the shred internet. Post a quick summary with a link to the thread concerned by this Friday, November 1st at Noon MST and at that time we'll give out a free download of Way Of Life to the most embarrassing, hilarious, or awkward moment from the annals of these forums.
Not willing to suffer a little public humility? Well you'll just have to buy the damn movie on iTunes or pick up the DVD/Blu-Ray pack. If your forum history is a little too sordid or makes you a little too red in the face, you can try and win downloads by revealing more generally embarrassing moments in the shred life on our Twitter / Instagram / Tumblr / Pinterest / Newsletter. Can't wait to see what comes through!
-Ryan Dunfee, Associate Editor (of TGR)
EndFragment