Whats up newschoolers? So i have seen this raffle done a couple of times and i thought it would be a good idea to hook someone up with some pretty good skis. If my lack of feedback concerns you that is completely reasonable. I have only made a couple of transactions on newschoolers, all of which were very successful, but i never asked to get feedback so if you are hesitant i understand. I assure you that i am completely legit and I will try to make this go as smoothly as possible.
INFO ABOUT SKIS
The skis are
170 Surface Double Times
that are in 9/10 condition because of some topsheet chipping that is shown in the pictures below. I won a pair of surface no times 2 years ago at windells and did not use them. I traded them in for the Double Times on 12/28/2012. I never mounted the skis until late February of 2013. I only used the skis for a total of 5 days because I had to stop skiing for the baseball season, and also they were to narrow for my liking because i prefer a wider ski. I just decided to try them out because i did not pay anything to get them, knowing that i was not a fan of narrow skis.
Here is a list of my
expectations/rules
for this raffle.
1.
I will let the entry time last from today 10/11/2013 and will close the entry process anytime from 10/21-10/24/2013. During this time If you wish to participate you will reply in the thread AND pm me your name and phone numbers along with the amount of entries you would like.
2.
10$
gets you
1 entry.
15$
gets you
3 entries
.
20$
gets you
6 entries.
25$
gets you
10 entries.
30$
gets you
15 entries.
3.
I would like to get at least
15 participants
and will not close entry process until i have at least
15 participants
.
4.
Assuming I have at least 15 participants, I will close the entry process and i will post in this thread that the entry process is closed. At this time i will contact everyone (by pm and phone number) that it is time to transfer the money
THROUGH PAYPAL ONLY!
You will have 3 days to transfer money and if you do not by this time you will not be able to participate in the raffle.
5.
After the 3 day transfer period is over. I will then take a video of myself with all of the names on each entry so you can make sure your entries are there. I will put all the entries in a hat or shoebox and record myself picking the winner. No gimmicks.
6.
I will cover all domestic shipping costs for the winner. If you are international, such as from canada, you may cover an additional fee depending on where you are located. The skis will be shipped out to the winner the day after i post the video and you will be contacted.
7.
If you are wish to participate i will keep in contact throughout the whole process either through pm or with the phone number you will be providing me.
I am not sure if i am leaving any key pieces out so if anything comes up i will address any issues.
Here are pictures of the 170 Surface Double Times that are being raffled off.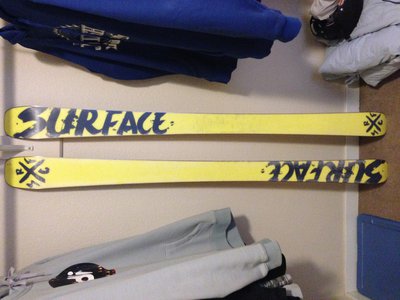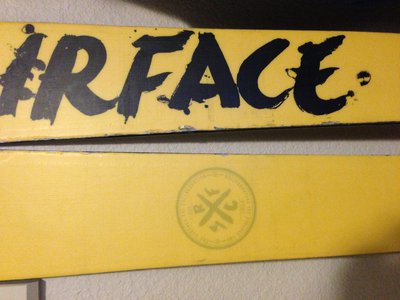 Good luck to you all who wish to take part in the raffle!
Let the raffle begin